If you're a traveler who loves taking in all of the world's greatest museums, then Washington, D.C. is the ultimate destination for you. There are 18 Smithsonian museums and gardens, alongside dozens of other niche museums. Everyone from stamp collectors and spy enthusiasts to art lovers and history buffs can find a museum they will thoroughly enjoy. A big part of Washington, D.C.'s tourism revolves around American history, which is why we created a guide specifically to highlight the historical sites, monuments, and museums on and off the National Mall.
Pro tip: there are upwards of 70 museums in the D.C. area, making it nearly impossible to visit them all even if you're a local. If you're in town for a week, we recommend prioritizing two or three museums and making a day out of seeing the monuments on the National Mall in order to also explore the lively neighborhoods of Washington, D.C.
Historical Sites on the National Mall
U.S. Capitol Building

: take a tour of the building or get a pass to watch Congress in session. Book your tour

here

.

United States Botanic Garden

: explore this beautiful indoor garden of seasonal flowers and rare plants including roses and orchids.

Pennsylvania Avenue National Historic Site

: walk down America's Main Street where many protests, inaugurations, and parades have taken place.

The White House

: walk through the home of all the presidents since John Adams by requesting a guided tour submitted through your member of congress or embassy (if you're an international visitor). Find out more about booking a tour

here

.
Memorials and Monuments on the National Mall
Martin Luther King Jr. Memorial

: 1964 Independence Ave SW

Franklin Delano Roosevelt Memorial

: 1850 West Basin Dr SW

World War II Memorial

: 1750 Independence Ave SW

Washington Monument

: 2 15th St NW

Korean War Veterans Memorial

: 900 Ohio Dr SW

Vietnam Women's Memorial

: 5 Henry Bacon Dr SW

Vietnam Veterans Memorial

: 5 Henry Bacon Dr NW

Dwight D. Eisenhower Memorial

: (Coming soon)

Lincoln Memorial

: 2 Lincoln Memorial Cir NW

Thomas Jefferson Memorial

: 16 E Basin Dr SW

Ulysses S. Grant Memorial

: east side of the U.S. Capitol

D.C. War Memorial

: in Ash Woods just south of the Lincoln Memorial Reflecting Pool

John Ericsson Memorial

: 2912 Independence Ave SW

Honorable Mention: the cherry blossoms in the Spring are just as big of a draw as the memorials themselves. While we generally prefer to travel during the low season, the cherry blossoms are a must-see during their peak bloom.
Museums on the National Mall
Smithsonian Institute Building

: tour the 170-year-old building, also known as the Castle, to learn more about its history as well as get an idea of the highlights of each Smithsonian museum before visiting.

Smithsonian National Air and Space Museum

: walk through exhibits about America's history in space and aviation artifacts. 

Hirshhorn National Museum of Modern Art

: admire the works of contemporary artists from the 21st century as well as postwar American and European art. 

National Museum of Natural History

: learn about everything from dinosaurs and insects to human evolution. Note, some exhibits may be unsettling to vegans as they may include live insects and taxidermy. 

Smithsonian National Museum of American History

: enjoy a mixed selection of historical exhibits including the history of General Motors, Women's Suffrage, and even

Julia Child's kitchen

. 

National Museum of African American History and Culture

: wind through hours of exhibits on American American history including the Civil Rights Movement, jazz music, and more. 

United States Holocaust Memorial Museum

: listen to stories of survivors, watch videos, and view artifacts from the Holocaust.

National Gallery of Art

: see European and American art of many mediums dating back as far as the 11th century.

National Archives

: visit the museum in the Rotunda to see articles like the U.S. Constitution, Bill of Rights, and the Declaration of Independence. 

National Museum of the American Indian

: view Native artifacts and media covering the entire Western Hemisphere's American Indian history.

National Museum of African Art

: navigate through exhibitions housing over 11 thousand objects of traditional and contemporary African art.
Historical Sites in Washington, D.C. 
Ford's Theatre National Historic Site

: tour the site of Lincoln's assassination and explore the museum on a guided tour. Get tickets

here

.

Arlington National Cemetery

: visit the country's largest military cemetery for veterans of the fronts of Iraq and Afghanistan all the way back to the American Civil War. See the

Changing of the Guard

ritual at the Tomb of the Unknown Soldier and many presidents' resting places. 

Library of Congress

: take a free public tour of the Thomas Jefferson Building or take a more niche tour about the Early Americas, Rosa Parks, or the Woman's Suffrage Movement. See all tours

here

.

Frederick Douglass National Historic Site

: tour the home of Frederick Douglass, a key voice in the abolitionist movement.

National Arboretum

: explore 446 acres of beautiful gardens, museums, and walking paths for free in the northeast of Washington, D.C.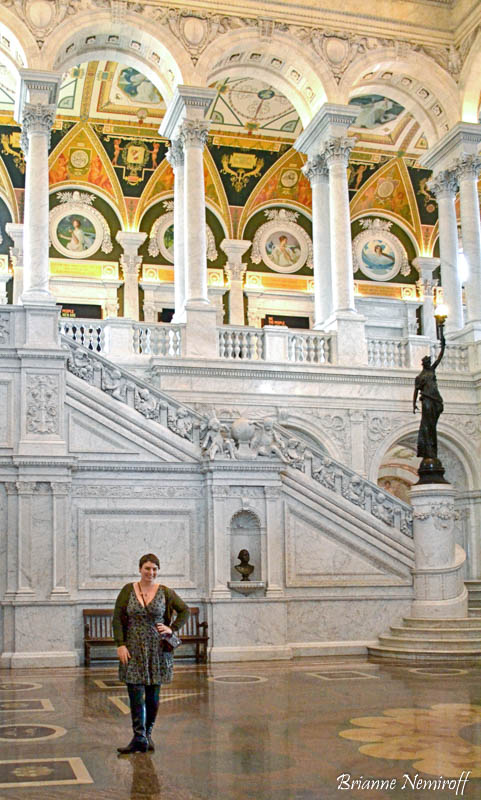 Monuments in Washington, D.C. 
African American Civil War Memorial

: 1925 Vermont Ave NW

The American Veterans Disabled for Life Memorial

: 150 Washington Ave SW

George Mason Memorial

: 900 Ohio Dr SW

National World War I Memorial

: Pershing Park
Museums in Washington, D.C. 
Smithsonian American Art Museum

: view art from the colonial era to present day in this historic federal building. 

National Portrait Gallery

: admire extraordinary portraits of historical figures, U.S. presidents, and other notable figures.

National Postal Museum

: learn about the history of the U.S.P.S. starting from the pony express to present day, as well as exhibits on topics such as stamp collecting. 

National Museum of Women in the Arts

: visit the only museum in the world dedicated to the accomplishments of female artists. Buy tickets

here

.

International Spy Museum

: learn about spies from the American Revolution all the way to present day in this interactive museum. Buy tickets

here

.
Belmont-Paul Women's Equality National Monument

: tour the house that was the epicenter of the Women's Suffrage Movement in the U.S. This house was designated a national monument by President Barack Obama. 
Learn more about America's capital in our neighborhood guide 60 Things to Do in Washington D.C.'s Most Popular Neighborhoods as well as our Top 8 Vegan Restaurants in Washington, D.C.
Want to read more travel guides like this one? Subscribe to our newsletter via the form on the right of this page.