Vancouver is home to more than 40 vegan businesses, and many of them are located in the neighbourhoods of Kitsilano and Mount Pleasant (Happy Cow, 2022). The following is an introduction to twelve vegan businesses, or VBs, and their entrepreneurs (VEs) who consented to participating in my project and being featured in my blog series.
Bee My Guest
Among the guiding principles of the vegan philosophy is to find a means to do the least among of harm in any decision or action, and a popular means to achieve that in contemporary capitalist markets is by encouraging equity in the matters of food and business (J. B. Greenebaum, 2018). Vasundhara Agarwal and her business partner, Sahil Kanani, shared that philosophy when they founded Bee My Guest in July 2021 (V. Agarwal, personal communication, September 14, 2022). As students at UBC, they realized that the lockdowns during the Covid-19 pandemic made it difficult for chefs in the Vancouver area to sell their cuisines to customers as dining in was forbidden for much of that time. Vasundhara and Sahil then soon realized that many of these chefs could not find or afford kitchens or dining spaces in the area due to rising costs of rent and supplies. Thus, they created a food delivery service that sells the dishes that these chefs prepare for Bee My Guest customers in their own commercial kitchens, which also connects them with customers who may not have heard of or been able to reach them otherwise. The chefs who cook for Bee My Guest are also from a variety of cultural backgrounds – e.g., Indigenous, Indian, East Chinese, Ethiopian, and others. This diversity of featured cuisines provides customers with opportunities to enjoy and savour delicious vegan meals in a diversity of cuisines (V. Agarwal, personal communication, September 14, 2022). Check out and order their delicious meals at beemyguest.ca.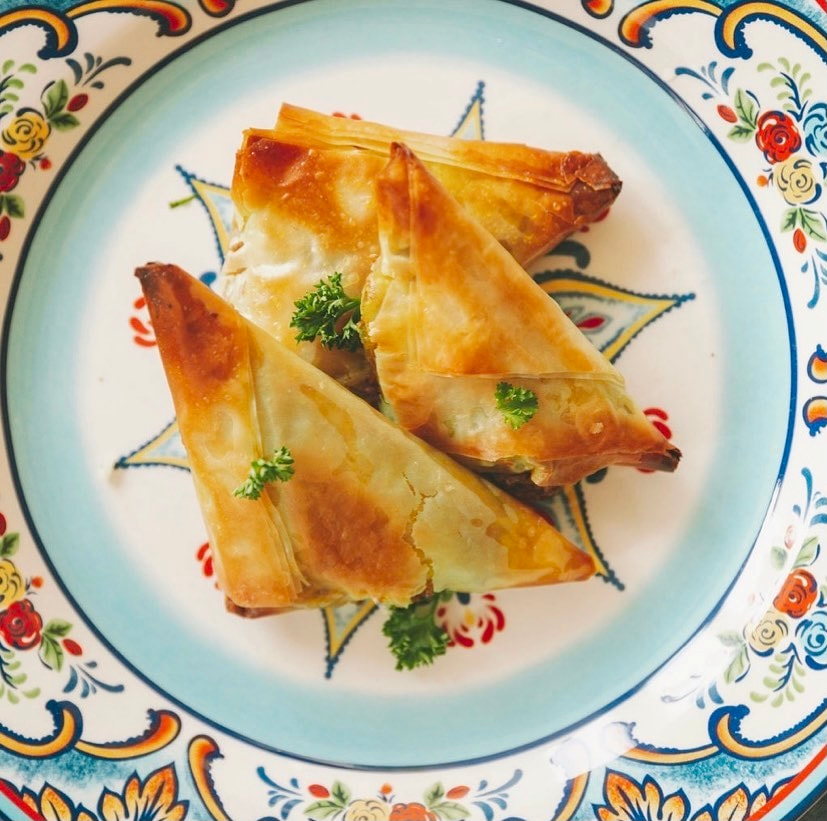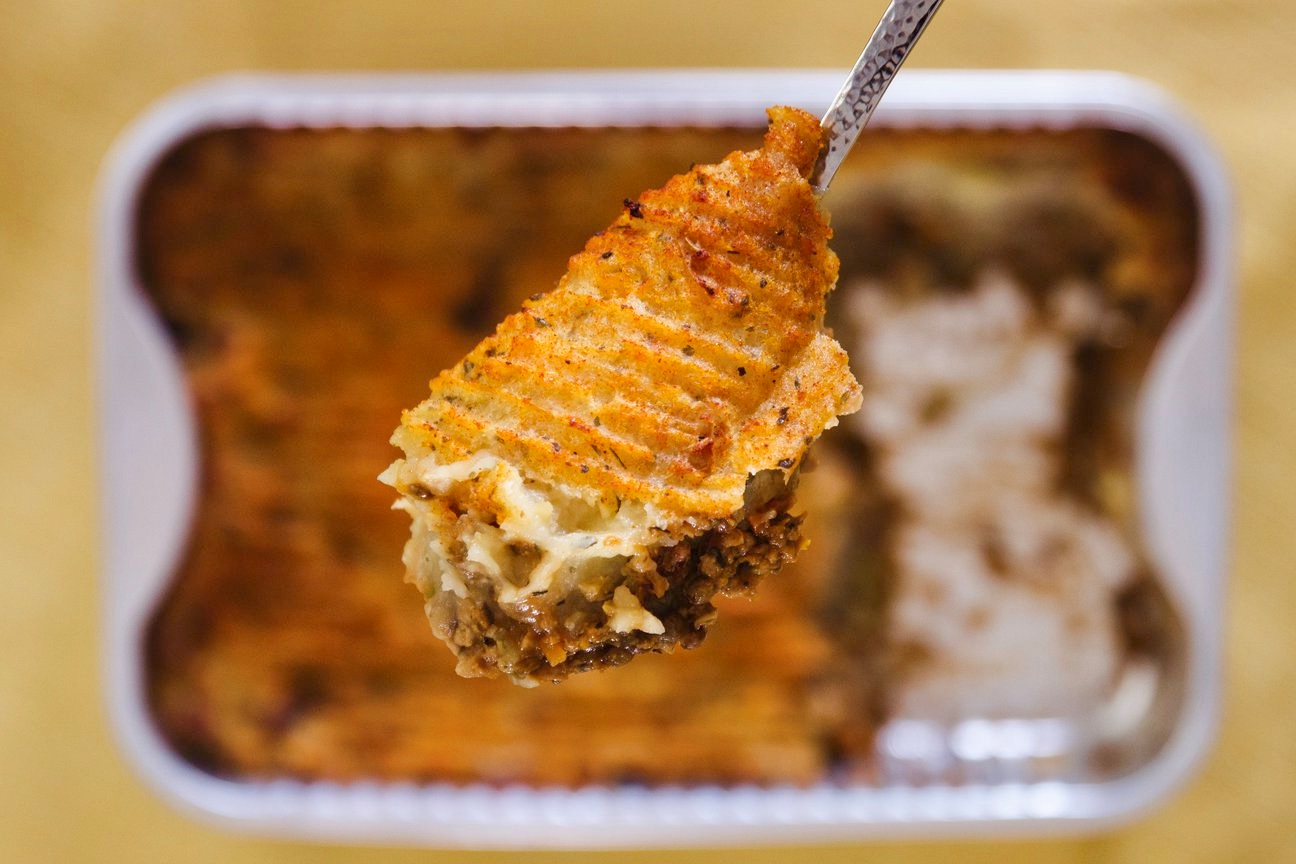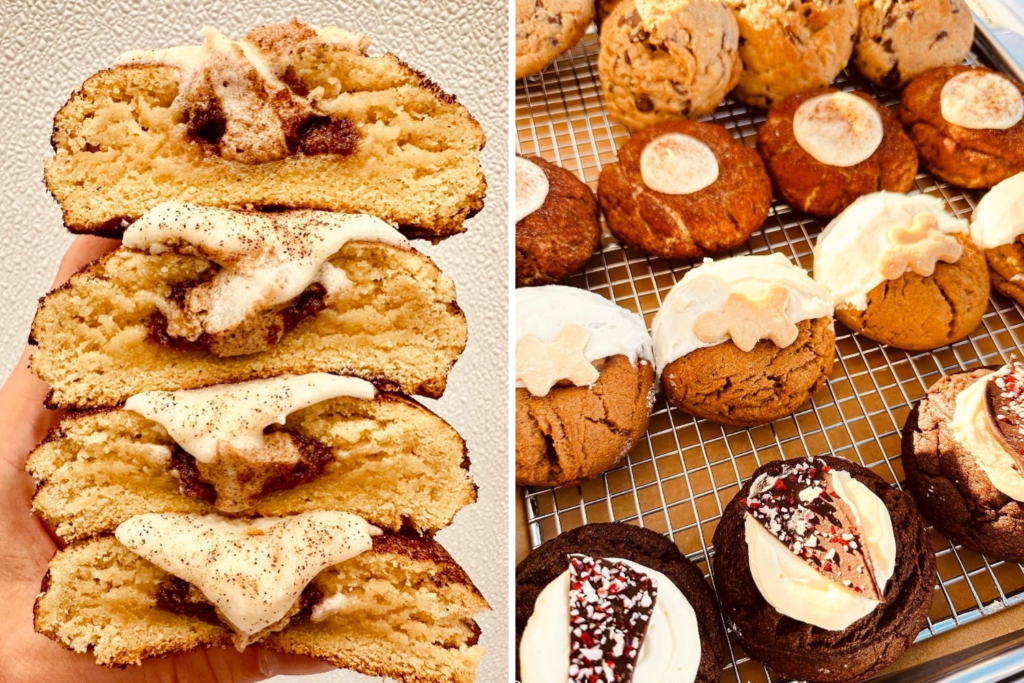 Blue Heron – Lumi Foods
Today, it is difficult to imagine grocery stores or supermarkets in Vancouver that don't carry at least one brand and variety of vegan cheese. Before 2018, though, very few varieties and brands of vegan cheese existed, and they were far from approximating the forms and tastes of dairy-based cheese that many people enjoy. Convinced that vegan cheese could taste and look better, Karen McAthy, an accomplished chef in Vancouver, began developing and offering plant-based cheeses based on the flavours and appearances of their dairy based counter-parts at her vegan restaurant, Graze, in 2017. In 2018, she opened a fromagerie in Mount Pleasant under the name Blue Heron. The storefront closed in 2022, yet Karen and her partner, Dee Dimla, still produce and sell rounds of their many varieties of nut-based cheese, like herb and garlic and blue cheese, under their parent company, Lumi Foods (K. McAthy & D. Dimla, personal communication, September 10, 2022). Find out where you can buy their many delectable varieties of cheese at their store finder.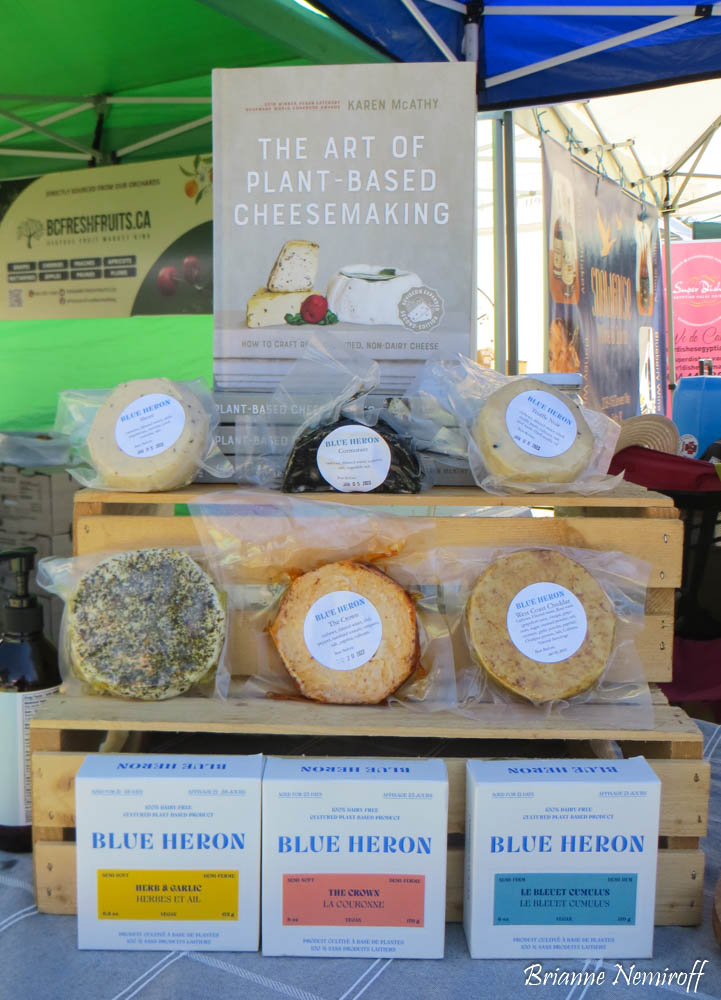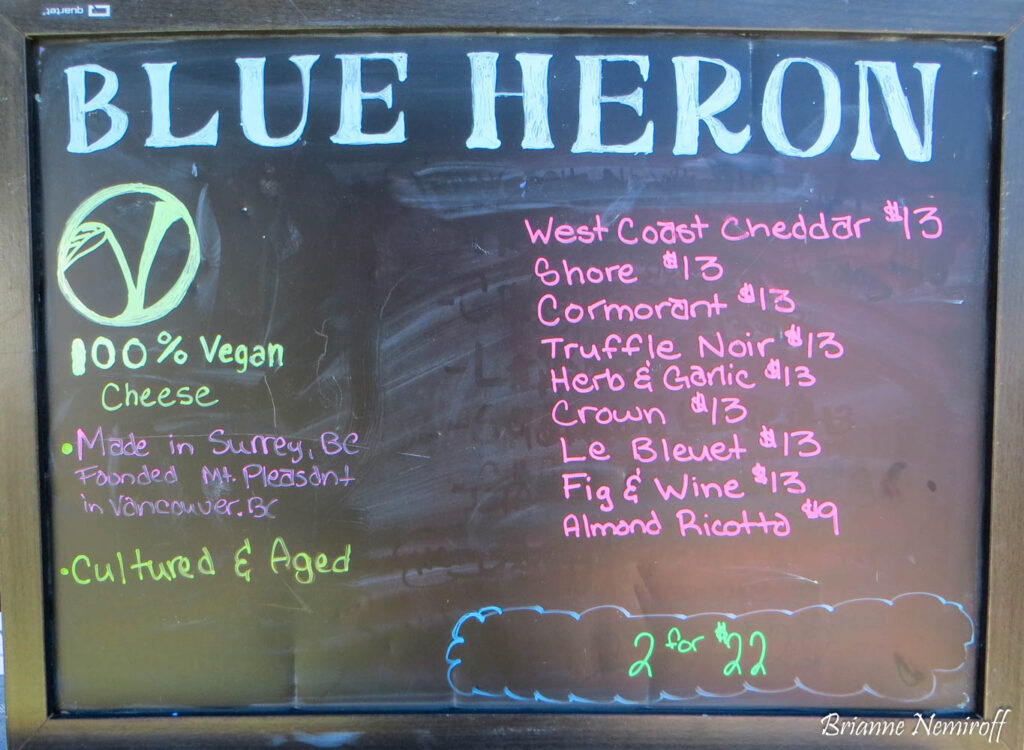 Fairy Cakes (Permanently closed in 2022)
For many years, Vancouver performer and baker Cera Rivers had long been saddened by the fact that those with dietary allergies to common ingredients like dairy, nuts, and gluten had to take on the additional stress and to risk being ostracized at parties and other functions because of their dietary needs or preferences. This is why, in 2012, she opened the bakery/patisserie Fairy Cakes, where she baked pastries like cupcakes, cakes, cookies, and meringue that were devoid of the aforementioned common allergenic ingredients. Her mission was to provide these celebratory foods so that anyone could enjoy them without worry of allergic reactions and discrimination at social gatherings, like birthday or office parties (C. Rivers, personal communication, September 1, 2022).
Fairy Cakes closed in October 2022, yet you can still follow Cera Rivers and her band, The Singles, online for more information about her performances and future projects at www.thesinglesvancouver.com (C. Rivers, personal communication, September 28, 2022).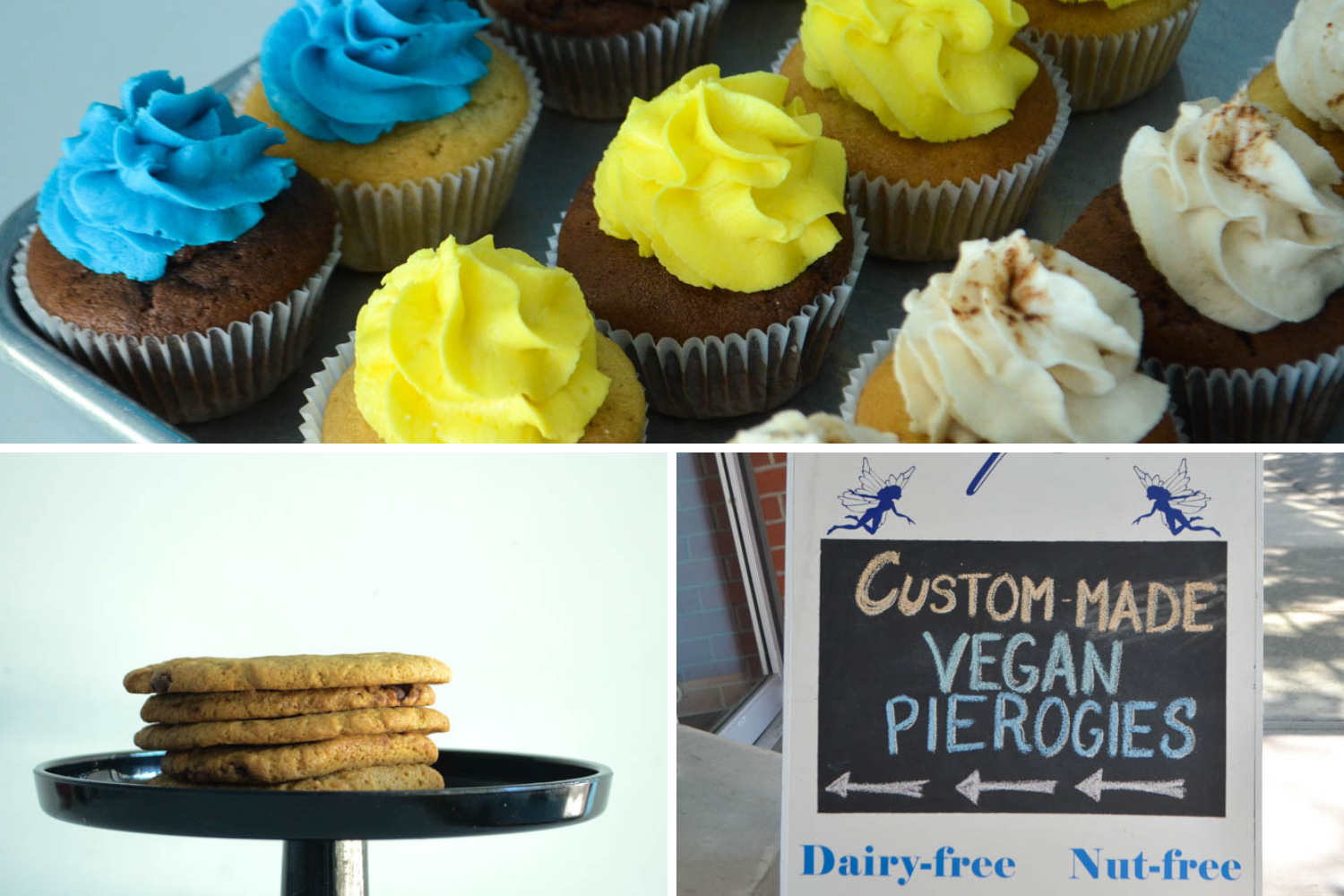 Folke Restaurant
2585 West Broadway
In 2017, Vancouver was home to many renowned plant-based restaurants, like the Naam in Kitsilano and the Acorn in Mount Pleasant. There were still few fully vegan restaurants, and those few that existed at the time predominantly offered pizza, burgers, and other fast food. There weren't any options for customers who wanted a fine or gourmet vegan dining experience. Pricilla Deo and her business partner, Colin Uyeda, realized this and, after years of planning and development, they established Folke Restaurant, which opened on 02 June, 2022 (P. Deo, personal communication, September 18, 2022). Its elegant and cozy ambiance along  with beautifully delicious and imaginative dishes make for a delightful, awe-inspiring dining experience where all the ingredients are locally-sourced (P. Deo, personal communication, September 18, 2022). Take a look at their menu and make a reservation for groups of six or more. Walk-ins for individuals and groups of fewer than six are welcomed, too.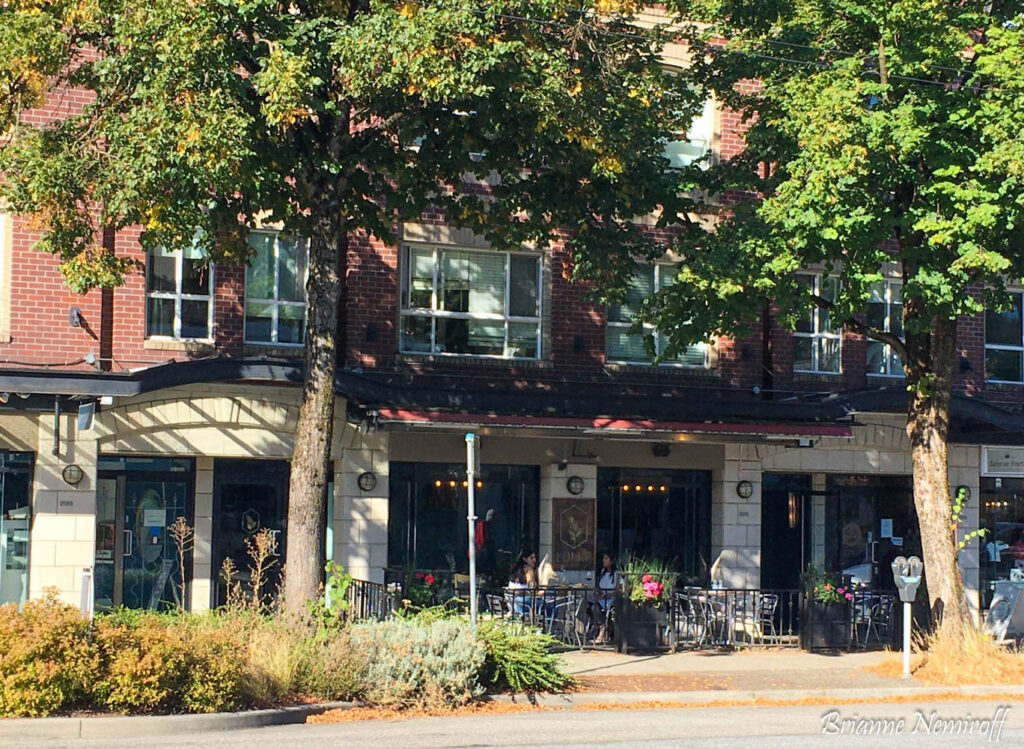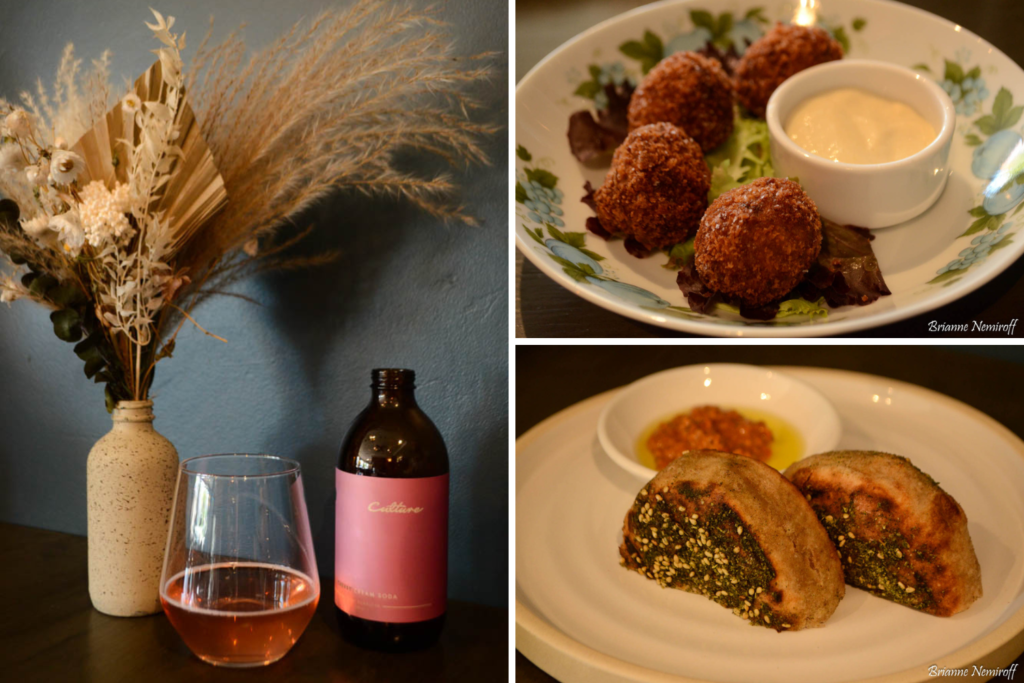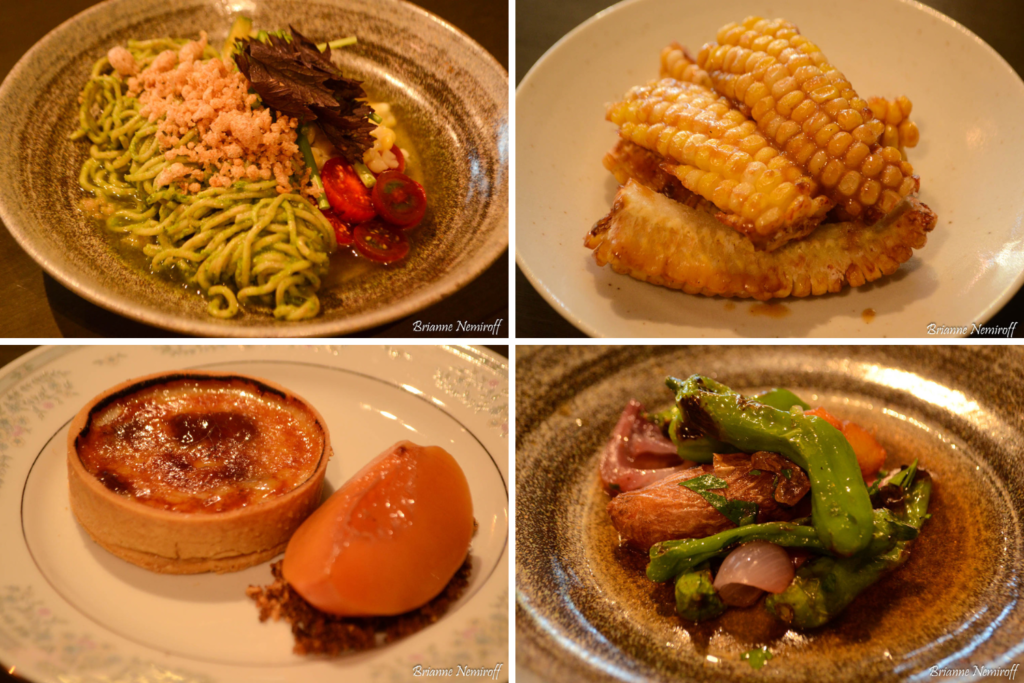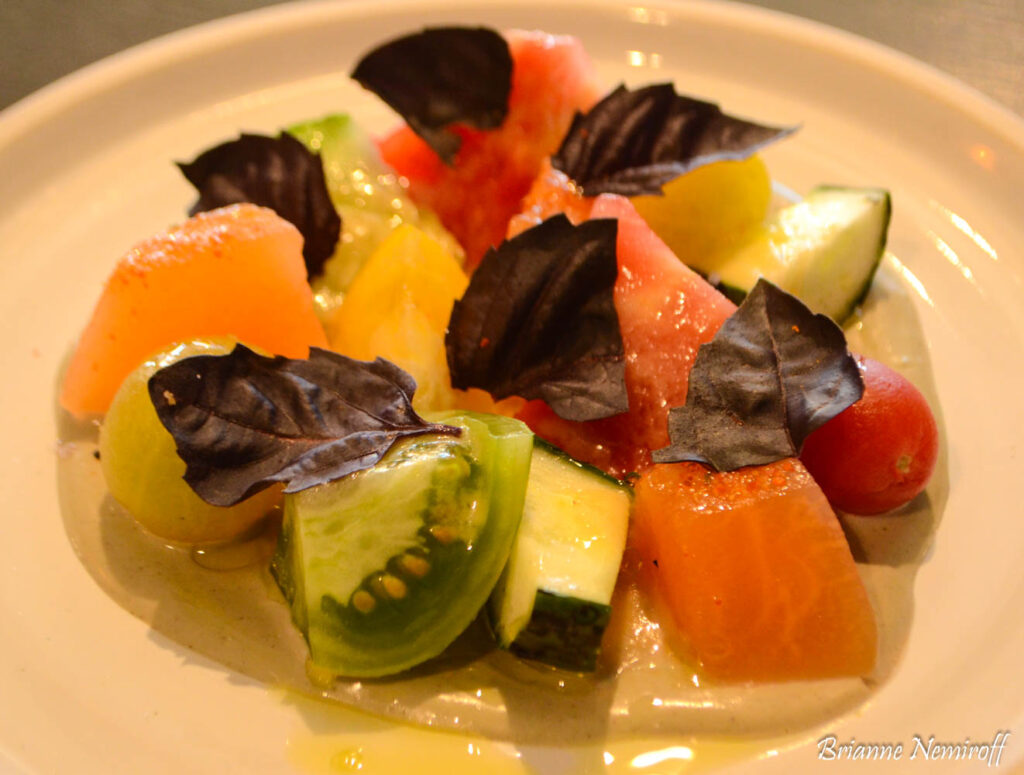 Kind Café + Eatery
3080 Main Street
Samantha Kingsbury and her father, Marv, founded and opened The Kind Café + Eatery in 2019. Marv had many years of experience as a restauranteur and Sam, as Samantha prefers to go by, wanted the business to promote ideals that she valued, which were animal rights, environmental stewardship, and equity. Being vegan herself, she realized that the vegan philosophy provided a pragmatic framework by which her products and operations could uphold those values, for veganism is a Utilitarian philosophy that promotes the most good for humans and non-humans alike (Singer, 1980). Kind Café accomplishes the first by providing a fully vegan and cruelty-free menu of sandwiches, wraps, whole food bowls, salads, flat bread, smoothies, coffee drinks, wine, and beer. Among the most admirable and notable practices about Kind Café is its goal of being as low-waste as possible, meaning that it does not offer any disposable utensils or containers. In fact, diners are encouraged bring their own take-out containers if they wish to take any left-overs with them. As for encouraging equity, the restaurant offers accessible seating and is LGBTQIA2S+ friendly (S. Kingsbury, personal communication, September 1, 2022).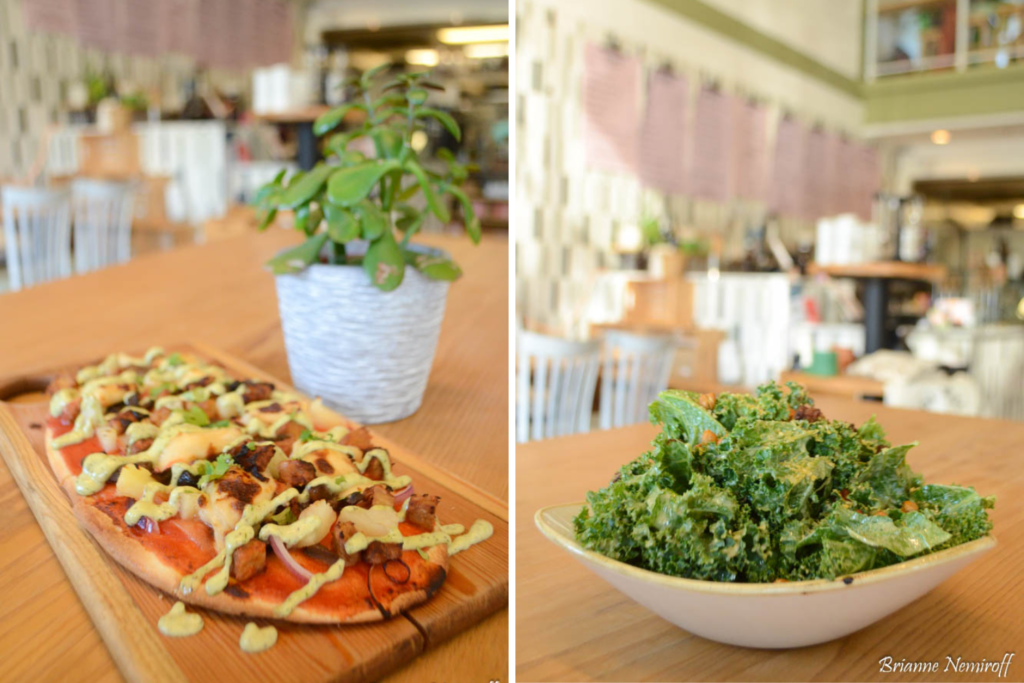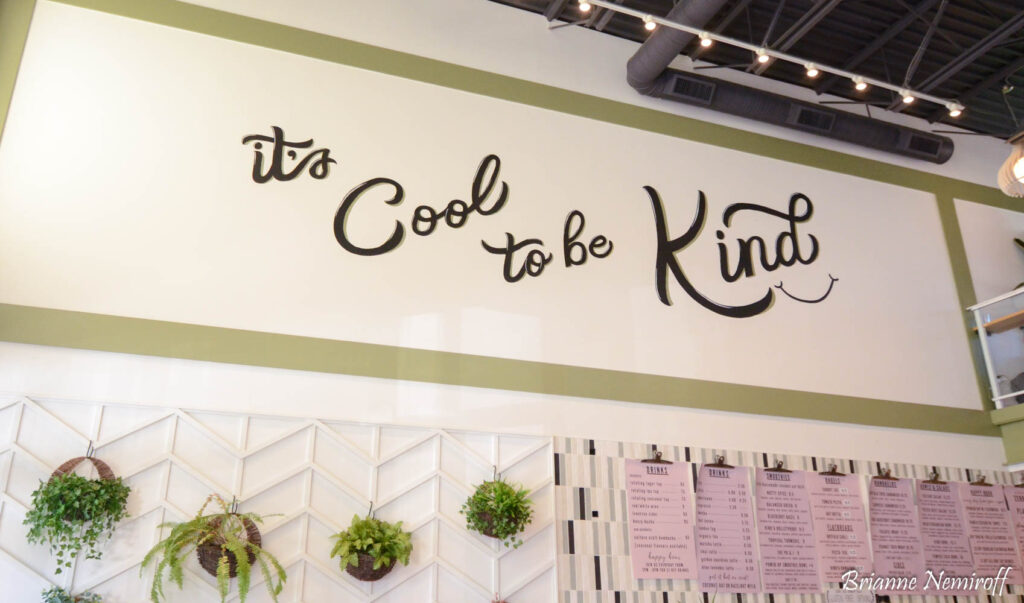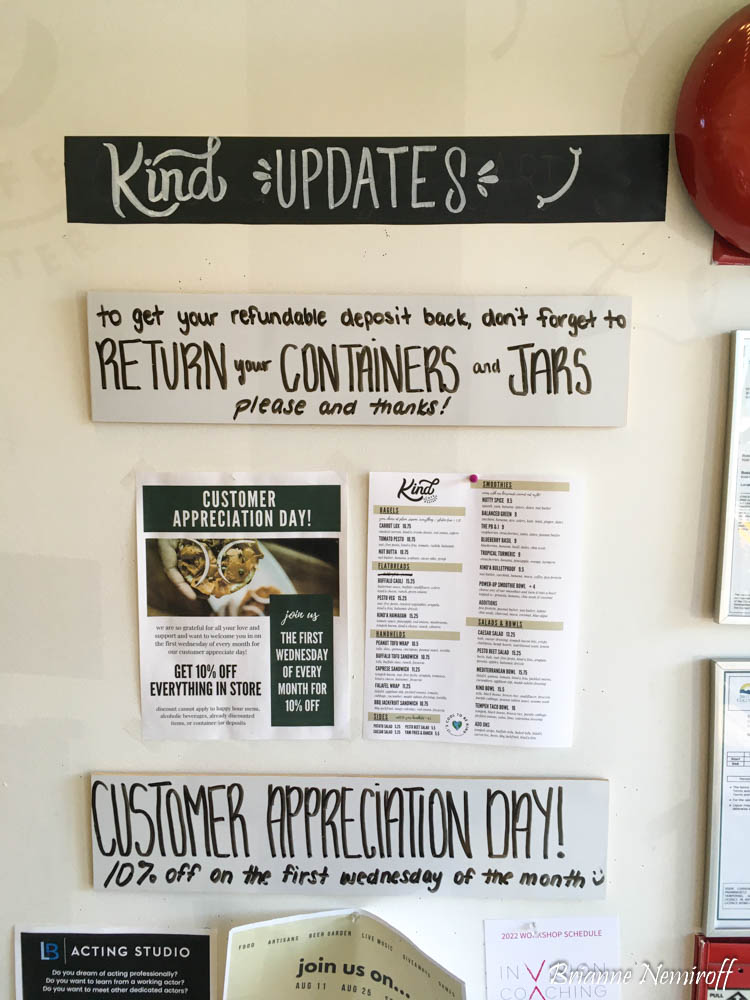 Level V Bakery
39 Kingsway
604-558-3232
Monica Tang has always loved baking and creating desserts to share with her friends, family, and co-workers. In 2015, she became vegan for animal rights and combined her expertise in nutrition with her passion in baking vegan croissants and cream puffs. By 2017, she found herself working in the quality control section of a gluten-free flour manufacturing company. Simultaneously, she baked and delivered her own cakes for her newly founded company, Level V Bakery, which opened its storefront in Mount Pleasant in June 2020 (Tang, 2022). Today, Level V features many North American classics like cakes, cupcakes, ice cream, and croissants. Monica also draws inspiration from her Chinese heritage to feature mochi muffins, pineapple buns, egg tarts, mooncakes, and matcha tea and lattés in a variety of flavours, and she's always creating and featuring new recipes year-round. (Tang, 2022). One can order and relish any one of these while sitting and taking in its airy, bright, cozy, and intimate ambiance. If one then becomes inspired to learn how to prepare matcha at home, then Level V offers a wall full of assorted matcha-making tools and drinkware, and packages of matcha for sale. Monica's creativity in the kitchen and its central location at the corner of Kingsway and Main make this bakery a pillar in the neighbourhood's vegan community.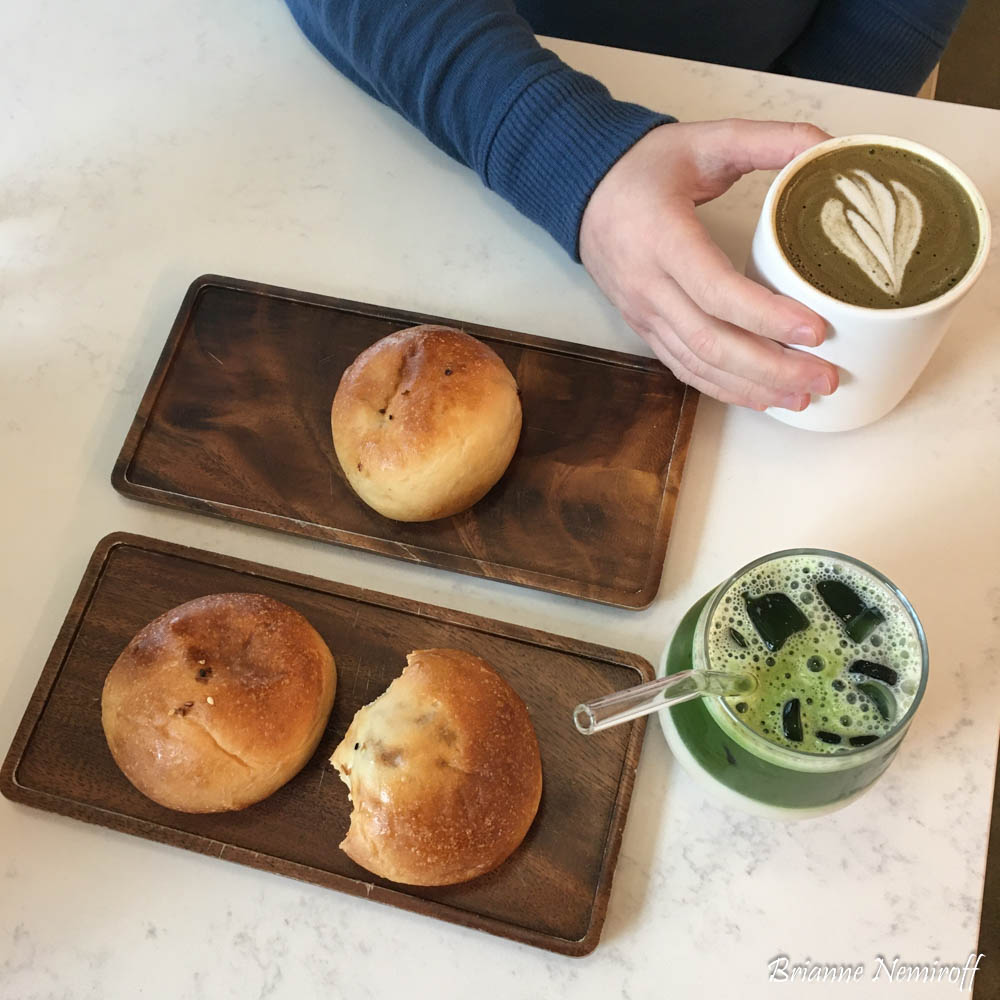 NUTTEA
1956 West 4th Avenue
Many cafés typically offer only a few plant-based milk options, the most popular being derived from oat, soy, and almonds. While this is more variety than what was available even five years ago, many producers have yet to create milks based on the flavour profiles of other nuts, which could appeal to potential customers who are interested in plant-based milks yet who don't like the aforementioned flavours. NUTTEA, which is a vegan café in Kitsilano, aims to reach put to those customers. Its specialties are coffee and tea drinks made with plant-based creams and milks that are derived from common nuts, like almonds, but mostly from less-common nuts, including cashew, walnut, macadamia, and hazelnut. Being a franchise from Taiwan, NUTTEA's menu is a creative melange of North American coffee, like lattés, Americanos, and mochas, along with fruit teas, like mango, grape, kiwi, and many others from East and Southeast Asia. While some of the ingredients aren't locally grown, NUTTEA strives to source them sustainably. The manager of the location, Karry Wan, holds the same philosophy as that of the company, which is that compassion for animals yields compassion for the planet and the pursuit of good health. Ultimately, compassion for all beings begins with compassion for oneself by consuming clean and nourishing ingredients that support one's health and delight the senses (K. Wan, personal communication, September 1, 2022).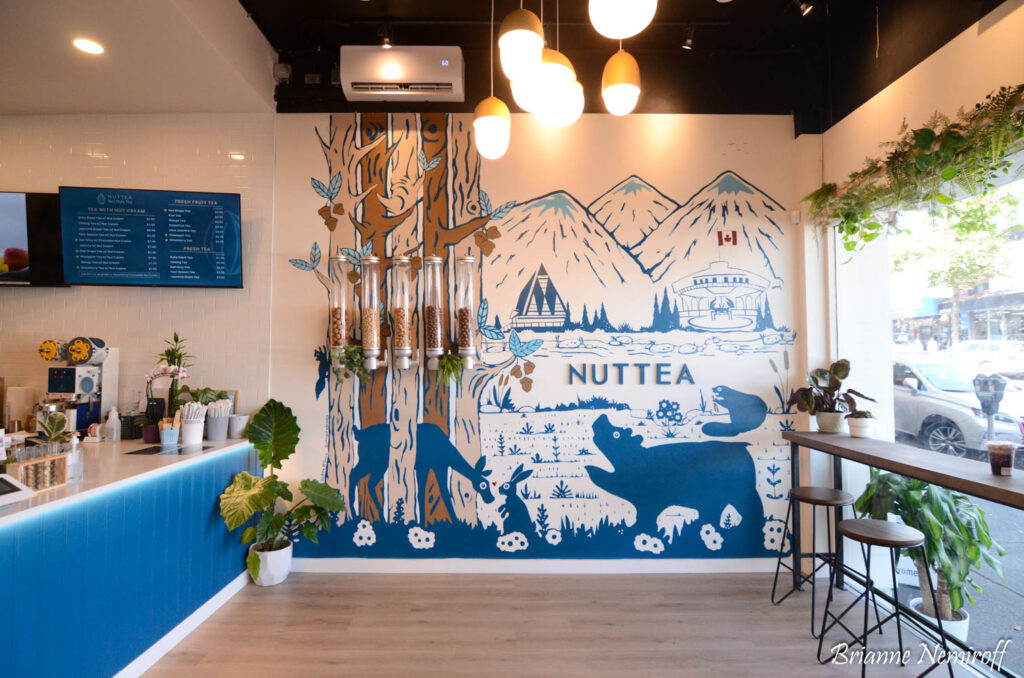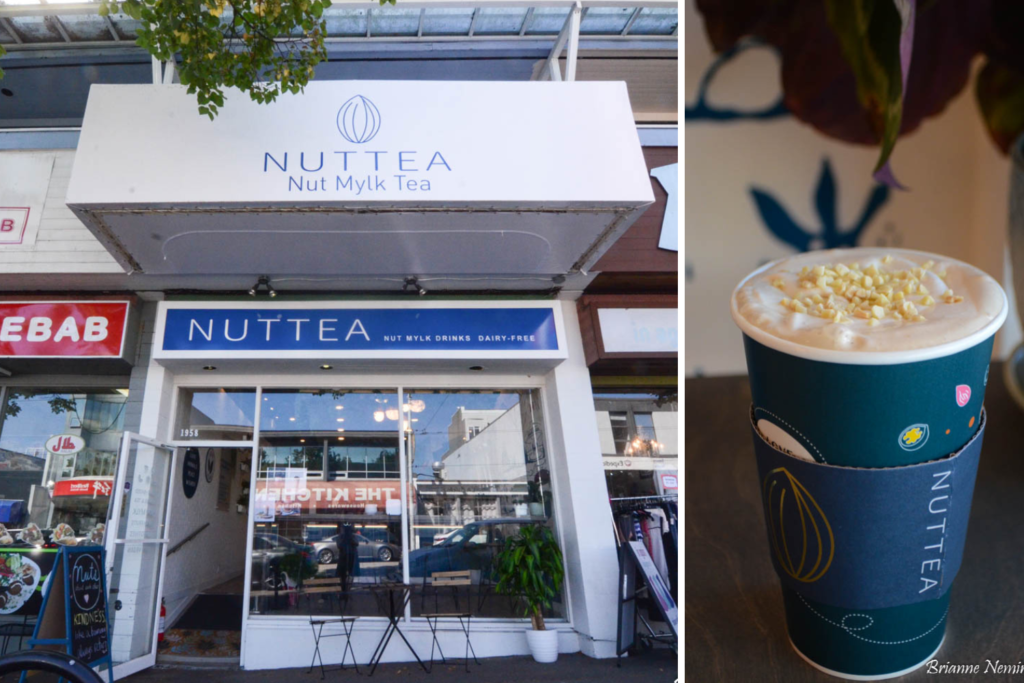 The Cider House
1602 Yew Street
604-558-1975
Joy, kindness, and love are common themes in the missions of the participating vegan businesses that I visited in Vancouver. The co-founders of the Cider House, Jayden Grundy and Aaron Armbruster, wanted to bring those themes and the vegan philosophy to spaces and products where they are typically overlooked: taphouses and ciders (J. Grundy, personal communication, September 15, 2022). They established the Cider House in 2019 as the city's first cider taphouse that was also vegan (J. Grundy, personal communication, September 15, 2022; William-Ross, 2020). The vegan philosophy didn't just inform the options on their menu – it inspired them to design the space and theme of the taphouse to be as inclusive as possible. Forgoing the standard trappings of a taphouse, which tends to be mostly masculine and exclusionary, Jayden and Aaron instead appealed to the inclusivity that's inherent in veganism, and sought to create a space where the food, activities, and ambiance centered around inclusivity (J. Grundy, personal communication, September 15, 2022). This is evident in what could be considered feminine tones and ambiance of the space. Jayden describes this theme as "Haus beach funk" which includes upbeat music along with décor in sandy pink hues and light wooden surfaces under near-panoramic window walls that look out onto Kitsilano Beach and Yew Street. The entrance is accessible, and scheduled events, like drag bingo night, are held regularly to make customers of any gender feel welcomed. As for the menu, it features a variety of alcoholic and non-alcoholic ciders along with vegan pub fare – e.g., jackfruit tacos, oyster mushroom calamari, and gluten-free beer battered hearts of palm resembling fish-and-chips – that aim to appeal to the tastes and preferences of as many people as possible (J. Grundy, personal communication, September 15, 2022).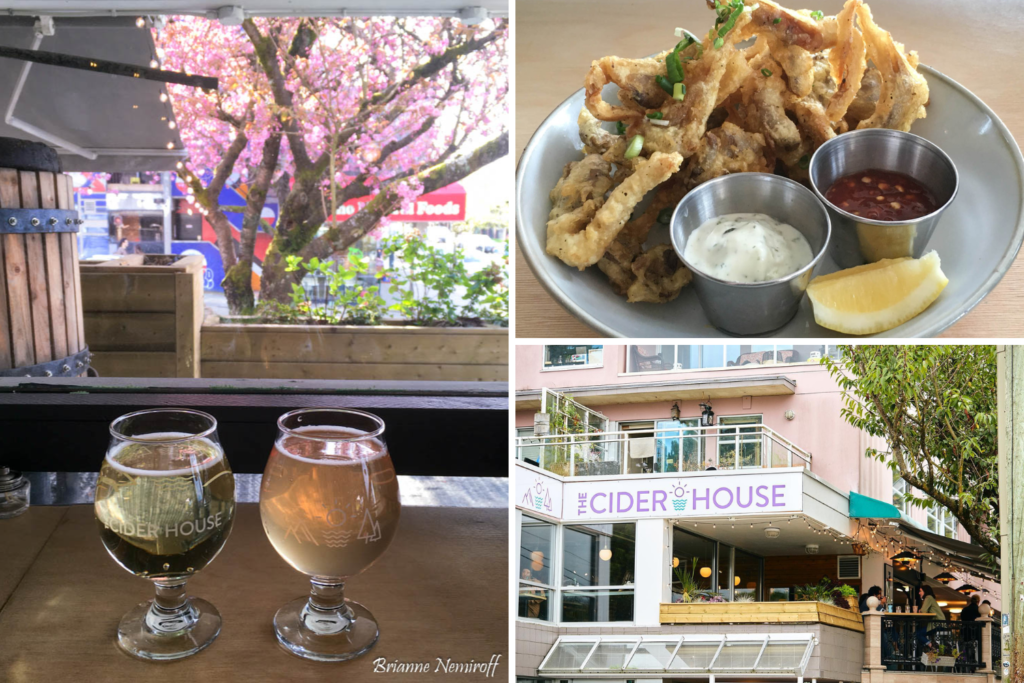 Tintery Brows
Sold in Urban Outfitters at 2199 W. 4th Avenue and online
While the vegan philosophy is visibly operationalized in the food industry (Ignaszewski, 2022), it is also becoming just as visible in the skin care and cosmetics industry as well (Larson, 2021). This development stems from growing awareness of harmful side effects in standard cosmetic products – particularly those that are applied around the eyes (Ng et al., 2016) and growing condemnation of animal testing of such products (Larson, 2021). Tintery Brows is a relatively young company that was created in response to those issues (A. Galperin, personal communication, September 2, 2022). Launched in 2021 by Martyne Alphonso and Alice Galperin, Tintery Brows offers a variety of eyebrow gels that are vegan. It also aims to make its products inclusive by producing tints in a variety of shades catering to a wide range of skin tones, which is still an after-thought for many larger cosmetic businesses (A. Galperin, personal communication, September 2, 2022). This past year, Tintery entered central market segments as its products have started to be sold in the mainstream clothing and houseware store, Urban Outfitters, in Kitsilano. One can also view and shop for Tintery's tints on its online store.
Figure 16 Press images of Tintery Brow's products (Source Credit: Tintery Brows).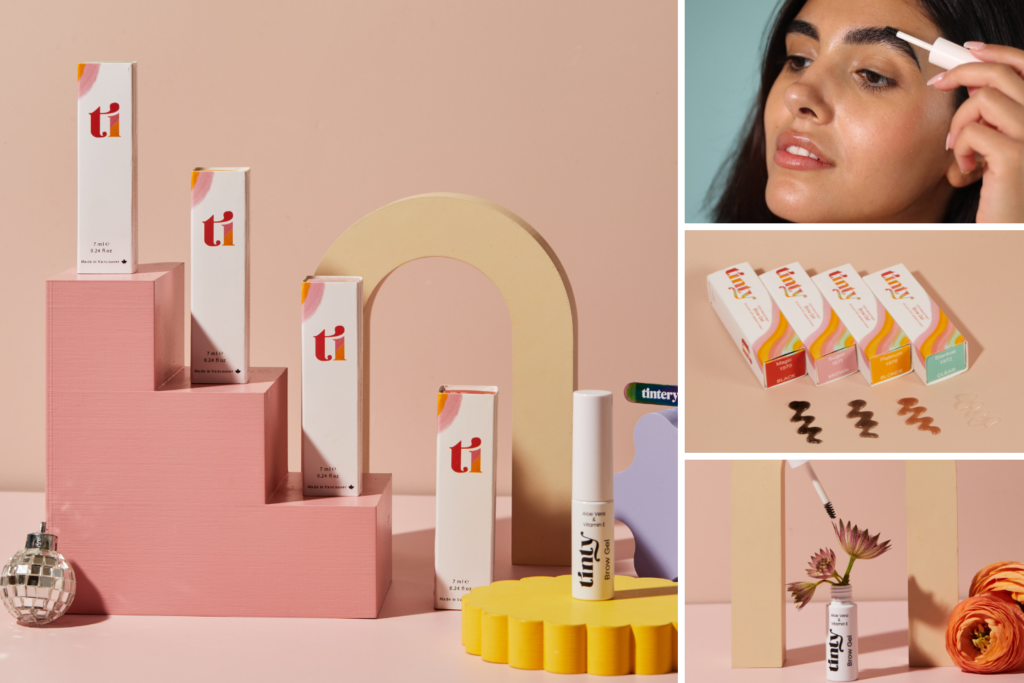 True Nosh
1450 West 7th Avenue
Renée Chan is an accomplished chef who has studied and worked in kitchens all over the world. After seeing a family member suffer from diabetes, her perspective towards food underwent a transformation (Mezirow, 1978) where she began to think of it as a support for good health in addition to enjoyment (R. Chan, personal communication, September 28, 2022). Her family member loved sauces whose recipes were typically made with high quantities of sugar and salt, so she applied her expertise to recreating their flavours without the ingredients that those with diabetes had to abstain from (R. Chan, personal communication, September 28, 2022). This led her to develop True Nosh, which is a line of vegan sauces whose flavours include mushroom-based oyster, black bean and ginger, and others. (R. Chan, personal communication, September 28, 2022).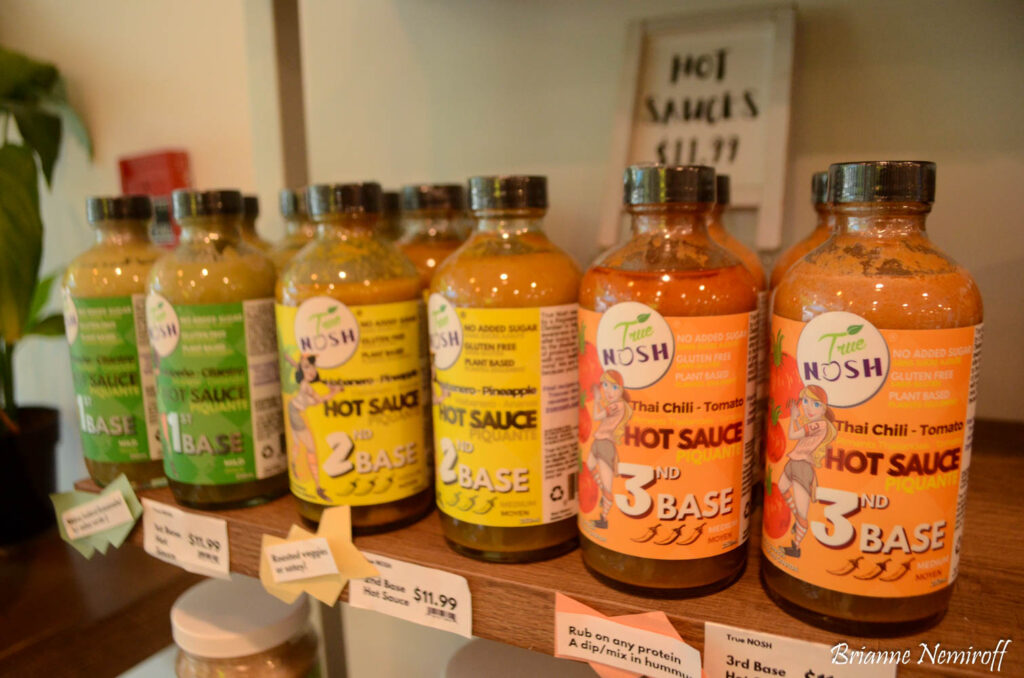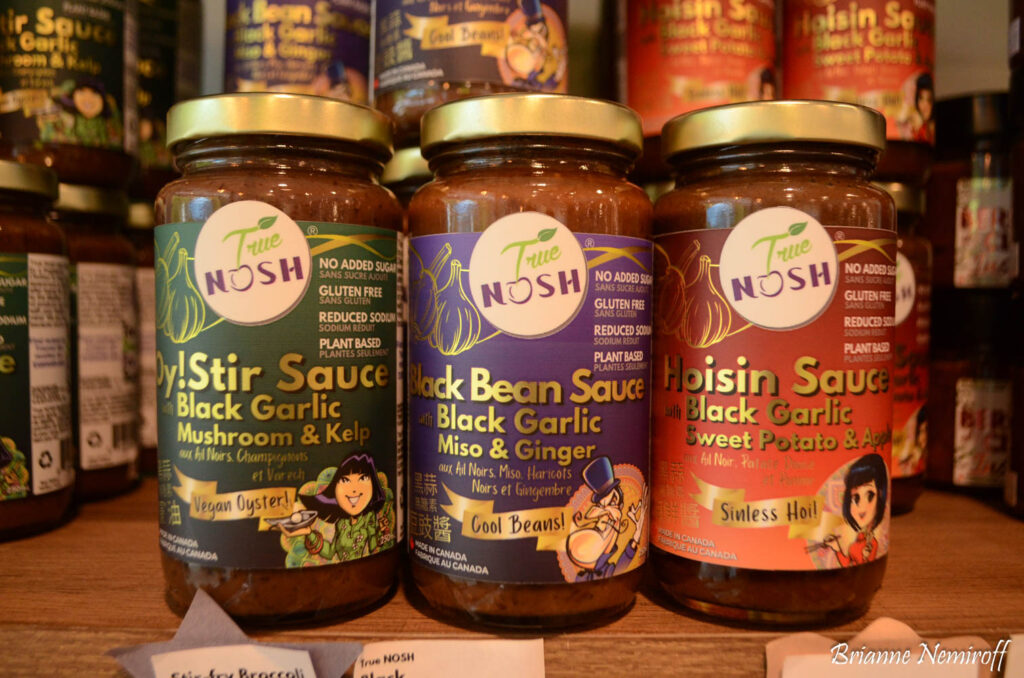 Plant University – Vancouver Humane Society
For more than a century, a prevailing sentiment towards veganism and vegetarianism is that they are exclusionary and can only be practiced by those who are affluent and have access to a variety of food (Greenebaum, 2017; Kauffman, 2018). The Vancouver Humane Society aims to challenge that inaccurate sentiment through Plant University. Represented by Heather Whitehead's participation in my project, Plant University is an educational resource for individuals, families, and institutions (schools, hospitals, food service providers, et al.) that distributes information online and at seminars and information booths in Mount Pleasant and Kitsilano. Its mission is to teach those groups how to incorporate the vegan philosophy in their daily lives and operations (Plant University, 2022), and to teach them that a vegan lifestyle is attainable for people in a variety of socio-economic levels – not only affluent ones. This information includes recipes, cooking demonstration videos, marketing tools for plant-based menu items, and blogs with strategies for different scenarios that may come with a vegan lifestyle (Plant University, 2023; H. Whitehead, personal communication, September 16, 2022).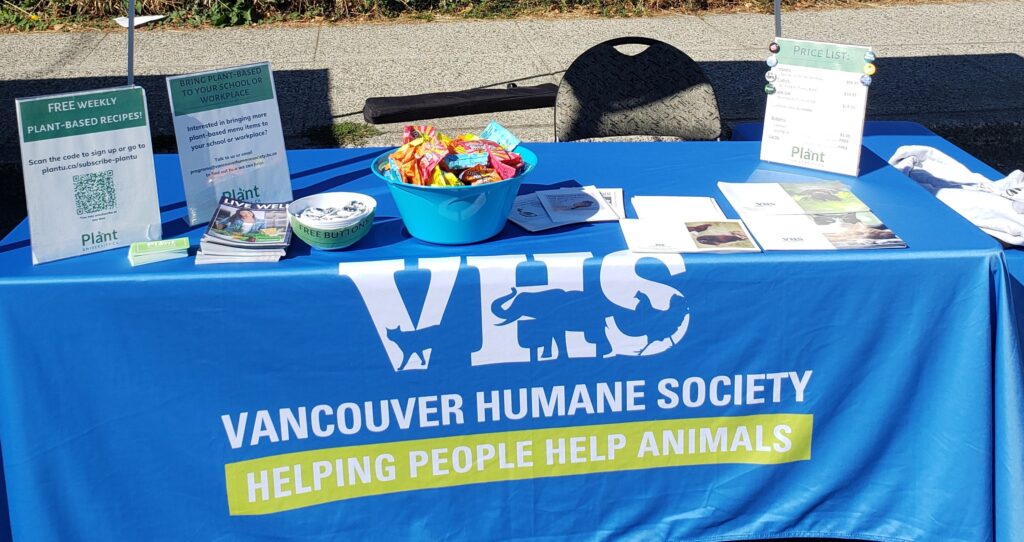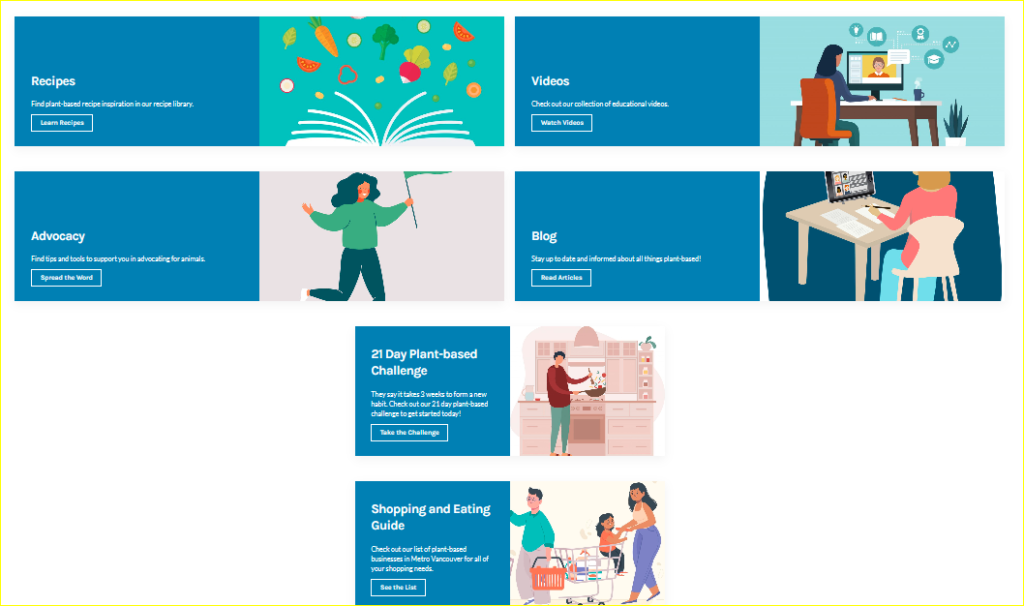 Vivus Pet Foods
The pursuit of good health is often cited by vegans as their reason for living a vegan lifestyle (Kim et al., 2018). While doing so, many vegans may come to realize that this pursuit may benefit other members in their families as well – including their non-human family members (O. Milman, personal communication, September 3, 2022). Olga Milman made that realization after the dogs in her family died prematurely due to malnutrition from their eating common brands of dog food. She later learned that there are fewer quality control and environmental regulations for meat-based pet foods than there are for human food products and that dogs can have allergic reactions to animal-based food (O. Milman, personal communication, September 3, 2022). Inspired to help dogs avoid malnutrition, Olga then applied her expertise in chemistry to found and incorporate Vivus Pets in 2021 with Tim Yan (O. Milman, personal communication, September 3, 2022). Since then, the mission of Vivus Pets has been to develop and produce dog food that is both nutritious and environmentally-friendly by using vegan ingredients and by following quality control standards that are just as scrutinous as those that are for foods produced for human consumption (O. Milman, personal communication, September 3, 2022). The many empty bowls and waging tails that I observed during my visit to the Vivus booth at the Farmers Market at UBC suggest that most dogs find Vivus treats and food to be delicious! You can shop and order their products online or at pet food stores and veterinary clinics in Mount Pleasant, Kitsilano, and elsewhere. See their Store Locator for those exact locations.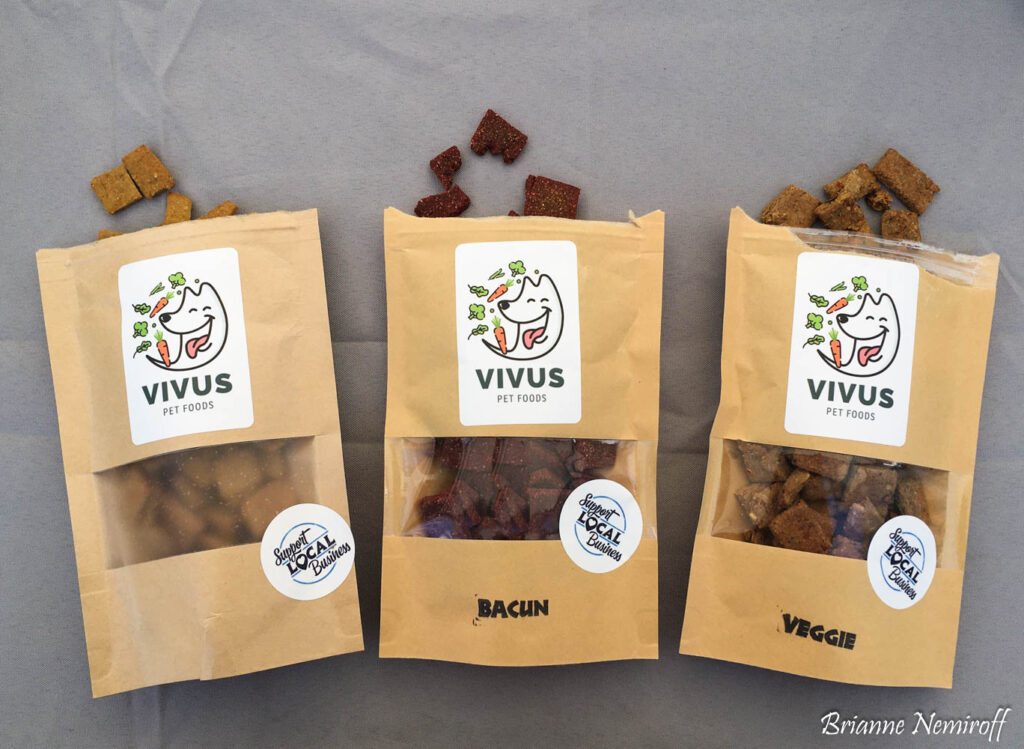 Conclusion
The Vancouver neighbourhoods of Mount Pleasant and Kitsilano are benefitting from vegan entrepreneurs who bring their distinctive experiences and ideas based on vegan philosophy to the community bring about experiences and products that delight, educate, and showcase the opportunities that veganism has to offer. To learn more about the history of these neighborhoods and how they became centres of Vancouver's vegan community, read the next blog in Ben's Vegan Vancouver, entitled Religious Refugees, Rainbow Roads, and Ravenous Appetites.