Introduction
Spring had just arrived in the neighbourhood, and the trees and along the street seemed to be celebrating the occasion as their hues of blues and greens undulating delicately in the wind like a Van Gogh painting. To most eyes, those leaves would have been difficult to see, for they were mostly obscured by the brilliant white pedals of the cherry blossoms that were arching over the store front windows and roofs despite having only bloomed a week prior at most. Behind all of them, the stalky, Mid-Century buildings (O'Connor, 2013) seemed slightly pale from underneath all of the springtime plant-life as the reds of their brick were slightly faded from the lashing rain and winds that had been rolling in from the nearby coast. The Art-Deco store fronts, however, were still holding up, yet their sleek lines were obscured by signage and annexes that were added in the architectural eras that had come and gone since their construction. All of these details could have been easily overlooked by what was in the middle of the street – a turn-of-the-century clock, surrounded by an island of flowers at its base, with the bold Italic lettering encircling its face that told all who passed by that they were "Welcome to Mt. Pleasant". Just beyond that was the magnificently imposing Grouse Mountain – a gentle giant standing guard from across the Vancouver Harbour.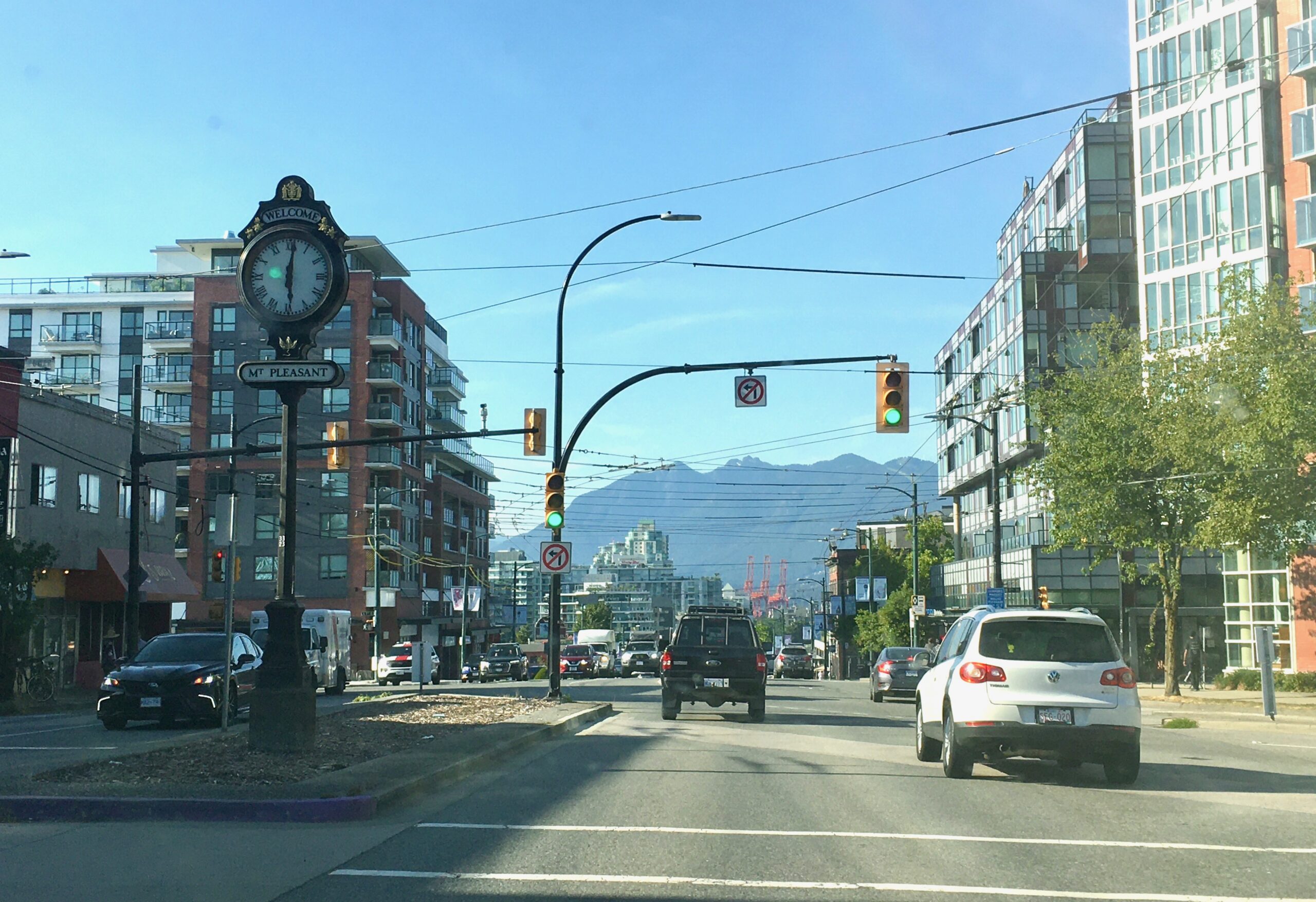 This was my first impression of Mount Pleasant neighbourhood when I first visited there more than five years ago, and in that moment I was instantly captivated by the beauty of everything before me: young plants, decades-old buildings, an ancient mountain – all from different eras, and in the case of the cherry blossoms – different continents. My delight in the scenery was surmounted only by the apparent abundance of vegan businesses that populated Main Street. Two plant-based restaurants – one being Chickpea and the other being Meet on Main – were not only on the same block yet were right next door to each other. Even more enticing was the fact that they had none of the trappings of the holistic, health-food ambiance that were iconic of similar establishments where I grew up in the San Francisco Bay Area. The servers and customers inside seemed to be from every region of the world, and their ages ranged from infants to seniors, all with the airs of young students to seasoned professionals. It reminded me of the Naam, the oldest vegetarian restaurant in Vancouver, that I had visited in Kitsilano the night before.
These two neighbourhoods were remarkable places where vegetarians, vegans, and the veg-curious could collaborate, share ideas, and most importantly, eat with ease. Years later, I returned to visit the vegan businesses (VBs) and their entrepreneurs (VEs) to explore what their experiences are like. The following is a summary of what I learned during my visits in VBs and talking to VEs in Kitsilano and Mount Pleasant.
Veganism for Personal Health, not just for Animals or the Environment
There are a myriad of reasons for which individuals adopt a vegan lifestyle, yet much of the current literature and portrayals in popular culture focus on economic and environmental activism, which may lead many to erroneously believe that a vegan lifestyle is primarily a political act. This is explored in the writings of Robert Jones, who, in 2016, acknowledged that there are multiple reasons for consumers to take up and practice a vegan philosophy – i.e., "veganisms" – although they are rooted in the causes of protest (R. C. Jones, 2016, p. 15). Boycott veganism, for one, is limited to the replacement of animal products with plant-based products to avoid the perceived cruelty of animal agriculture (R. C. Jones, 2016, p. 27) while revisionary political veganism aspires to abolish methods of systemic violence, domination, exploitation, objectification, and commodification towards humans and non-humans in political institutions (R. C. Jones, 2016, pp. 30–32). Even identity veganism, whose focus is on the individual and within the limits of what they can control in their lives, is still an act of defiance against commercial consumerism on moral grounds (R. C. Jones, 2016, pp. 24–26). This interpretation of veganism extends into popular culture, too. Characters like Lisa Simpson in The Simpsons and Darlene Conner in Roseanne, are vegetarian, yet their observable resistance to animal exploitation is identical to that of the Vegan Society's definition of the philosophy (Cole & Morgan, 2011, p. 135; Grant & MacKenzie-Dale, 2016, p. 312). Both characters have similar experiences in which they realize that animals are capable of suffering and go through that suffering in what Grant and MacKenzie-Dale describe as institutionalized patriarchy and carnonormativity – i.e., the concept that consumption of flesh is a practice of masculine power over other beings, and that it is normal (Grant & MacKenzie-Dale, 2016, pp. 310-311,324). Their reasons for engaging in the vegan philosophy are challenges to socio-political status quo and, therefore, fall within the definition of the aforementioned boycott veganism.
My own personal experience in veganism had taught me that protest is not the only reason that individuals choose to explore and practice veganism as a philosophy, yet I honestly admit that the aforementioned literature and depictions of vegetarians and vegans in popular culture did shape my expectations before entering this project. I imagined that the mission statements of some VBs would carry revolutionary themes, something akin to a manifesto calling upon a plant-based proletariat to abolish the exploitation of humans and non-humans in consumptive practices. I envisioned their businesses as the engines for socio-economic rejection of carnism. The reality, in fact, was far less grandiose as all twelve of the participating VEs whom I visited cited that health – of others and their own friends and family – was their reason for engaging with veganism, which, as it turns out, is not unheard of (Radnitz et al., 2015, pp. 32–33).
Fairy Cakes was a vegan bakery on Fraser Street that, according to its mission statement, provided Metro Vancouver with delicious baked treats made with organic and Fair Trade ingredients (C. Rivers, personal communication, September 1, 2022) while being simultaneously free of gluten and other nuts (Rivers, 2012). I couldn't help but notice that the messaging of being allergy-aware was prevalent throughout the store and its website – in fact, it was repeated more often than the term "vegan". In my conversation with the owner, founder, and lead baker, Cera Rivers, she kindly explained this was intentional, for she herself has had what she described as alternative dietary requirements all of her life. She had long felt left out of social gatherings because standard fare most often contained that which would be harmful to her. By adulthood, she decided that she didn't want to run a business that contributed to animal cruelty. Moreover, the mission of Fairy Cakes was to enable anyone to enjoy sweet and savoury treats no matter their dietary necessities. In fact, at least half of the customers to Fairy Cakes weren't vegan at all (C. Rivers, personal communication, September 1, 2022).
Other VEs revealed similar experiences, beliefs, and practices. Olga Milman, the co-owner and CEO of Vivus Vegan Pet Food and Supplements, recounted that her company's history began with her realization that her family's dogs had died prematurely of malnutrition from large amounts of toxins, like heavy metals and rodent waste, that are often overlooked in safety screenings of standard, pre-packaged dog food (O. Milman, personal communication, September 3, 2022). Poor health experiences of family members proved to be a common impetus with other VEs as well. Vasundhara Agarwal, co-founder and CEO of Bee My Guest, had a mother who struggled with arthritis (V. Agarwal, personal communication, September 14, 2022) just as her counterpart at True Nosh, Renée Chan, had a mother and father who contended with hypertension and diabetes, respectively (R. Chan, personal communication, September 28, 2022). Both VEs reported that transitioning to vegan and plant-based diets helped improve the conditions of all three people (R. Chan, personal communication, September 28, 2022; V. Agarwal, personal communication, September 14, 2022).
For VEs, challenging health conditions in either themselves or others close to them seems to be a commonality. It also seems common for them to draw upon that experience to inform the mission of their businesses. The sociological phenomenon that is appropriate for explaining how such challenges inspire such profound shifts in beliefs is known as perspective transformation. Introduced and described by Jack Mezirow in 1978, perspective transformation is the cognitive process in which an individual consciously and decisively shifts or changes the paradigms of how they were taught – and therefore assumed – the world to be (Mezirow, 1978, pp. 100–102). Each individual child is socialized by being taught the paradigms through which our social environments lead us to see the world (Mezirow, 1978, p. 101). This, in turn, leads individuals to develop facets of their identity in different social contexts, like family, political, work, et al. (Illeris, 2014, p. 158). Once we as individuals develop critical thinking in late childhood, we inevitably encounter dilemmas – both cognitive and ethical – with which we use those learned paradigms to either cope or reassess familiar assumptions (Mezirow, 1978, pp. 101–102). The latter is referred to as consciousness raising, which is where one knowingly rescripts the paradigm, or paradigms, that they have learned that are no longer working in the contexts where the dilemmas exist (Mezirow, 1978, p. 102). Once we discover a new paradigm that addresses the dilemma in a manner that benefits or protects us, we may then continue to develop it and apply it in the problematic contexts (Hodge, 2011, pp. 500–501).
The experiences that the aforementioned VEs recounted, and the paradigm shifts in how they perceive the world can be explained in the process of perspective transformation. None of them were born into or raised in a vegan lifestyle, yet at some point during each of their adult lives, they encountered challenges to the paradigms that they had learned about health and were compelled to reassess them. Thus, they shifted those paradigms into raised consciousness where the vegan philosophy provided a pragmatic framework to address and resolve the challenge that they encountered. Is this to say that health is the sole reason in which any individual would both practice the vegan lifestyle or even open a business that includes it in its mission? Not necessarily, for the VEs also acknowledged that business can be a mechanism for stewardship (K. Wan, personal communication, September 1, 2022) just as much as it can be for cultural preservation as well (Robinson, 2014, p. 682). Health is a significant reason, yet it isn't the only one I have encountered. Regardless of reason, perspective transformation is a phenomenon that is common in the story of many vegans.
Inclusivity in Vegan Business
The image of the white, skinny, affluent vegan woman holding an expensive green juice on the way to yoga practice is the stereotype of veganism that is prevalent – and inaccurate, for it misleads people into believing that it is a lifestyle that is monolithic, racist, elitist, and inaccessible (J. B. Greenebaum, 2018). This leads to what can be argued as stigmatization of both vegans and veganism (Cole & Morgan, 2011; J. B. Greenebaum, 2018). In Europe and the U.S., public opinion of vegans is near that of drug abusers (Delmestri, 2018, pp. 2–4). Before visiting the VBs in Mount Pleasant and Kitsilano, I knew that members in any city's vegan community tended to support each other in their exploration through education (Véron, 2016), yet I didn't know how far, or to what degree, that support extended. Do VBs appeal to many- or only a select few in the vegan community?
Each of the twelve VEs with whom I visited expressed a desire to make all customers feel welcomed to enjoy their products and services. Cera Rivers of Fairy Cakes knew that everyone was entering her store for different reasons, which was evident in the layout of her bakery. Anyone could enter safely and easily, regardless of mobility. She said that she wanted everyone to feel as safe as possible, from being able to enter and exit to being able to enjoy any available flavour (C. Rivers, personal communication, September 1, 2022). Kind Café + Eatery had a similarly inclusive ambiance as ingredients and messages about their sensitivity to the issue of allergies were clearly displayed as its founder and owner, Samantha, spoke of the importance of providing customers such information so that anyone could feel that their dietary needs were being considered (S. Kingsbury, personal communication, September 1, 2022). In Kitsilano, the Cider House was designed with an aesthetic and menu that anyone could enter, enjoy, and eat comfortably regardless of gender or dietary preference, as it regularly hosts drag bingo nights while avoiding any ambiance – music, decoration, etc. – that is commonly associated with aggressively masculine motifs, like dark colour pallettes (J. Grundy, personal communication, September 15, 2022).
Businesses that did not have storefronts, like Blue Heron-Lumi Foods, expressed the same goal of inclusivity. Its co-founders, Karen and Dee, wanted to create a cheese for those who could not ingest dairy to be able to partake in cheese tastings (K. McAthy & D. Dimla, personal communication, September 10, 2022). Vasundhara Agarwal, the co-founder and co-owner of Bee My Guest, established her food delivery company on the same premise of inclusivity as well. She and her co-founder realized that there were so many accomplished vegan chefs in the Lower Mainland, and many of them specialized in cuisines inspired from their cultural backgrounds – e.g., Indigenous, Indian, East Chinese, Ethiopian, and others. However, the high rental costs often made it difficult for them to find spaces for their own restaurants anywhere in the Metro Area, which, in turn, made it difficult for any customers to access them. In response, Bee My Guest provides the delivery service that makes these meals accessible to most in the Metro Area while the chefs work in remote kitchens, thereby allowing them to serve customers whom they couldn't reach otherwise (V. Agarwal, personal communication, September 14, 2022).
The goal of inclusion was not specific to dining. Plant University, which is an organization under the Vancouver Humane Society and whose mission is to educate the public in plant-based eating, reports that its content is meant for anyone who is curious about eating a plant-based and who wishes to learn more about animal rights, regardless of their income or geographic location (H. Whitehead, personal communication, September 16, 2022). Concurrently, Tintery Brows is a cosmetic company that makes and sells tinted eyebrow gels made of vegan and non-toxic ingredients for all hair colours and complexions – thereby being inclusive and the least harmful to humans and non-humans alike (A. Galperin, personal communication, September 2, 2022).
The stereotype of vegan elitism, and the discrimination that may ensue, is prevalent. However, the VEs with whom I visited challenged that portrayal. For each of them, inclusivity is a priority, and while there are challenges that are outside their control, like prices and the cost of living (S. Kingsbury, personal communication, September 1, 2022), the vegan philosophy guides them to make services and products available to as many people as possible. This now brings us to yet another major theme that was encountered, which was…
The Dreaded "V" Word
Before continuing, I would like to recognize that this section discusses stigma in the context of experiencing veganism. I acknowledge that the mention of stigma in this context may be problematic, and it is not my intention to disregard or disrespect the experience of stigma in other contexts or communities. Based on the reported experiences of various VEs and the literature at the time of this writing, I believe that stigma is the most accurate term for interpreting the phenomena reported in the remaining paragraphs of this section. Nevertheless, I highly encourage additional research to further explore how stigma may be an apt description of a part of the vegan experience.
Despite the fact that the vegan philosophy is a growing presence in business (Sharma & Chauhan, 2020), many of the VEs reported a fear of stigma or a loss of profit if they were to include the word "vegan" on any of their signage. They alleged that many customers consider the term "plant-based" to be more inviting,  less restrictive, and less alienating than the word "vegan". In fact, one of the VEs, who will remain anonymous per their request, mentioned that they had spent a great deal of time, energy, and money into earning a certification from the organization PETA, or People for the Ethical Treatment of Animals. This certification is meant to assure customers that animal cruelty is absent from the business's operations and products. It is an expensive and arduous certification to earn, and yet the VE refrained from displaying the certificate sticker at their front window out of concern that it would repel patrons. The VE earned the certification from PETA to communicate their business's commitment to the vegan philosophy to those who follow or sympathize veganism on ethical grounds. Concurrently, it was reported that he term "plant-based" is preferred and perceived to be less threatening by the majority of customers, for it doesn't carry the same stigma that "PETA" or even the word "vegan" has been labeled.
This refusal to display certification and other symbols associated with veganism is due to what the literature refers to as vegaphobia, or the fear, aversion, and, in some cases, observable antagonism towards those who practice or promote a vegan lifestyle (Cole & Morgan, 2011; Delmestri, 2018). This most likely originates from the notion that abstinence from consuming animal products was originally seen as an exercise in the counterculture by those who were once known as "pure vegetarians" and strived to distance themselves as much as possible from the perceived dangers of industrial agriculture during and after the Green Revolution (Kauffman, 2018, Chapter 6). Mainstream culture then perceived the vegan philosophy as a threat to the status quo – i.e., a radical anti-capitalist and antagonistic group that, by the 1960s and '70s, was often vilified and associated with eco-terrorism, and therefore relegated it into a space of "otherness" (Kauffman, 2018, Chapter 6). According to the VEs, that image seems to not have fully dissipated from public consciousness, at least when it comes to consumer behaviour. To avert stigma, VEs may omit the factor that invites it through a social phenomenon known as front-door behaviour, which is the formatting of facts in a way that communicates the original content, but in a presentation that is perceived to be less threatening, (J. B. Greenebaum, 2012). In this case, the VBs are still vegan, yet the word is absent and substituted for the more publicly acceptable, "plant-based" so as to minimize risk of public backlash that may be incurred by the presence of the word 'vegan'.
During one of my visits and as this idea of stigma was brought up, other customers entered asking if the menu included chicken wings. They appeared to be elderly, yet greatly enthused with dining there. The hostess politely mentioned that wings were available in a variety of sauces and flavours, but they were plant-based. Once the last syllable landed upon their ears, their smiles instantly disintegrated into frowns of disappointment, and they made an about-face for the door in an instant, (P. Deo, personal communication, September 18, 2022).
If only the word "vegan" were on the window…
Conclusion
What are the challenges the vegan community in Mount Pleasant and Kitsilano encounter, and how do they address them? Check out the seventh blog, The Challenges Facing Vegan Entrepreneurship, to find out!
I'm grateful to all of those VEs who welcomed and conversed with me in and about their businesses. Check out them out below!
Note: Fairy Cakes closed since the time of this writing, but follow its founder, Cera Rivers, and her band here.
Plant University – Vancouver Humane Society