Weeks before much of the world became familiar with lockdowns and quarantines, I was ascending and descending the many dynamic hills of San Francisco. I had grown up across the Bay, and even though an expanse of water and a range of hills lay between my childhood hometown and that gleaming city, its famed fog still managed to roll in and blanket my street just before sunrise. I always enjoyed that fog – not just for the moody ambiance that it gave to counter my otherwise "peppy" Californian neighbourhood, but for its gentle reminder of the many concerts, expositions, and culinary experiences that were just an hour or two away by metro. It was for the latter that I found myself in the city that day. I had visited and experienced many vegan communities across the U.S. and Canada that past year, and yet I somehow neglected that of San Francisco, which is arguably the birthplace of the Hippie movement in the U.S. (Howard, 1969). 
With a Friday afternoon to spare, I decided to correct my omission by visiting a few vegan restaurants, starting with the well-reviewed Vegan Picnic. Within moments of crossing through its glass doors, I was greeted with a kind and enthusiastic "hello!" from the young woman at the front counter. Like so many other eateries in the foggy city, this one was clearly set up to cater to the take-out crowd. The kitchen took up most of the floor space, while a long table with a few stools sat invitingly up against the front window. 
After I approached the counter with inquisitive joy, I asked the question that my wife and business partner, Bree, and I always like to ask owners and managers, "what's your favorite dish?" – after all, the whole point of my visit is to explore their motivation. The woman at the counter beamed a smile and coolly suggested I order the VP Burger. I obliged, along with some baklava, brownies, and an egg salad sandwich. Trying to avoid seeming like a glutton, I sheepishly explained my excitement and why I ordered so much. I described my website and how my wife and I write travel guides for plant-based travelers visiting destinations throughout Canada and the U.S., noting that savouring vegan and vegetarian restaurants in each destination is how we generated content. Intrigued, the woman at the counter took out her phone to look up the site, and after some skimming, her brow furled, casting a shadow of confusion over the rest of her face. Only a moment passed before she asked, bluntly, "are you an activist?"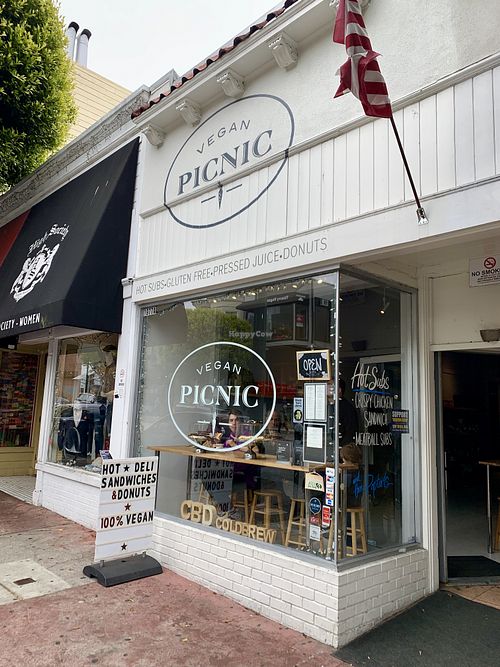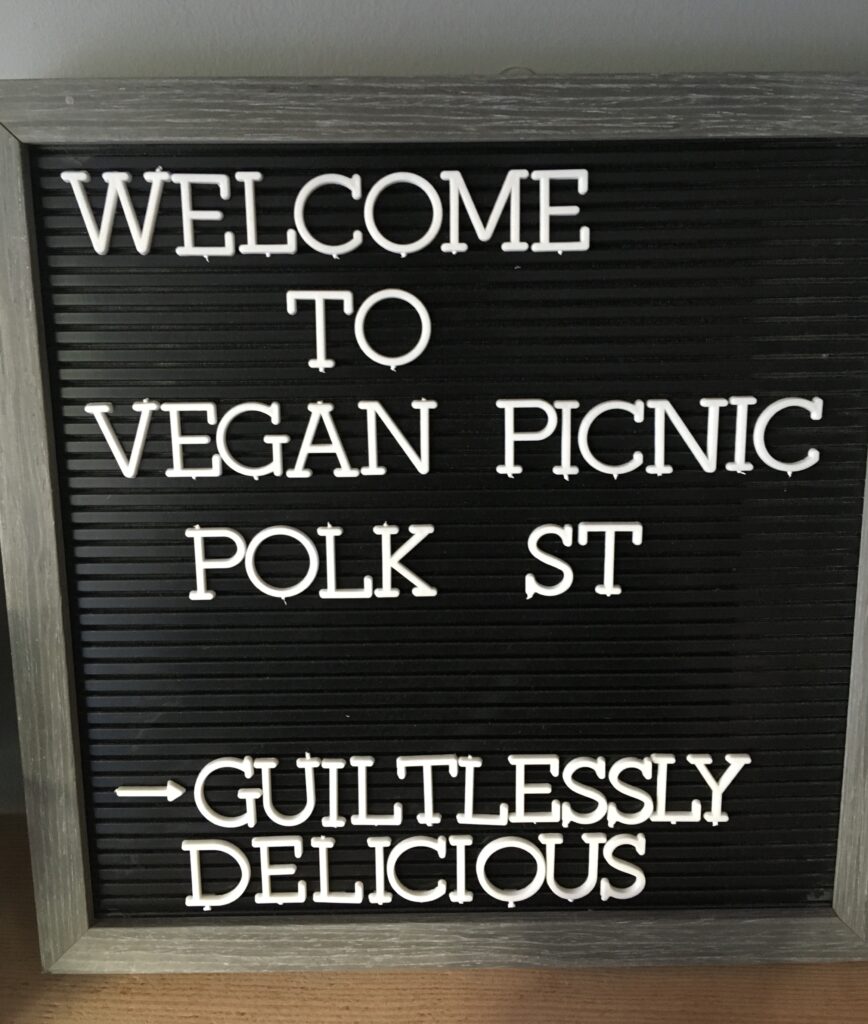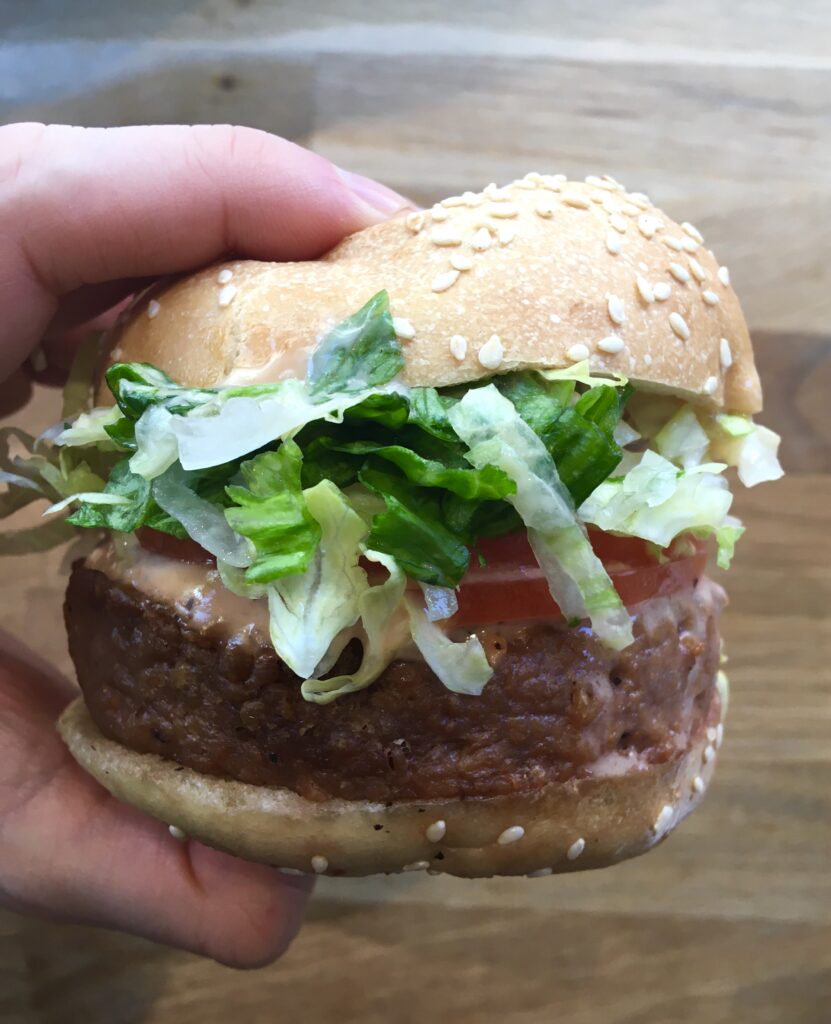 I couldn't help but chuckle at the question as it wasn't the first nor the last time that it had been posed to me. Many people – vegans and non-vegans alike – tend to assume that all of those who practice the lifestyle do so out of a zealousness for environmental conservation, animal-rights, or what Robert Jones refers to as revisionary political veganism (R. C. Jones, 2016, pp. 27–30). While it is true that environmental and animal rights are significant goals in veganism, there are, in fact, other reasons why one chooses to follow a vegan lifestyle. This breadth of reasons are why veganism is a holistic philosophy (Wescombe, 2019, p. 6) and not merely a diet or a political agenda. Among them are…
The Pursuit of Health
Aside from stewardship and environmental ethics, self-identified vegans report that the pursuit of good personal health is among the most significant motivators in their pursuit of a vegan lifestyle, (Radnitz et al., 2015, pp. 32–33). Vegans have been known to adopt this lifestyle after experiencing a critical health scare, such as heart attacks or cancer. These perspectives may be informed by a growing body of peer-reviewed medical studies revealing how animal products – red meat, in particular – cause conditions that are detrimental to one's personal health. An increased risk of bladder cancer, for instance, is linked to eating as little as 1,000 mg of animal-based protein per day (Ferrucci et al., 2010, p. 4348), which is less than just a serving of two large eggs at breakfast (Bjarnadottir, 2017). Nitrates and other N-nitroso compounds (NOCs) that are found in processed meat elevate the risk of forming tumors in many organs, (Ferrucci et al., 2010, p. 4346), even for those living with low genetic or environmental dispositions for cancer. Inversely, participants whose diets are rich in plant-based proteins like soy – which lack these nitrates and NOCs – were observed to have fewer cases of cancer and heart disease than their omnivorous counter-parts (D'Adamo & Sahin, 2014, pp. 46–48). Even products that are not derived from animal flesh, like dairy, are found to increase the risk of breast cancer as many production animals are injected with bovine growth hormones. These hormones increase the production of milk, but works in tandem with insulin growth factors to dysregulate estrogen levels, which has been determined to be a common cause for breast cancer (Kaluza et al., 2021, p. 1971). That, and the fact that lactose intolerance affects more than two-thirds of the global population (Expert Market Research, 2022), both merit the question: What good is dairy really giving us – especially when there are so many nutritious plant-based alternatives currently available in international markets? 
In short, there isn't any nutritional benefit that comes with the consumption of meat and dairy that can't be found in fruit and vegetables, like fiber, protein, amino acids, and vitamins, (Sakkas et al., 2020). In fact, vegan cuisine can provide the nutrition and flavours that all of us value with the reduced risk of exposure to carcinogens, (Radnitz et al., 2015, p. 34). In a study by Kim at al. (2018) that collected data from a general population of middle-aged adults from 1987 through 2016, those who adhered to an overall plant-based diet experienced a lower mortality rate due to cardiovascular disease, even after adjusting for socio-economic, environmental, and lifestyle factors, (Kim et al., 2018, p. 8). Vegan cuisine offers a chance to evade harms while providing nutritional value and commonly enjoyed flavours, which do play a significant role in the next reason…
Culture & Religion
In addition to providing sustenance and possibly offering healthier eating options, veganism can include an opportunity to reinforce cultural values and senses of community. Among the most interesting – and the most well-known – is the relationship between soul food and veganism.  Soul food is a central part of African American cultural identity, as its ingredients and recipes were particular to their history, (Greenebaum, 2018, p. 691).  Many esteemed and prominent vegan African-American scholars, chefs, and food sovereignty activists, like Tamearra Dyson, Tracye McQuirter, et al., (Flink, 2021) see the potential of vegan soul food options as a way to preserve flavors and as a means to engage with members within their own community (J. B. Greenebaum, 2018, pp. 690–691). Vegan recipes also allow for the incorporation of African and Afro-diasporic vegetables, grains, legumes, fruits, nuts, seeds, spices, and cooking techniques into the practice of making and consuming it (J. B. Greenebaum, 2018, p. 691). Standard soul food dishes that can be made to taste the same without animal products include (McBride, 2019): 
Eggplant marinara

Jerk jackfruit kabobs

Vegetable chickpea curry

Vegan corn bread

Sautéed red cabbage

Vegan carrot cake and cookies
Vegan Mob, which is a take-out restaurant in Oakland, California, that offers vegan soul food and southern barbeque recipes, makes that the core of its mission statement, which is to practice the cuisine's meaning in healthy recipes to the city's many communities (Vegan Mob, n.d.), which includes more than 106,000 African Americans, making it the largest African American community in Northern California (Data USA, 2019).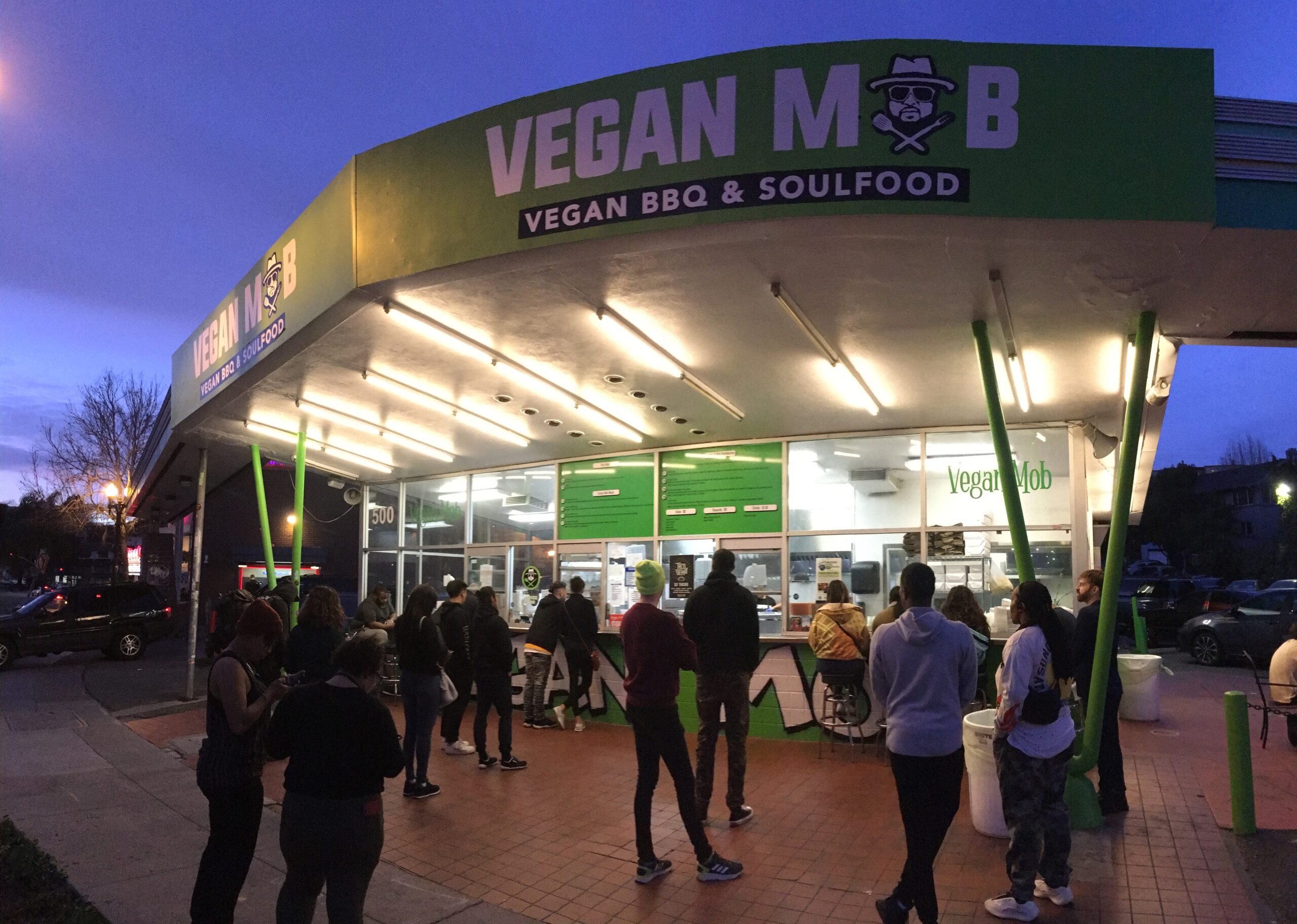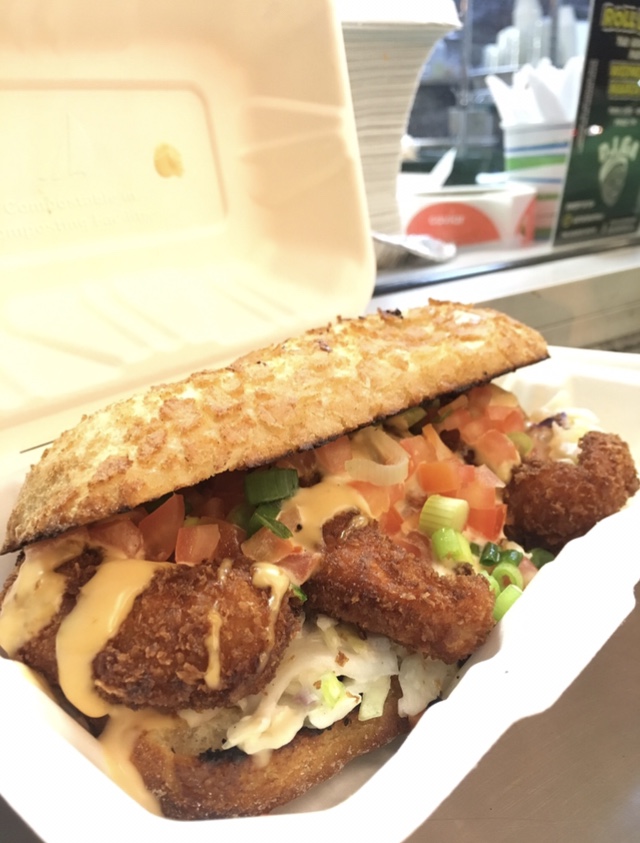 There is a perception that veganism is only practiced by the white affluent people of the world (Stiefel, 2021, p. 200), when, in fact, it is being adopted by African American communities at an increasing rate (McBride, 2019). At the time of this writing, there are at least ten open vegan restaurants in Atlanta's predominantly Black neighbourhoods that are owned by Black entrepreneurs, reflecting the growing interest in such culinary options (VegOut Magazine, 2021). In July 2019, Atlanta hosted its first vegan block party with more than 50 vendors present to promote African American and Latinx communities through stands and activities oriented around the themes of their wellness, entrepreneurship, and art (Starostinetskaya, 2019). Rachel Soper, a researcher in food justice, performed qualitative interviews in 2021 with vegans in Black communities in San Diego and Oakland, California. During these interviews her participants most often told her that the most significant barriers to their lifestyle were not members of their own community or their cultural values, but those outside it – including whites who reinforce the settler paradigm that non-white diets are carnist, or meat-focused (Soper, 2021, pp. 415–417). One of those participants, Cleo, said:,
"I get that a lot: 'Veganism? That's rich white people stuff.' People are like 'you don't even eat chicken anymore?! You're Black, you're supposed to eat chicken'. For the people she is surrounded by, they associate Black culture with eating meat. She wants to spread awareness that not all Black cultures eat meat. 'It's a lack of understanding that tons of people eat plant-based diets across different cultures," (Soper, 2021, pp. 416–417).
 Even in the abstinence of animal products, the rituals, flavors, and meaning of soul food remain to strengthen values (J. B. Greenebaum, 2018, pp. 691–693), and identity through the use of specific ingredients and cooking practices, (Véron, 2016, pp. 288–289).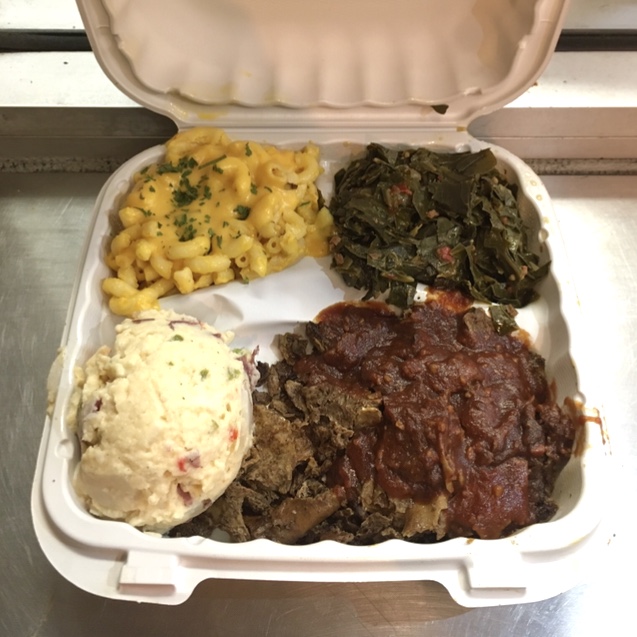 In other cultures, some of their ancient culinary and philosophical practices just happen to be naturally vegan. Among the most prominent examples of this is Kashrut in Judaism, which is that religion's set of dietary guidelines of what is fit – kosher – and unfit – treif – to consume, (Stiefel, 2021, p. 194). There are many requirements for a dish to be considered kosher. Chief among them are (Stiefel, 2021, pp. 195–196):
Every animal must have been healthy before its slaughter, and must not have been under duress beforehand,

Meat (flesh) and dairy products may not be consumed together,

Blood must not be consumed, and

Cooking instruments for meat and dairy must not contaminate the other.
While it is true that Kashrut permits the consumption of animal products, its philosophy shares the same principle of veganism, which is to avoid cruelty towards all living things whenever possible (Gold, 2018, p. 169). In fact, Noah and his descendants are prohibited by God to eat flesh torn from any animal following the flood in Genesis 9:4, since both humans and non-humans had already suffered so much (Stiefel, 2021, p. 196).
Much like how African American communities have practiced and preserved their cultural values through vegan soul food, Jewish communities around the world have done the same through vegetarian and vegan kosher (Stiefel, 2021, p. 195). During persecution in various points of history in Europe, like the Spanish Inquisition, Tsarist and Soviet Russia, and Nazi Germany, kosher meat was banned, which incentivized their Jewish communities to adopt vegetarianism and veganism – not just for sustenance, but as an act of political protest and resistance as well (Underwood, 2019, pp. 25–27).  It is because of the eliminated risk of meat and dairy contamination that kosher can be so easily achieved through veganism and vegetarianism. More than 70 rabbis around the world have officially affirmed this by going so far as signing a declaration in 2017 that urged Jewish people to pursue veganism for the sake of keeping kosher (Stiefel, 2021, p. 194). The very practice – and even embrace – of vegan philosophy in Judaism discredits the perception that veganism is a culture killer based on settler paradigms. Veganism not only transcends religious, cultural, and ethnic boundaries (Stiefel, 2021, pp. 195–196), it also provides a framework towards cultural resilience.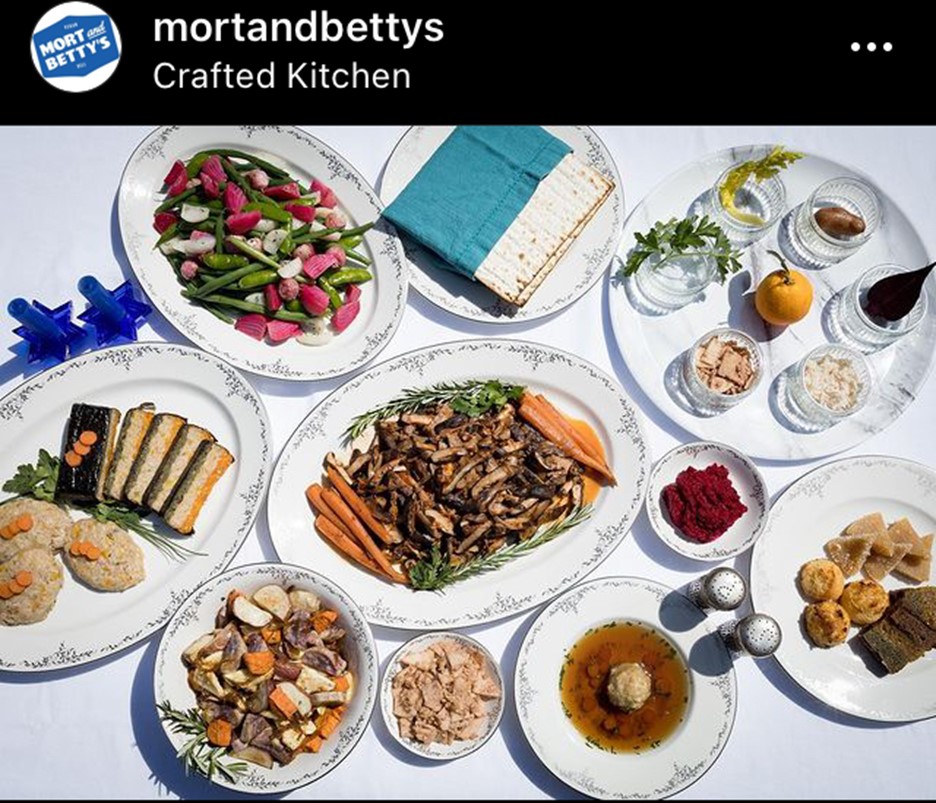 Conclusion
"Are you an activist?"
Not in the typical sense, I answered the woman at the counter as she handed me my tray of delectable dishes. While I work with, support, and admire all of those who march and organize in public spaces for animal and environmental justice, my desire to explore all the meanings and experiences of veganism is not limited to those aspects. I perceive veganism as a holistic philosophy through which many of the issues in our current era can be addressed, and it is through this column, Ben's Vegan Vancouver, where I look forward to sharing my experiences of vegan businesses in Mt. Pleasant and Kitsilano. 
Want to learn more about vegan lifestyle and experience? Sign up for our newsletter via the form on the right-hand side of the page.
Want to learn more about Ben's vegan experience in Vancouver? Then check out these articles and subscribe to our newsletter to stay current with his journey.