Introduction: Tears on the Rainbow Road
It was late September and there wasn't a single cloud in the sky or sliver of shade as the sunlight washed out the deep, rich reds of the brick buildings that lined the street and muted the green hues of the streetlamps along West 4th Avenue in Kitsilano, fondly and historically known as the Rainbow Road (Vancouver Heritage Foundation, 2022; S. Wilson, 2012). The summer had concluded more than a week prior, yet the heat and the humidity remained so high that one could think that the season was overstaying its welcome. Thick, thermal curtains of heat radiated from the sidewalk and lapped my face as I walked through them at a slow pace. The heat, as intense as it was, was not the reason for my dispirited walk, but rather the sight of the building on my left. At two stories tall, its wooden façade was painted in white with red and green trim lining its windows and moldings that adorned the ledge on the roof. The green and red awning with the name of the restaurant, "The Naam", spanned most of the length of the front, under which large windows spanned the entire length of the ground floor and showcased about a dozen or so people sitting at tables, escaping the unseasonable heat around plates of multicoloured vegetables and drinks. Even from across the street I could clearly see many of the diners seated at the front windows were happily entranced by their meals. It seemed like a berth for them – both from the relentless heat and from the stresses that they encountered so far that day. From those content faces I was certain that they must have been experiencing the same delight I did when I first set foot inside and dined there more than five years before during my first visit to Vancouver; realizing that the Naam was a place of comfort and inclusion, catering to the tastes and dietary necessities of all who passed through its front door.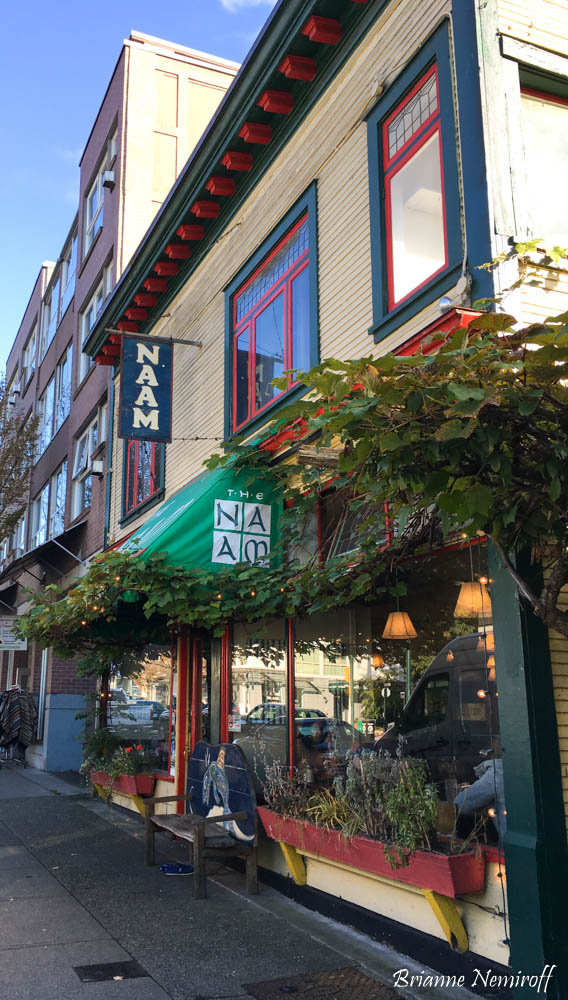 Just days before, news had broken across Vancouver that the Naam, the oldest vegetarian, whole-food restaurant in the city that had come into being at the height of the counter-culture movement in the 1960s and had stayed in business for the past 50 years (S. Wilson, 2012) had been put up for sale by its owners because of ever-increasing expenses (Baker, 2022). While not a vegan establishment (some dishes on its menu still feature dairy), the Naam is, in many respects, a progenitor to the vegan business community that carried significant meaning. This sadness was also compounded with the news of the indefinite closure of another plant-based establishment, Fairy Cakes, by mid-October 2022, (C. Rivers, personal communication, September 1, 2022), followed by the other news that the Victoria-based vegan meat producer, The Very Good Butchers, had cancelled its plans to open a retail space in Mount Pleasant (William-Ross, 2022). That is why there, at the sight of the Naam from across the street where the vegetarian and vegan community of Vancouver arguably began, my heart sank. A solemn question pierced my mind: could it very well be that, at the time of my exploration of the Vancouver vegan business community for this very project, I was witnessing signs of it collapsing? I shuddered at the thought as another bleak question arrived: If the neighbourhoods of Kitsilano and Mount Pleasant were reputably hospitable towards vegan and vegetarian businesses and residents, then why did so many seem to be closing there in the past year?
During my exploration of vegan businesses, or VBs, in these neighbourhoods, some of the owners and managers of these stores were aware of these closures, and their insights and impressions on the matter revealed themes and trends that affect the affordability of living and doing business in them and most likely the rest of Vancouver. In this blog, those themes and trends will be described as they were to me during my conversations with the vegan entrepreneurs, or VEs. I will then interpret their descriptions through the literature before proposing further research that could be conducted to further illuminate the challenges that VBs face in these neighbourhoods, and what approaches can be taken to address them.
The Rising Cost of Living
As discussed in the fifth blog in this series, the ostracized religious communities (New Westminster Bureau of the Vancouver Daily Province, 1948; Why Doukhobors Are Vegetarians, 2013) and the counterculture of the 1960s (Jezer-Morton, 2006; (Planner, 2021) popularized British Columbia – and particularly Vancouver – amongst vegetarians and later vegans starting from the mid-twentieth century. At the time of this writing, there were at least 40 vegan establishments in the City of Vancouver (Happy Cow, 2022) and more than a dozen of them are in the neighbourhoods of Kitsilano and Mount Pleasant – twelve of which I visited for this project. In the seven decades since the early mentions of vegetarianism in the city's local media (New Westminster Bureau of the Vancouver Daily Province, 1948) and five decades since the opening of its famous vegetarian restaurant (S. Wilson, 2012), one would not be remiss to believe that there would be more VBs in the city due to exponential growth.
The VEs whom I visited in Kitsilano and Mount Pleasant wonder about that as well. Those who have had storefronts for more than a year in either neighbourhood recalled vegan establishments that were once there during their earliest days of operation yet had since closed. In Mount Pleasant, there were two vegan eateries – Bad Apple and Beetbox – and one fromagerie – Blue Heron – that used to have storefronts along Main Street yet had closed within the past two years (M. Tang, personal communication, September 28, 2022). In Kitsilano, the VEs with whom I visited spoke less of closures, and three of them operated without their own storefronts. None of them attributed the reason for their remote operations to a lack of public interest in veganism or vegan products and services. Instead, it was the growing costs of living and operations – i.e., rent, ingredients, supplies, and shipping – that were commonly reported to be significant hardships. The VEs reported that they had considerable numbers of regular and loyal customers of a variety of marketing demographics, from Baby Boomers to members of Gen Z, locals as well as tourists and visiting students (S. Kingsbury, personal communication, September 1, 2022). Some of the VEs even reported that they were considering relocating their storefronts to other neighbourhoods in the Metro Vancouver area and even outside the province as a means to stay open and to be closer to the sources of their staple ingredients to reduce costs for shipping and rent. The owner of Fairy Cakes had been able to sustain her business through pick-up/take-out orders during the lockdowns of Covid-19. What compelled her to finally close the store was the increasing cost of staple ingredients, like egg replacements and milks that were allergen free (C. Rivers, personal communication, September 28, 2022). Other VEs also stressed availability and cost of shipping of staple ingredients as a common concern (M. Tang, personal communication, September 28, 2022; S. Kingsbury, personal communication, September 1, 2022).
Concerns about rising costs of living in Vancouver are not specific to the vegan business community. In Vancouver, the average cost of renting a one-bedroom apartment is approximately $2,239 CAD per month, which is an increase of 23% between 2021 and 2022 (Cranston & Mangione, 2022). Monthly rent prices in Mount Pleasant alone have seen an average increase of 14 percent (Zumper, 2022). While the VEs didn't provide me with the exact figures that they were paying for in rent, one may assume that rising rental rates for residences in the city are proportionally affecting those for VE storefronts. Even in instances where the patronage is reliable, such an increase in rent could cause additional financial strain that could render operations unsustainable or unmanageable.
In addition to representing a growing concern for VEs with existing businesses, increasing costs can also act as a barrier to entry for new VEs who are planning to establish their own businesses. High prices would mean that they would have greater difficulty in securing space, supplies, and permits to operate, and thus, a greater likelihood of failure (Demirel et al., 2019). These compounding pressures could plausibly lead to a situation where these neighbourhoods, which have gained a reputation as hospitable to VBs, might lose that reputation as more VEs are priced out of them (Chapple & Jeon, 2021; Hanley Wood Data Studio, 2018a, 2018b).
A Retail Redux?
Despite such concerns of costs and closures, it may be possible to encourage these businesses to stay and to preserve the current vegan and veggie-forward nature of these neighbourhoods. At the time of this writing, there is some effort from policy-makers to support small businesses. During the lockdowns of Covid-19, the provincial government did offer financial stimuli to Small-Medium Enterprises (SMEs) whose costs increased and whose operations suffered due to supply chain disruptions (Roy et al., 2021). As well-intentioned and promising as those stimuli may have been, my conversations with the VEs suggest that they were insufficient. While they may have made up for decreased revenue from less-frequent patronage during the lockdowns, the stimuli did not cover the inflating costs of living after the lockdowns (Misra et al., 2022, p. 224). To address that difference, greater attention needs to be paid to the policies that shape rental pricing at municipal, provincial, and federal scales. The first step in doing so would be for the general – i.e., voting – public to consider the price of rent as one of the factors that can either benefit or work against the success of vegan and non-vegan SMEs. Not doing so may risk these businesses vacating in droves and rendering neighbourhoods like Kitsilano and Mount Pleasant abandoned, only to have portions of them bought by large companies and, ultimately, raising the rental prices even more.
In addition to improving renting policy for small businesses and to addressing factors they need for success, re-framing how we understand small businesses with or without a physical presence in a neighbourhood and its meaning within greater communities, is merited. There is a belief in popular culture that the advent of online markets and shopping is driving a swift and merciless decline and death of the brick-and-mortar, independently-owned store, (Goolsbee, 2020). However, establishing operations online can be the most appropriate means to stay in business, and forgoing a traditional "brick and mortar" presence can or save on such costs or avoid some entirely – particularly as overhead costs appreciate (V. Agarwal, personal communication, September 14, 2022). VBs like Bee My Guest and Vivus reported that they got positive and loyal feedback from patrons even though they don't currently have storefronts (O. Milman, personal communication, September 3, 2022; V. Agarwal, personal communication, September 14, 2022). Another VB, Blue Heron, which was a fromagerie that had a storefront in Mount Pleasant until 2022, reported that it retained its patrons and that its brand has been able to reach more customers after closing its storefront and by selling its products in local and regional supermarkets instead (K. McAthy & D. Dimla, personal communication, September 10, 2022). It is possible that tourism isn't the only sector that needs a redux as business resumes after the lockdowns brought on by the Covid-19 pandemic (Brouder 2020). Just as international travelers and operators are re-evaluating their services and products in ways that may lead to less harm, a similar re-evaluation and revision to rental law may lead to fewer challenges for VEs and SMEs in general. With fewer challenges battering these entrepreneurs comes greater opportunity for innovation (Demirel et al., 2019).
Conclusion: Somewhere Over the Rainbow (Road)
Seeing those smiling faces in the windows of the Naam that day eventually brought one to my own, for they were a sign that this restaurant and other VBs can endure. With some hope rekindled, I continued on my stroll along 4th Avenue. While it is sad that businesses may change ownership or even close indefinitely, I am comforted by the fact that the community in Kitsilano is aware of these concerning trends and may try to save these SMEs and VEs. In a time of uncertainty when entire industries seem to rise and fall faster than the tides lapping Kitsilano Beach, vegan entrepreneurship seems ever inclined to innovate, adapt, and thrive. I certainly count myself incredibly fortunate to have had the chance to experienced them and to have meet the VEs behind them. I now invite you, dear reader, to do the same.