If you've been a long-time follower of our travel journey, you know that our first leap into long-term travel started in March 2017. While we had visited many other countries and destinations prior, March 2017 was the start of our life on the road. The first stop of our journey in 2017 was in Portland, Oregon, and my first stop as a food journalist in this city was at KaTi Portland. Little did I know that when I walked through the doors at KaTi, that I would forever be comparing every soup I ate to their Tom Kha and that they would also change my relationship with coconuts. (I was never a fan of coconuts before trying their Vegan Iced Tea and their Tom Kha. Now I am more open-minded to the use of fresh coconut or coconut milk in any style of cuisine!)
KaTi Portland is owned by business partners Ketsuda Nan Chaison and Sarah Jansala, and Renoo Jansala (Sarah's mother) heads the kitchen. The restaurant is a charming 45-seat restaurant on SE Division Street in Portland, Oregon. Its space is welcoming, intimate, and rustic. At KaTi, you never have worry about what you'll order as everything is always delicious, fresh, and scratch-made. It doesn't get much better than that.
During our travels, we've enjoyed street food in Singapore and Jerusalem, coffee and pastries in Prague and Vienna, vegan fine dining in New York City and Philadelphia, and the best vegan tacos and pizza that Austin and Portland, Oregon, have to offer. But no matter how far we travel and how experienced our palettes become, I will always have a place in my heart for KaTi Portland's Tom Kha.
Interview with
Ketsuda Nan Chaison, Co-Owner of KaTi Portland
How long have you been in business and what was your inspiration to open KaTi Portland?
KaTi has been open for almost 4 years. I have been working in the industry for almost 10 years, with love and passion for the food business, Sarah and I decided to open KaTi to cater to vegan and vegetarian diets and everyone [else] who loves good food. We wanted to make our dream come true. We wanted the KaTi family to be part of this wonderful community and create jobs to support the economic system.
What have been your biggest challenges as a small business owner?
Labor is the most important to us beside creating and making delicious food. As small business owners, we need to make sure that we are fully staffed and the service can run smoothly everyday. Hiring the right person, who will be a good fit, is really hard; we need to make sure that they care and love what they do.
What have been some of your biggest wins as a small business owner?
The support from our community is our biggest win. We have never thought that KaTi would be this far in business; but with the support from our customers, KaTi is growing strong and we are able to keep providing jobs for our employees.
If you could offer one piece of advice to yourself when you first opened KaTi Portland, what would it be?
I would say do more research before restaurant constructions! Those cost so much time and money so you need to be cautious about it.
With what you know now, is there anything you might have done over about your business plan, decor, or menu?
We usually change the look of our menu once a year; but now with what has happened to the world, the menu has become a QR code. Just scan to access the whole menu. We are living in a paperless world!
How has your business pivoted during the pandemic? What has had to change so you can still thrive during this time?
We changed our business model to take-out and delivery only. Thai food is suitable for carry-out, plus our dining room was too small for setting tables six feet apart. We will remain take-out only [for the time being] and things are going great!
Portland is, no doubt, one of the best vegan cities in the world. What do you think your restaurant adds to this incredible restaurant scene?
Portland is the city that we love, and we are working really hard to make KaTi Portland a good addition to this wonderful city. Our restaurant is more than just a place to serve good food. Everyone on the KaTi team is like family, and everyone who works here cares about the food and the restaurant. We have an amazing team!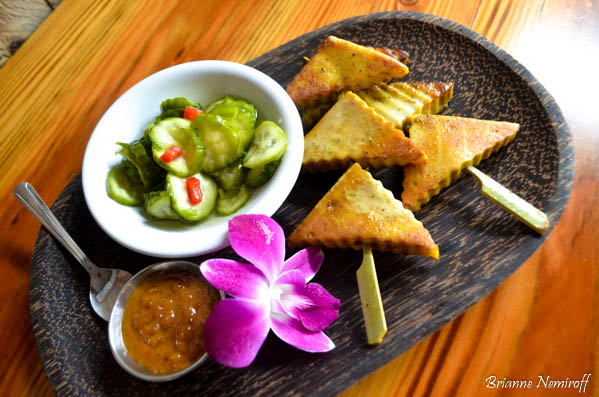 Why was it important for KaTi Portland to be vegan?
The majority of all Thai restaurants are not vegan. At KaTi, we care about all dietary needs, especially vegan and vegetarian. Our chef wanted to showcase healthy vegan Thai food that was also packed with flavor.
I know that you make most of your menu from scratch, down to the sauces and smallest details. For anyone who hasn't dined with you yet, can you talk about what makes your menu and ingredients different from other Thai restaurants, especially a vegan one?
KaTi uses fresh ingredients and a lot of Thai herbs to make our food stand out from other restaurants. We believe that delicious Thai food can be made without meat, fish sauce, or oyster sauce and still remain flavorful in every bite! We care about our products and consistency is the key for making our food.
What are your favorite dishes or cocktails on the menu?
Nam Khao Tod is a must-try appetizer on the menu. Also, Pad Thai is definitely our best seller at KaTi Portland. One of our most popular drinks is the Adult Thai Iced Tea, a delicious drink with spiced rum and Frangelico liqueur added to our Thai iced tea.
What are your most popular dishes and cocktails on the menu?
Nam Khao Tod: lettuce-wrapped crispy rice salad. Pad Thai, Tom Kha, and Boss Special: crispy tempeh served with garlic yellow noodle and house tamarind sauce. Spicy Tipsy is a cocktail inspired from the famous dish, Tom Yum Soup: tom yum herbs-infused vodka, fresh lime, and simple syrup.
Where can our readers follow you?
IG: KaTiportland
Facebook: KaTi Portland
To never miss one of our Kind Conversations, vegan restaurant guides, or destination guides, sign up for our newsletter.