The Best Vegan Restaurants in Portland, Oregon
Vegan Thai, Middle Eastern, Frozen Yogurt, Fine Dining, and MORE!
Portland, Oregon is a vegan mecca. If you're a follower of vegan news sources, you already know about the vegan strip club, vegan mini mall, vegan pizza, and all the vegan donuts you can eat. The vegan restaurants in Portland certainly take chances with their flavor profiles while also utilizing their bountiful local ingredients.
Vegan food in Portland is accessible, affordable, and still delectable unlike in any other city in the U.S. we have visited. From food trucks and carts to fine dining establishments, here are our recommendations for vegan restaurants in Portland, Oregon.
KaTi
KaTi is strictly vegetarian with options to make almost everything on the menu vegan. Even if we're in town for one night, we make sure to go to KaTi. The locals have also figured out how incredible KaTi's menu is so make sure you make reservations ahead of time.
HIGHLIGHTS: Tom Kha Soup Vegan, Pla Rhad Prik Vegan, Pad See Ew.
Harlow
Harlow's menu is the epitome of comfort food; but instead of towering piles of pancakes and macaroni and "cheese", they serve breakfast bowls, probiotic drinks, and roasted vegetables that melt in your mouth.
HIGHLIGHTS: Turmeric Latte, Betty Bowl, Outlaw Scramble, and Green Chili Corncakes.
Prasad
Prasad is Harlow's sister restaurant. Expect the same quality but with a few lighter menu options intended to refuel your body after a workout. Prasad shares a space with a yoga studio.
HIGHLIGHTS: Tabor Bowl, Super Greens Lemonade.
Farm Spirit serves a set multi-course menu that features ingredients only from the Cascadia region within 105 miles of the restaurant. The best part, it's not pretentious because it's Portland. Although we highly recommend you dress nicely, formal dress is not required.
When we first visited Farm Spirit, the dining space only had an exclusive chef's counter where they served 14 people at a time. In Spring 2019, they reopened and expanded to add a dining room so more foodies can enjoy the restaurant on a nightly basis.
HIGHLIGHTS: You'll never be served the same thing twice as everything is hyper-local and seasonal.
Need a classic American burger, fries, and a milkshake? Next Level Burger has just that but elevates them with their homemade patties, soft serve, and condiments. For instance, their Signature Burger is a classic American burger but is elevated by its garlic thyme mayo.
HIGHLIGHTS: Signature Burger, Orange Cream Milkshake.
Blue Star Donuts
Blue Star Donuts is known for their tasty brioche donuts. But as a brioche recipe requires a lot of butter, all of their vegan options are cake donuts. Brioche or cake donuts, these are still some of the best donuts in the country. We love them so much that we bought a half dozen and drove them all the way to Vancouver, B.C. with us.
HIGHLIGHTS: Passionfruit Cacoa Nib, Matcha Latte, Orange Olive Oil.
You've seen this vegan barbecue joint all over Instagram and Facebook. What makes them taste like real barbecue is that almost all of the meats are made in house, and all of them are smoked in house. This adds the char and smokiness that vegans rarely get to experience.
HIGHLIGHTS: Mac-No-Cheese Burrito, Dagwood Sub, Tempeh Ribs.
Native Bowl
This local food truck is one of the not-so hidden gems of the Prost! Marketplace on Mississippi Avenue. Here you can get incredible vegan fusion bowls made with the best of local ingredients.
HIGHLIGHTS: Alberta Bowl.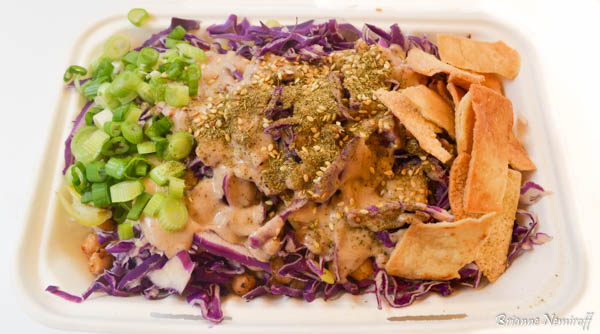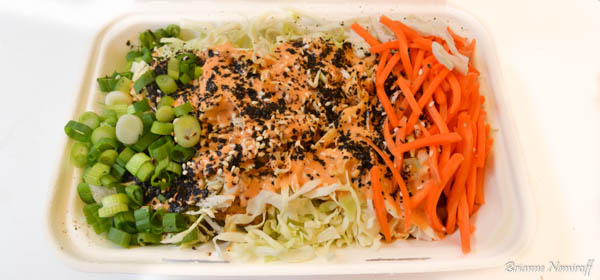 Yuan Su Vegetarian
When Americans think of Chinese food, we mainly think of MSG, late-night takeout, dim sum, and mystery meats. Here you can enjoy 100% vegan, MSG-free, GMO-free Chinese food made from scratch that tastes enough like the real thing to satisfy any craving you might have for traditional Chinese food.
HIGHLIGHTS: Teriyaki Chicken, Veggie Shrimp with Veggie Sea Cucumber.
Eb & Bean
Eb & Bean makes handmade frozen yogurt without artificial flavors, corn syrup, or preservatives. While they also have dairy flavors, the requests for dairy-free flavors keep pouring in so much that their menu is slowly adding more and more vegan options, all of which rotate every four weeks so you'll have to keep going back to try the new ones. Top the yogurt with any of their 14 vegan toppings and four vegan sauces.
HIGHLIGHTS: Flavors rotate every month.
While Eb&Bean tends to have more vegan options available, and a shorter line, Salt & Straw utilizes dozens of their local vendors to make tasty new flavors every month. They are also a local favorite and success story that now has shops all over the West Coast.
HIGHLIGHTS: Flavors rotate every month.
Maruti Indian Restaurant
Three words: Vegan Tikka Masala. Not only do you not miss the dairy, but it also tastes better than any dairy version we've ever had. Every dish is made with fresh, local, and organic ingredients. Many items are made from scratch, and every entree is made to order. Plus, this restaurant is owned by the sweetest couple, whom we hope you meet during your visit.
HIGHLIGHTS: Watermelon Mung Sprout Salad, Vegan Tikka Masala.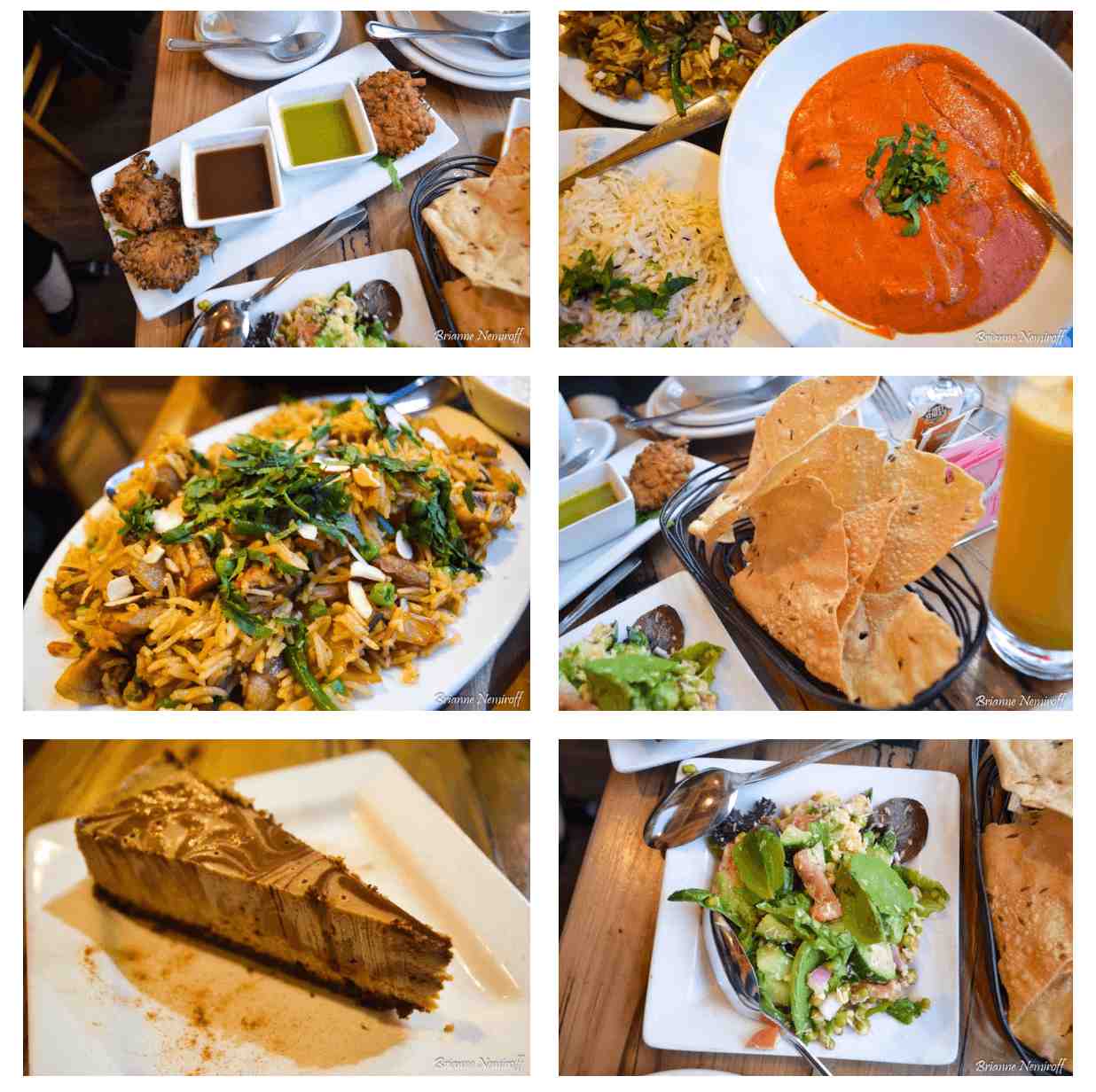 Canteen
Looking for a great breakfast bowl or after-workout meal? This unpretentious juice bar has the tastiest bowls that are good for the belly, waistline, and for boosting your energy level.
HIGHLIGHTS: Portland Bowl, Summer Breeze smoothie.
Surprisingly, VooDoo has many vegan options! This local favorite makes great doughnuts with a lot of ingenious flavors, so you're not just paying for Instagram bragging rights. You, too, can purchase one of their amusing doughnuts and take a prop photo in front of their pink signs.
HIGHLIGHTS: Mexican Hot Chocolate, Maple Cream, VooDoo Bubble.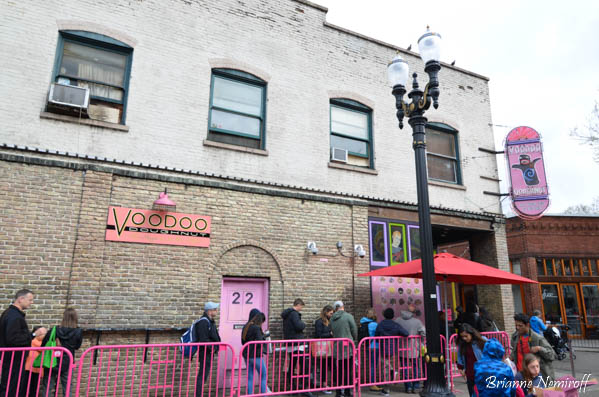 Other vegan restaurants in Portland:
Off the Griddle: Vegan/vegetarian diner style eats.
Rudy's Gourmet Pizza: Dozens of vegan pizza options.
Virtuous Pie: We've been to the one in Vancouver often, but never this location. We'd highly recommend it.
The Sudra: Indian vegan restaurant also known for their specialty cocktails.
Aviv: Vegan Middle Eastern cuisine with an incredible jackfruit brisket, falafel, and so much more.
The famous vegan mini mall: A vegan bakery, grocery store, clothing store, and tattoo shop in one establishment.
If you have any recommendations of your own, we'd love to know your favorite spots so we can visit them the next time we're in town. Feel free to share your favorites, or places you hope to visit in Portland, in the comments below.