Montréal does not get enough love; this dynamic destination is so much more than poutine, smoked meats, and lively bars, especially if you're traveling as a vegan or with dietary restrictions.
Montréal is a major hub for the video game industry in North America. Montréal hosts dozens of incredible festivals, from internationally renowned music festivals to small festivals that showcase the incredible diversity of the city. Montréal is also one of the best foodie destinations in Canada with the most restaurants per Capita in Canada, and only second behind New York in North America.
Montréal is bound to blow you away on any budget. Music and comedy fans will want to attend worldwide famous events such as Just for Laughs, Osheaga, Heavy Montréal, and ÎLESONIQ. Foodies will want to try vegan poutine, Montréal-style bagels, maple candies, and as many vegan restaurants as you can pack into your schedule. Admirers of architecture will love the range of styles in the city, including Art Deco, Neo-Gothic, and Second Empire, spread throughout all of Montréal's neighborhoods.
Some of our favorite travel memories have been in Montréal. We love walking the romantic streets of Old Montréal, pausing for espresso and maple candies. We enjoy finding hidden gems while digging through piles of books, sheet music, and vintage clothes in Plateau-Mont-Royal. We love strolling along the long pathways of the Montréal Botanical Gardens, admiring the seasonal flora and the ever-changing masterful art installations.
In our itinerary for three days in Montréal, we will guide you through the most beautiful and walkable neighborhoods, the best vegan restaurants, and the best small shopping streets. No matter if you're visiting with your partner, your in-laws, or your trusty camera, prepare to be charmed by the beauty of this incredible city in Québec.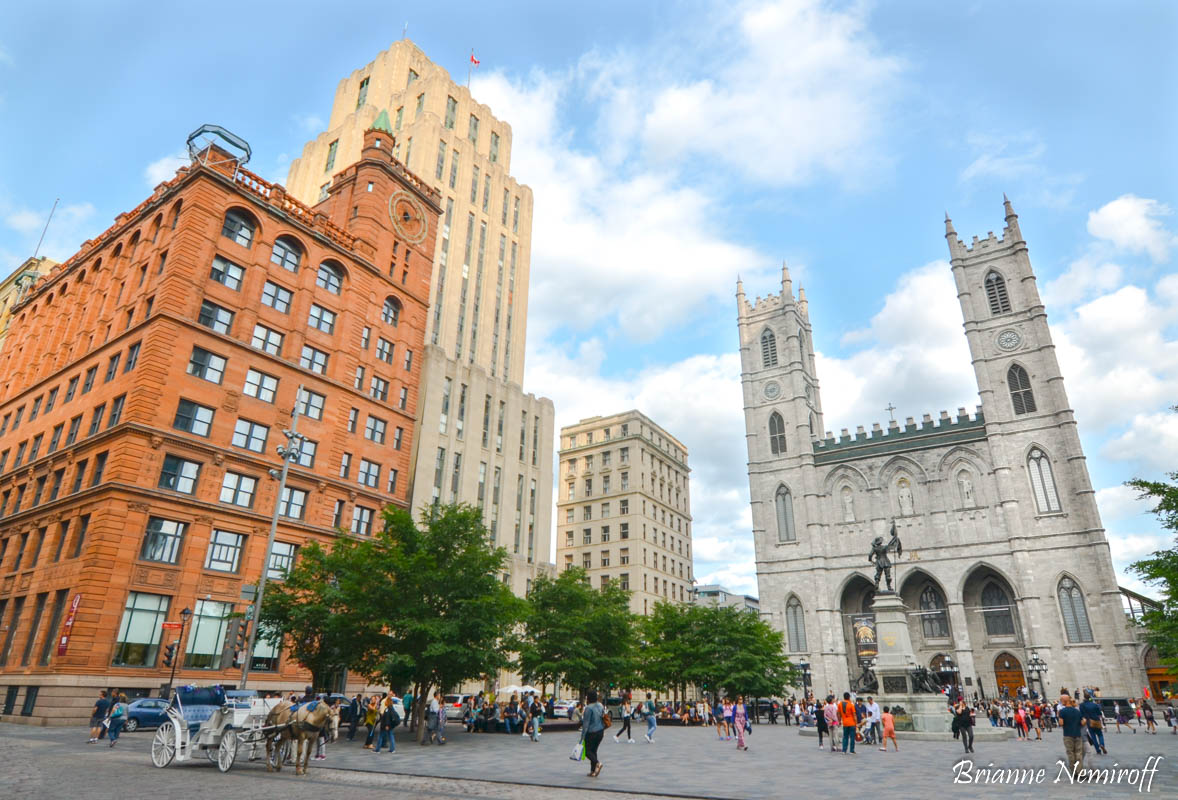 DAY 1: Old Montréal and Downtown Montréal
One of the few vegan restaurants that does serve breakfast is Montréal-based chain, Copper Branch. Start your day with all of the best superfoods Montréal has to offer with one of their power smoothies, bowls, or sandwiches. Or, try a vegan Montréal-style bagel with all of the fixings, including tempeh, hash browns, Just Egg, and a Field Roast sausage patty on their Ultimate Bagel Sandwich.
Note: If you like to eat breakfast before 9am, it's best to prepare breakfast in your lodging or eat pastries from the day before as your first meal. Most vegan restaurants in Montréal do not serve breakfast, and the ones that do often only serve brunch on weekends.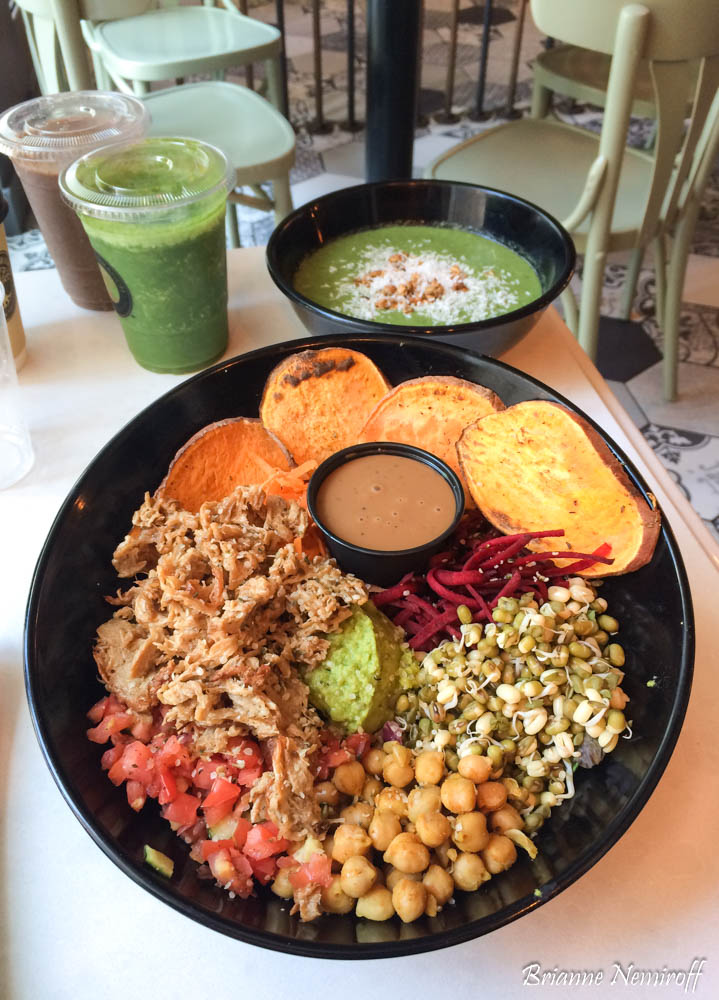 Morning Activity: Old Montréal
Your glorious first day starts in Old Montréal, exploring beautiful cobblestone streets, museums, markets, and other attractions. 
Start on the north end to admire the Notre-Dame-de-Bon-Secours Chapel built in 1771; take a moment to admire the beautiful murals and stained glass windows. Just down the block is the Bonsecours Market; now a flourishing marketplace, it used to be a private residence before it was sold to the city in 1844. Behind the Bonsecours Market in the Old Port is Montréal's iconic ferris wheel, La Grande Roue de Montréal. For stunning 360-degree views of Montréal and the surrounding areas, book yourself a ride on the tallest observation wheel in Canada.
Continue meandering through Rue Saint-Paul Est to marvel at the stunning architecture. Pause for an espresso at the cafe of your choice, or try some maple candy at Délices Érable & Cie. Next, make your way to the Place d'Armes to visit the Notre-Dame Basilica of Montréal, the first church in Canada built in the Gothic Revival style, originally built in 1824. To finish off your deep dive of Montréal's history, visit the Montréal Museum of Archaeology and History, also known as the Pointe-à-Callière; learn about the history of the first settlement in Montréal all the way up to the people of the present day. Pointe-à-Callière is the largest and most visited history museum in Montréal, as well as the most thorough archaeological museum in Canada.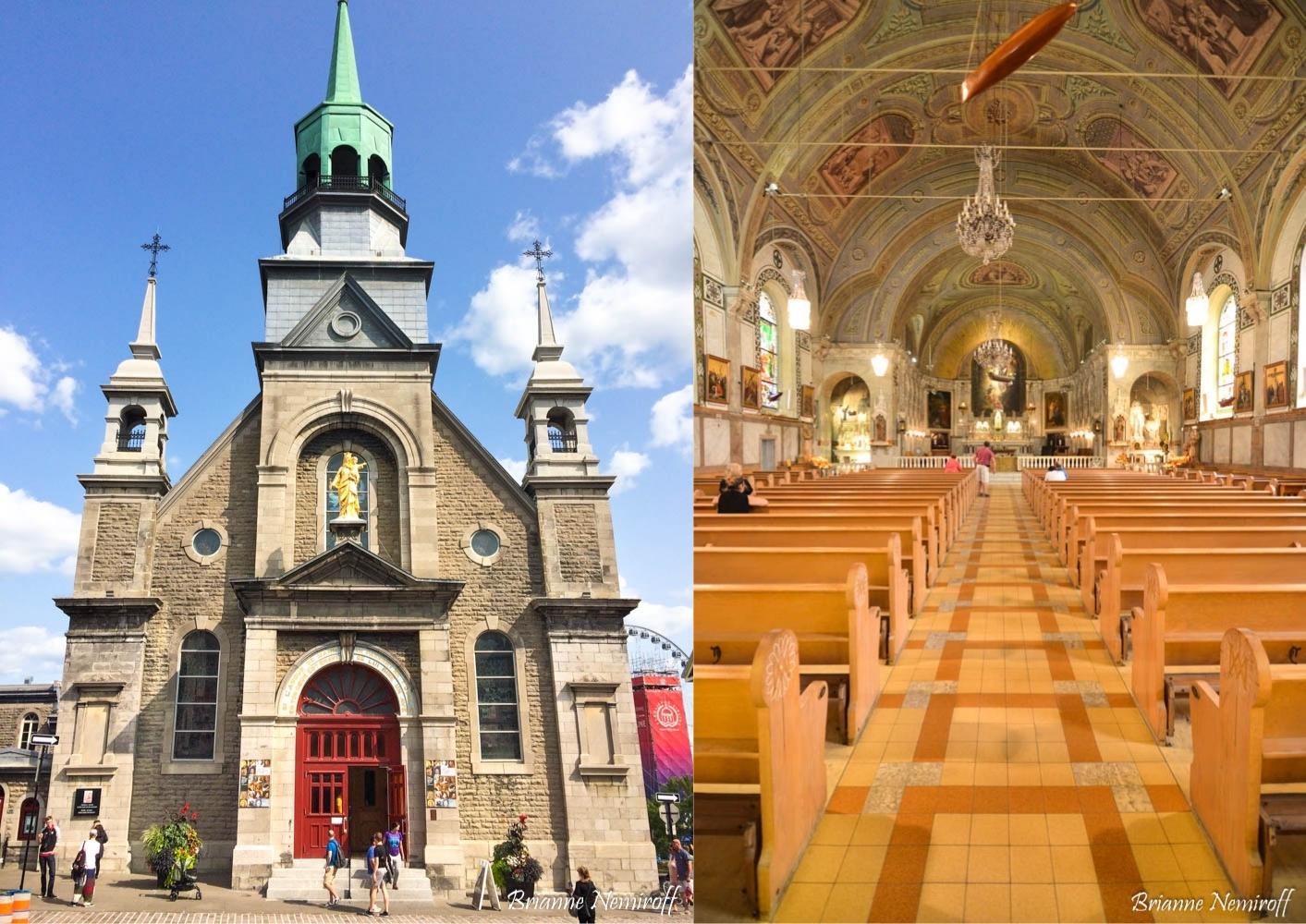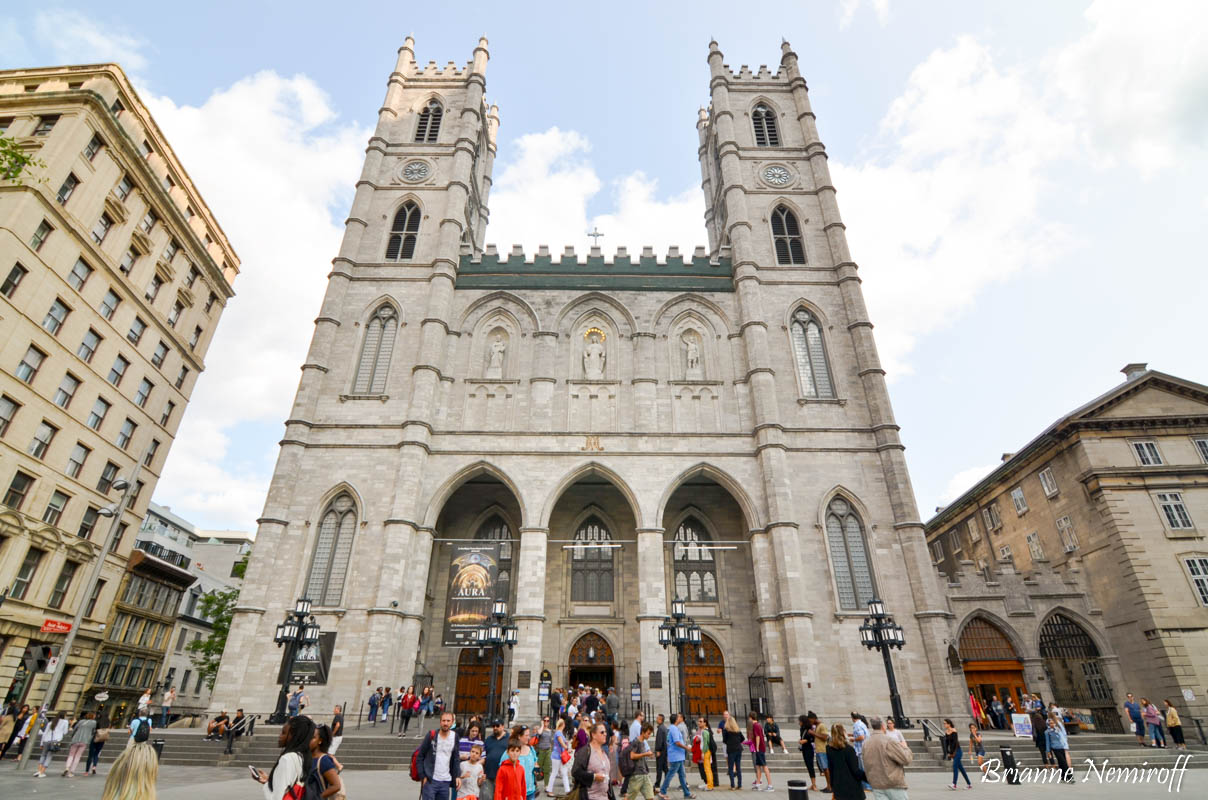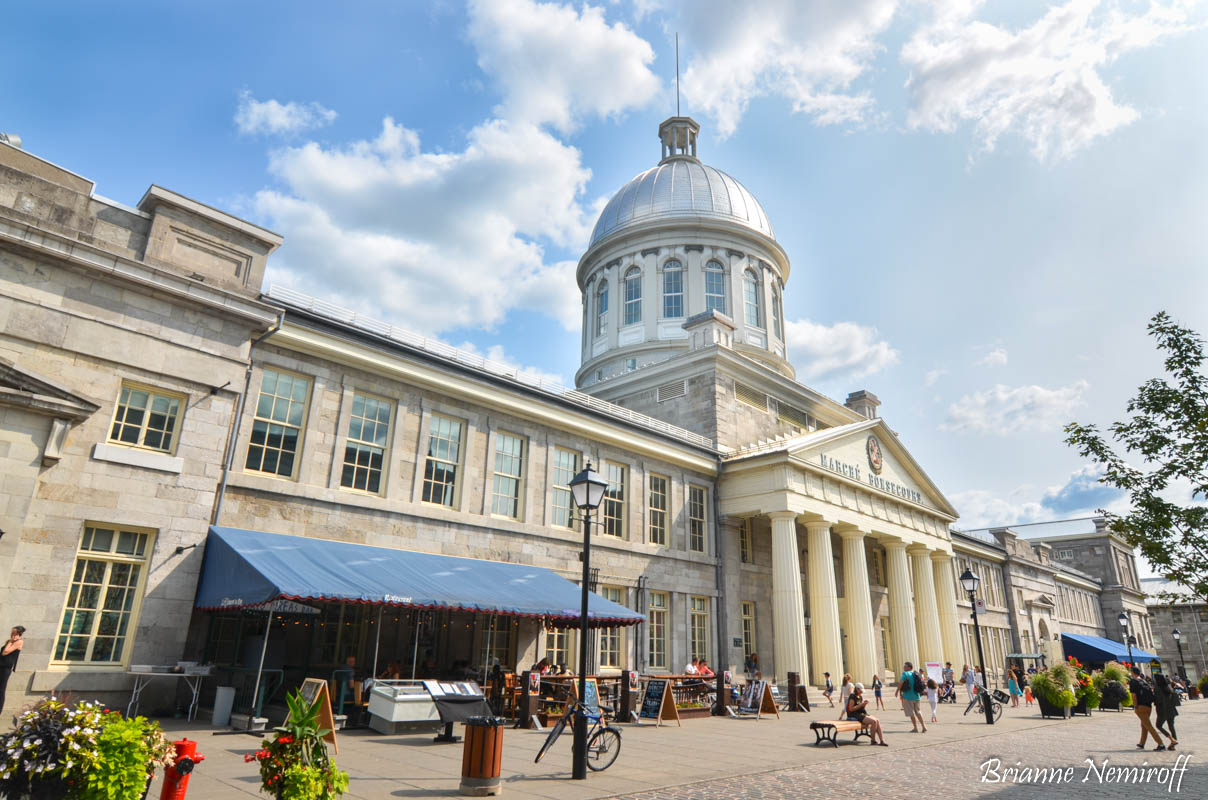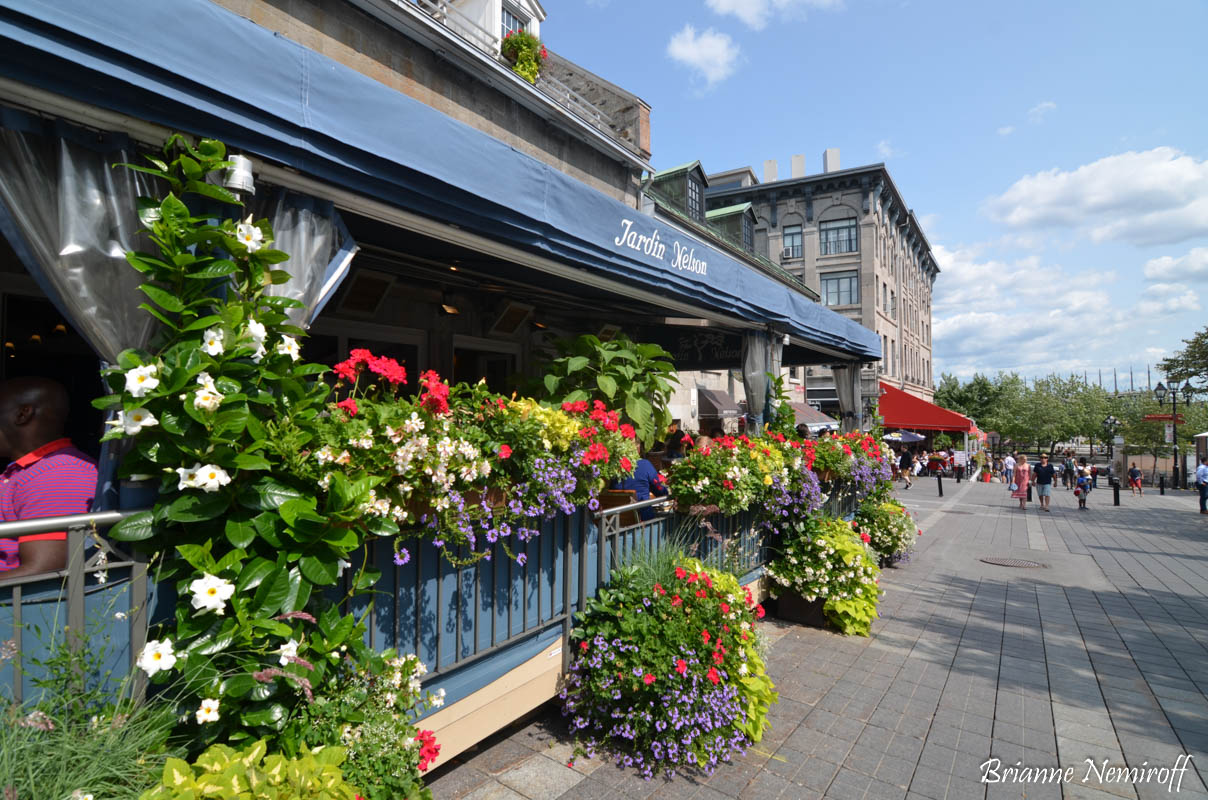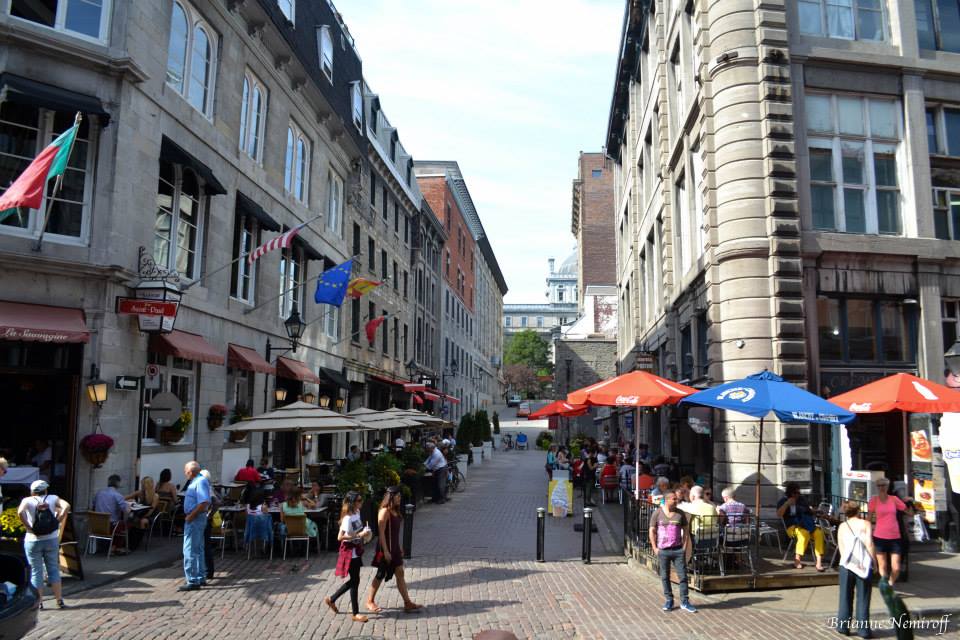 Lunch:
LOV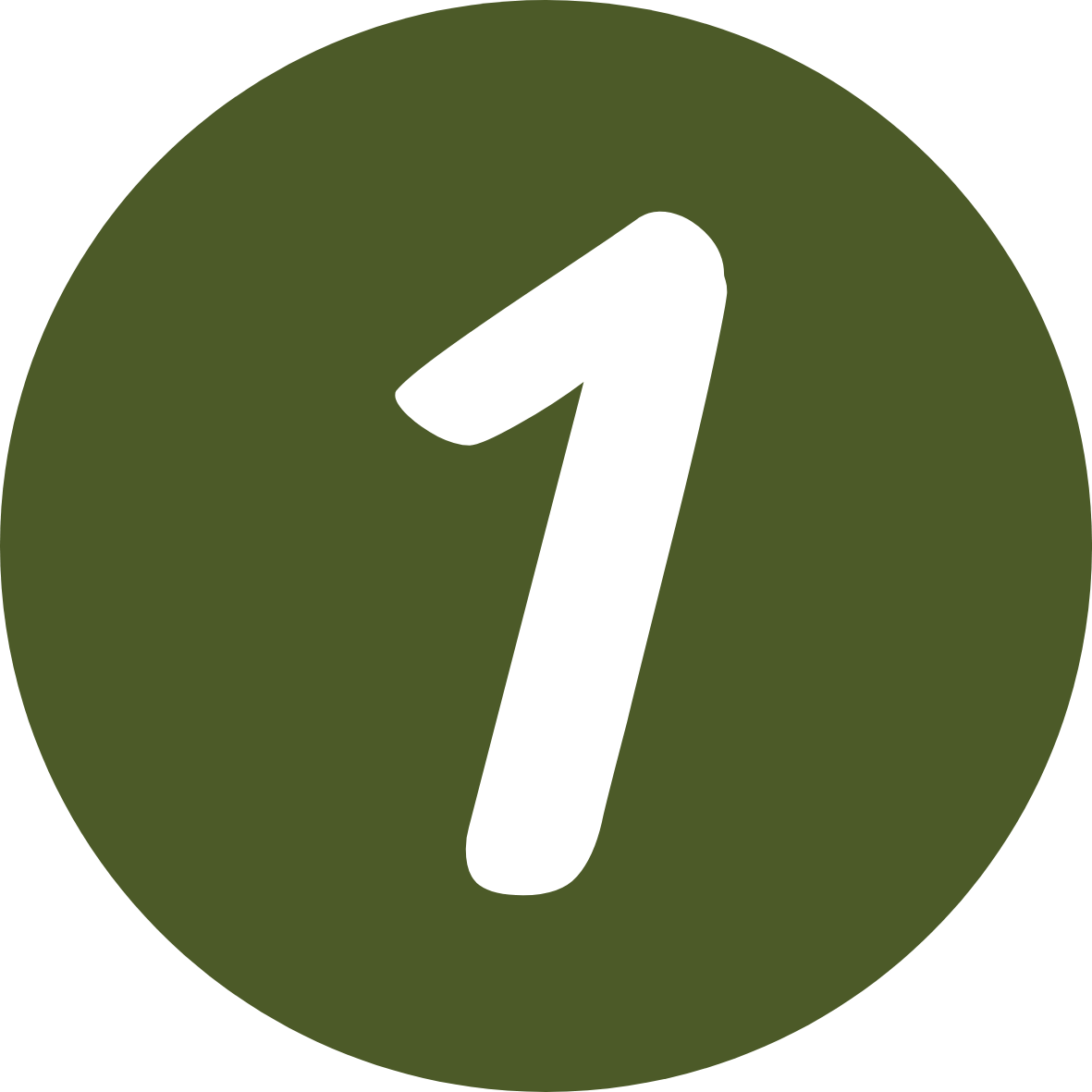 Sit down for an elegant lunch at LOV in their exclusive white and palm green restaurant space decorated with many varieties of plants and dramatic hanging basket lighting. Whether you're a traveler who prefers to eat lightly throughout the day, or a traveler that needs to carbo-load to keep up with the 10 miles/16 km you love to walk in a day, LOV has the menu for you. Choose from an array of light bites, salads, sandwiches, burgers, and sides, including their Mushroom Risotto or their LOV Wedge Salad to refuel after a long morning.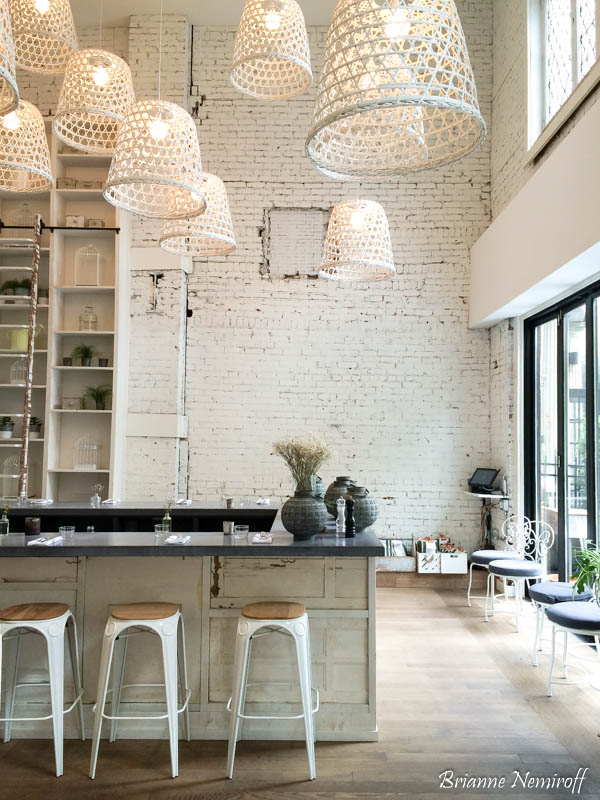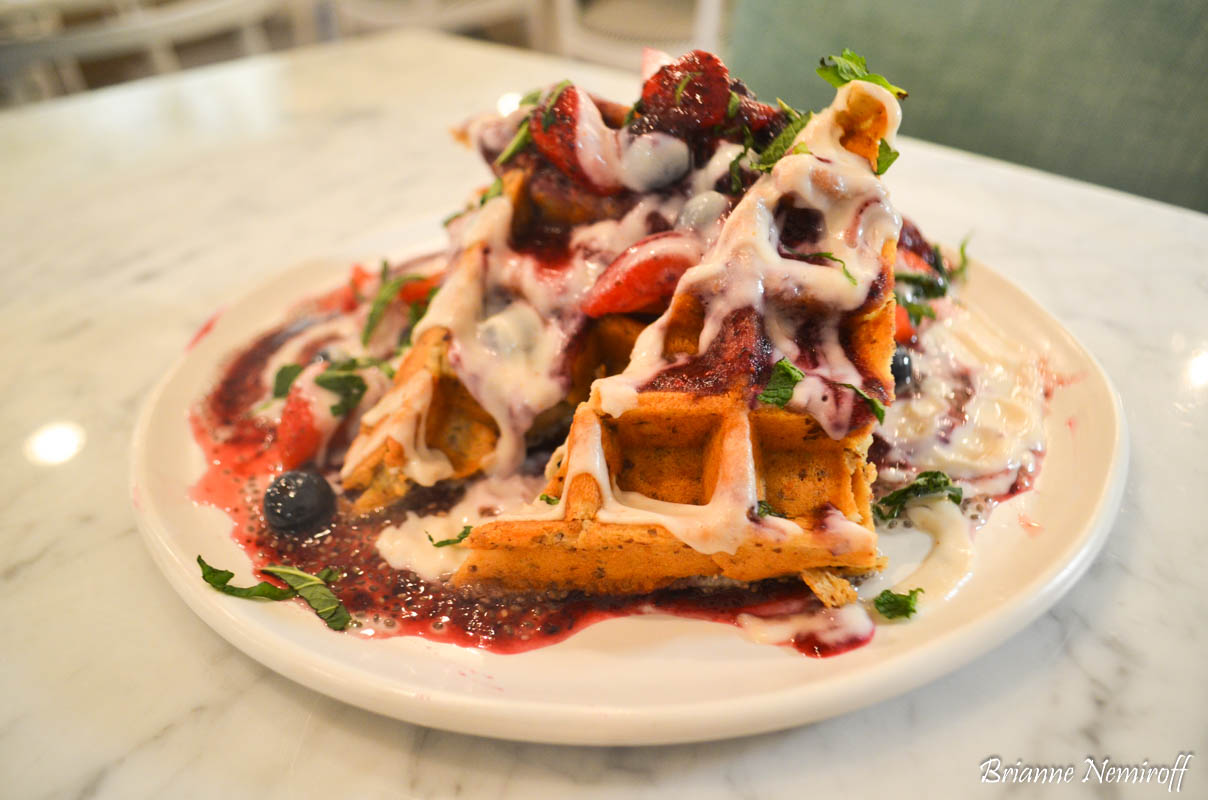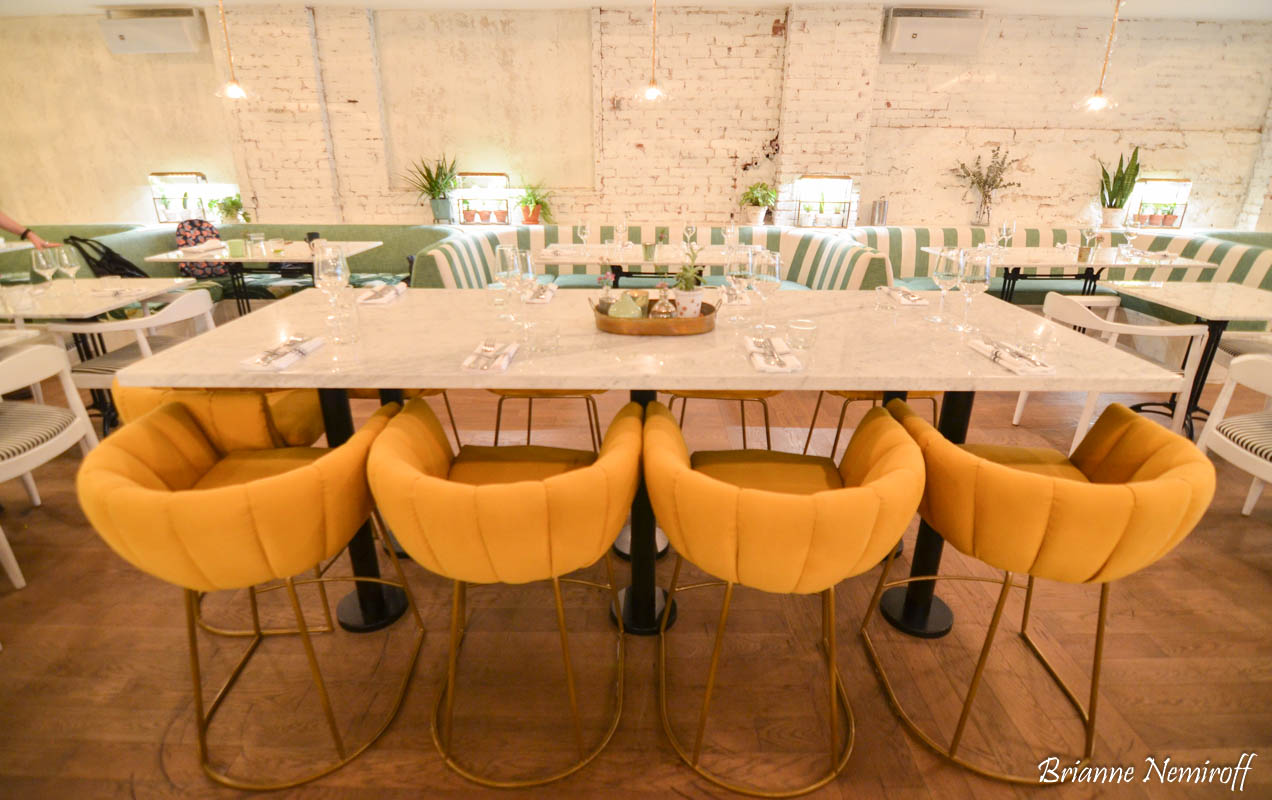 Afternoon Activity: Downtown Montréal
Downtown Montréal is best known for its shopping, restaurants and bars, museums, and college campuses. (Fun fact, Montréal is ranked as the best student city in North America!) If you would like to continue your cultural immersion of Montréal, the Montréal Museum of Fine Arts features thousands of works by Canadian artists and international artists in a range of mediums, including paintings, sculptures, photography, and other mixed media.
While small shopping is not as prevalent in Downtown Montréal, it's worth exploring the underground malls, also known as the Underground City, especially if you would like to escape any extreme weather. 
Fans of fashion or toy history will not want to miss the Barbie Expo, a permanent exhibit featuring Barbie dolls in custom couture gowns designed by world renowned designers, such as Monique L'Huillier and Zac Posen. Visitors can also see vintage Barbie dolls, celebrity Barbie dolls, and international Barbie dolls.
For a final stop, visit Archambault for a wide selection of bilingual books, music, and sheet music! See if you can find a cookbook by a local author, a CD by a local artist, or rare sheet music for a musician in your family. We love that we can find music for instruments other than guitar, piano, violin, and voice; we encourage everyone to give it a look through if you know a violist or bassoonist in need of a holiday present.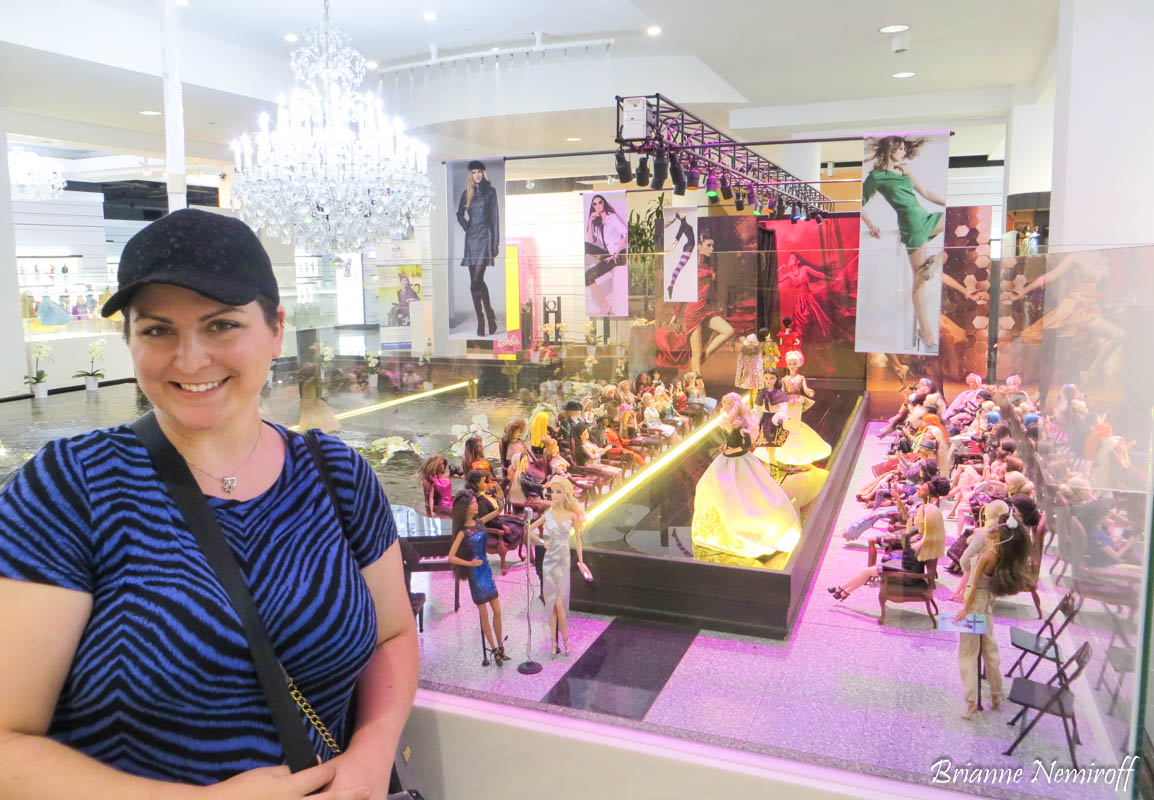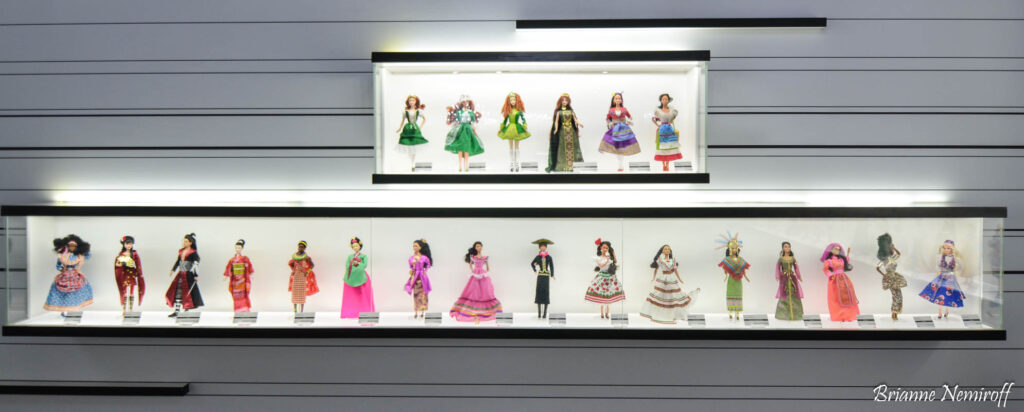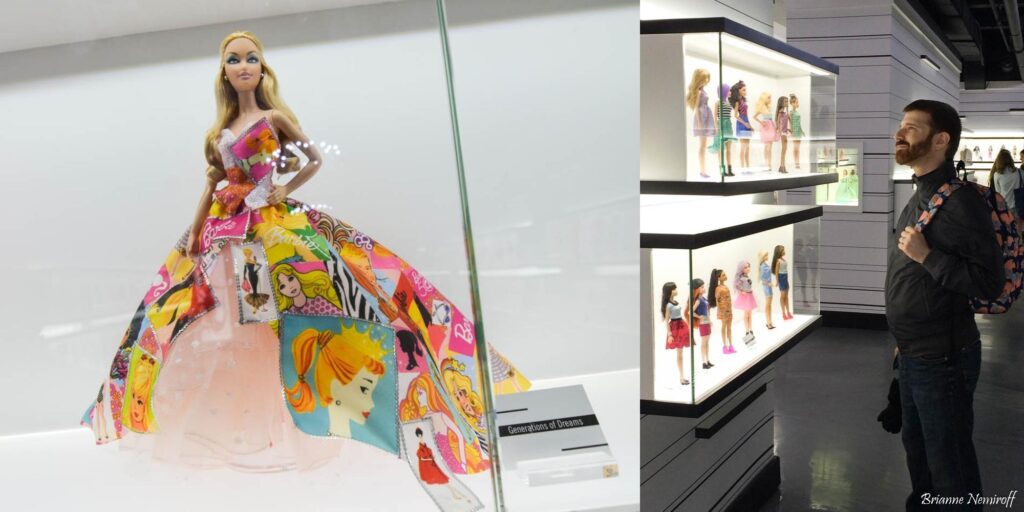 Now that you have enjoyed a day of arts and culture in Old Montréal and Downtown Montréal, end your day with a vegan sushi dinner at Sushi Momo Végétalien. Choose from a selection of soups, bowls, appetizers, and the most decadent vegan sushi rolls you will ever see while enjoying the atmosphere of Rue Saint-Denis, a beloved restaurant-lined street in the Plateau-Mont-Royal neighborhood.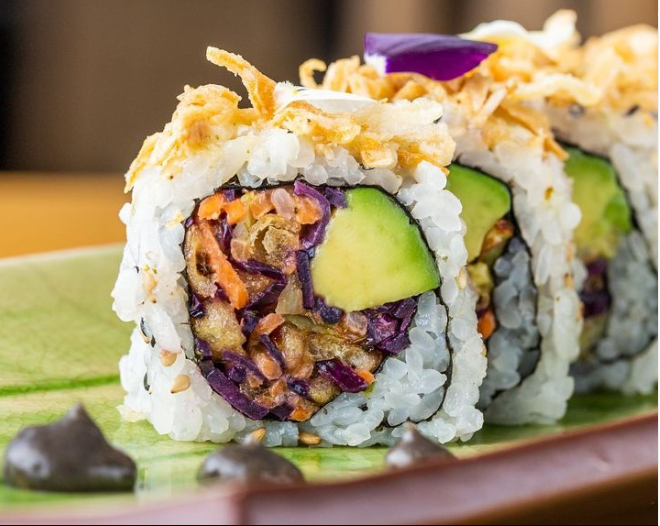 DAY 2: Montréal Botanical Gardens, Jean Talon Market, and Mile End
For the best hearty vegan breakfast in Montréal, try the brunch menu at Antidote Bouffe Végane. Their Classics portion of the menu includes chickpea omelets, loaded burritos, bagel and lox, and even hangover poutine. If you prefer a lighter breakfast, you can always select one of their pastries and smoothies instead. Regardless of your meal of choice, you will love starting off your day in their relaxing open space accentuated by wood panels, plants, teal chairs, and vintage couches.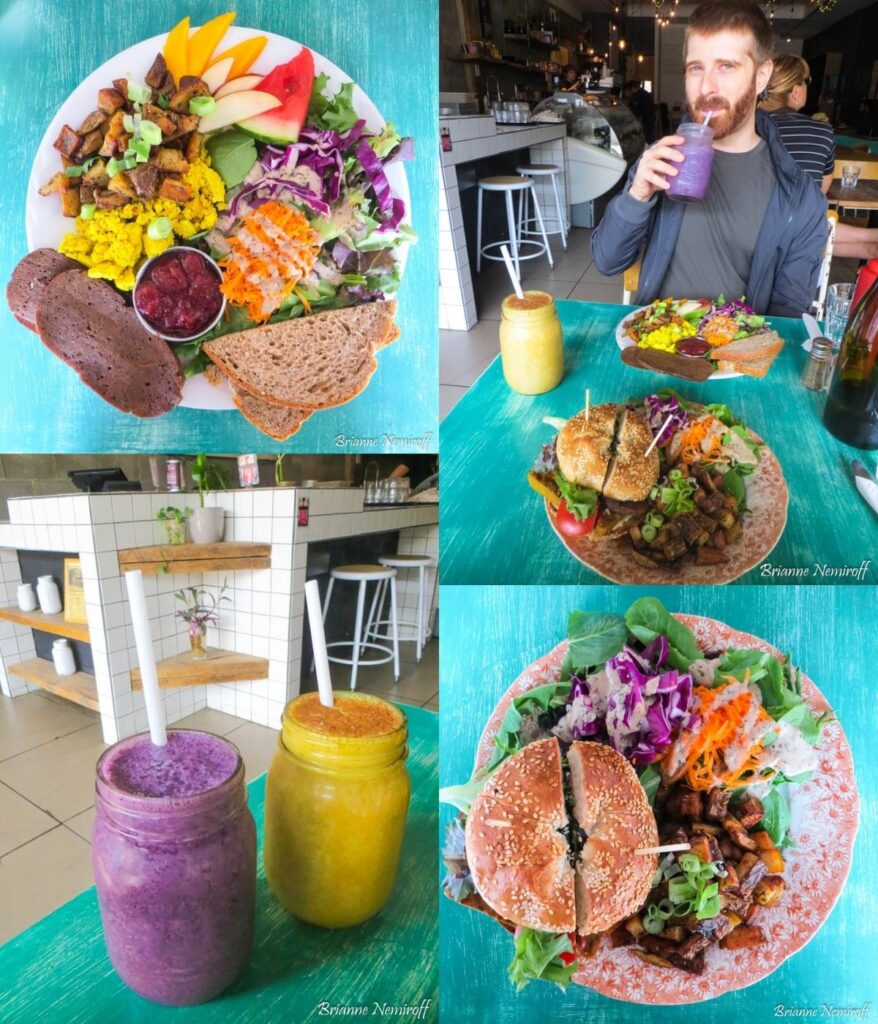 Ride the metro one stop to Pie-IX station and emerge streetside into Montréal Olympic Park. Take a moment to admire the Olympic Stadium and the Montréal Tower Observatory, built in 1976, as the curved tower you will see is the highest inclined tower in the world at 165 meters (542 feet) high. Fun fact, at its peak, it sits at a 45-degree incline! If the tower is open, take the two-minute ride inside the glass funicular that takes you inside the curved structure and opens you up to a beautiful view of Montréal. Before you leave the park, pose for a photo with your party with the Olympics rings in front of the stadium.
Walk five minutes westward to the entrance of the Montréal Botanical Gardens. Here you will see a collection of over 22,000 species, 10 exhibition greenhouses, and 20 thematic gardens featuring flowers and other plants from all over the world. This impressive garden started its construction in the 1930s after the Depression and has been adding new garden spaces over the years, such as the Rose Garden in 1976 and the First Nations Garden in 2001.
Note: At the time of publication, The Montréal Tower is closed for renovations. Check their website for updates on reopening.
Late-Morning Activity: Jean Talon Market
Jaunt over to Little Italy to explore the Jean Talon Market, one of the largest open-air markets in North America, and also one of the oldest; it opened in 1933. Feast your eyes upon fruits, vegetables, flowers, bread, maple syrup, and dozens of other stalls with mouth-watering goods. If you're in need of a pick-me-up, indulge in a 72% Aztec hot chocolate or vegan chocolate fondue at Juliette & Chocolat.
If you happen to be visiting in the colder months, it's still worth a visit as they erect temporary walls so you can still shop in comfort.
Lunch: Aux Vivres
(Montréal's First Vegan Restaurant)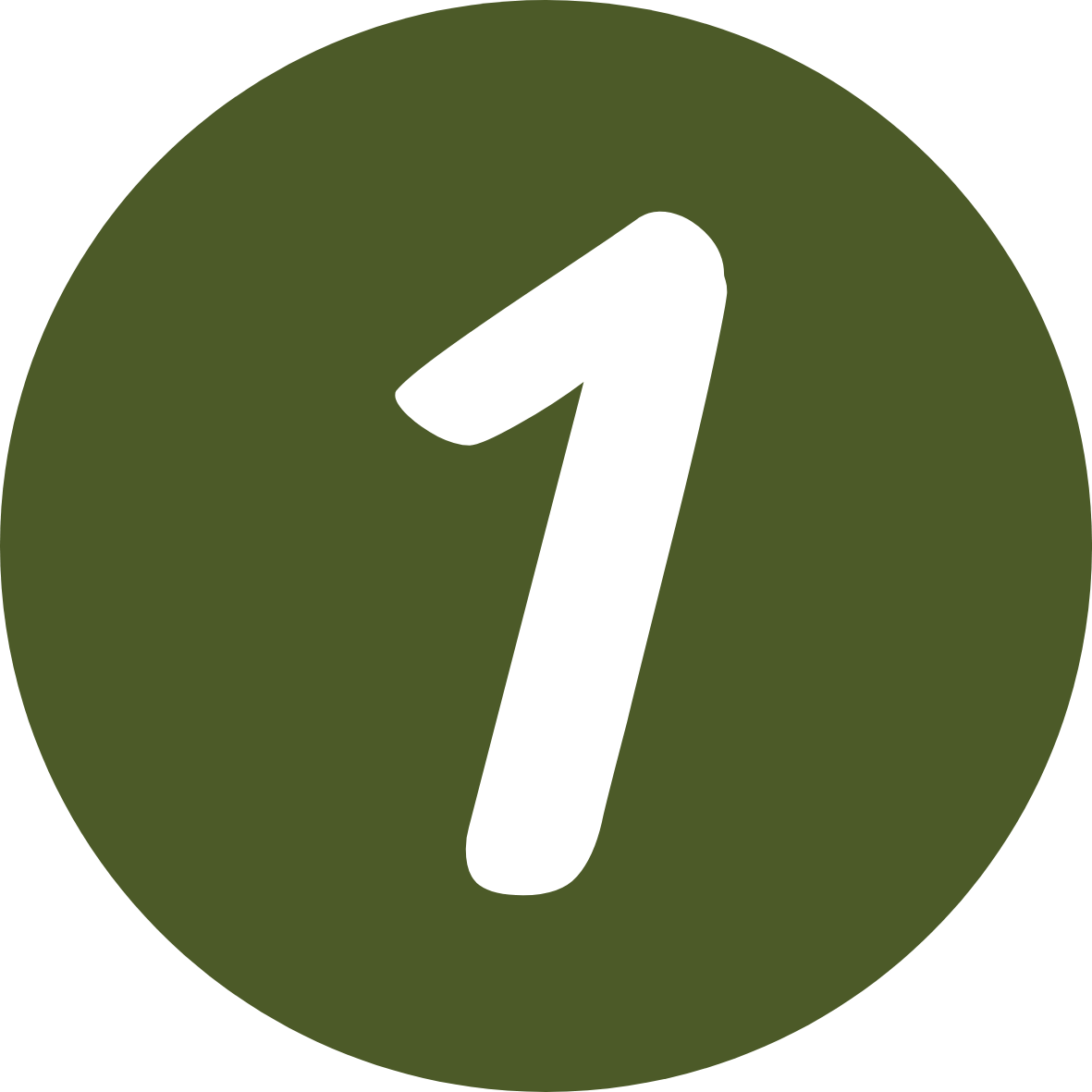 With new vegan restaurants and brands popping up left and right, the pioneers of the vegan movement occasionally get overshadowed. Luckily, that has yet to happen to Aux Vivres as they have grown, adapted, and expanded, while still keeping the business family-owned (by the Makhan brothers) since 1997, and the menu relevant with classic ingredients and recipes. Choose from a selection of sandwiches, bowls, burgers, soups, tacos, smoothies, pressed juices, and more at their full service restaurant on Saint Laurent Boulevard.
Note: We encourage the Saint Laurent Boulevard location as the location on Casgrain Avenue is express and much smaller.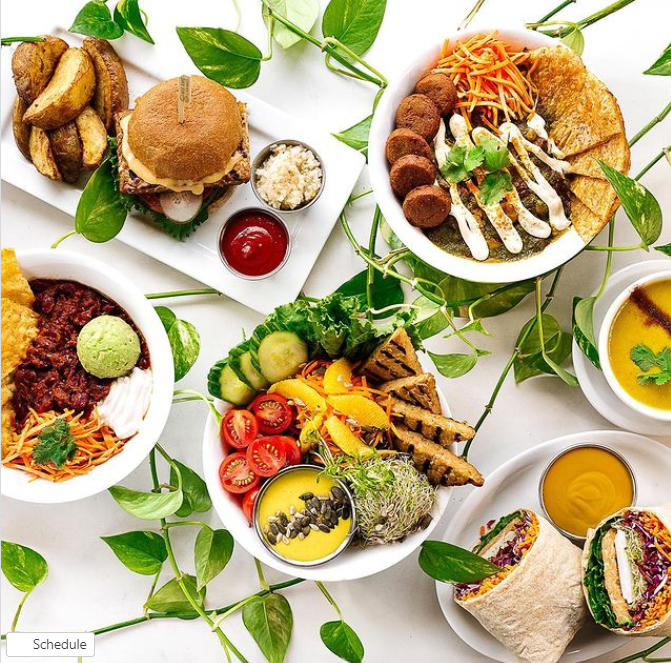 Afternoon Activity: Mile End
The most exciting neighborhood for vintage shopping, vegan restaurants, street art, photogenic houses, and stunning local parks is none other than Plateau-Mont-Royal, especially the Mile End district that is the home to many musicians, artists, and filmmakers, including Grammy-winning artist Arcade Fire. 
Take a few hours to walk around Mile End to explore the dozens of vintage shops, small boutiques, half a dozen coffee shops on Rue Saint-Viateur alone, and the stunning residential blocks in between. Shops we would recommend include Bohême Vintage, Annex Vintage, Citizen Vintage Mile End, Kay Vintage, Empire Exchange, Monastiraki, Dragon Flowers, Librairie Drawn & Quarterly, S.W.Welch Bookseller, L N F Shop, and RUSE Boutique.
Note: This neighborhood is home to the landmark bakery St-Viateur Bagel and Fairmount Bagels. Unfortunately, Montréal-style bagels use honey and egg in their recipes, unlike New York style bagels which are often vegan-friendly.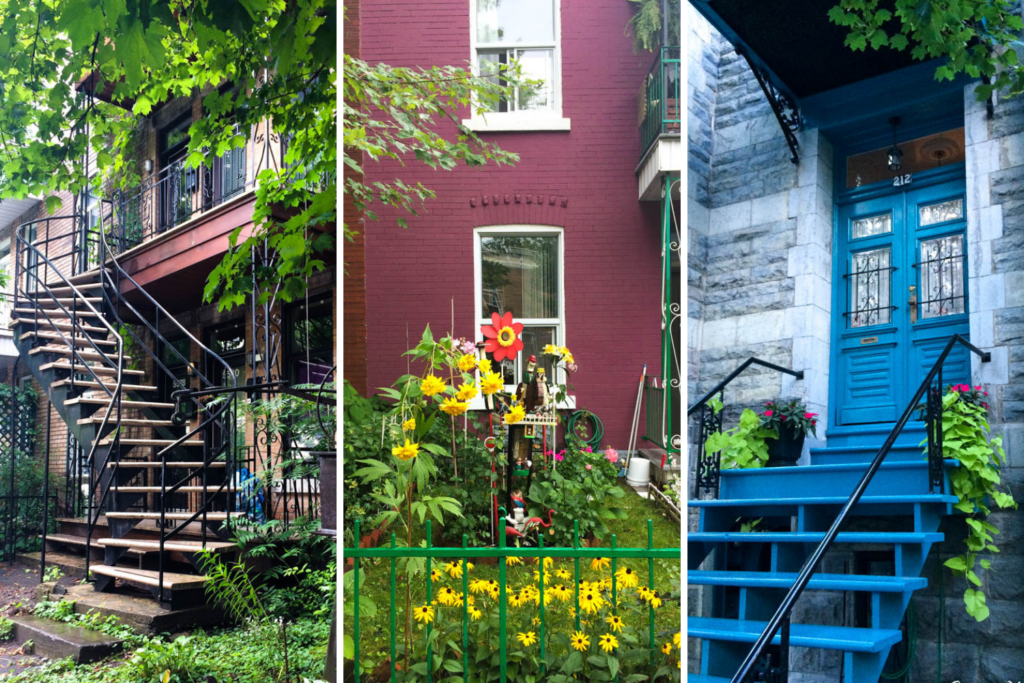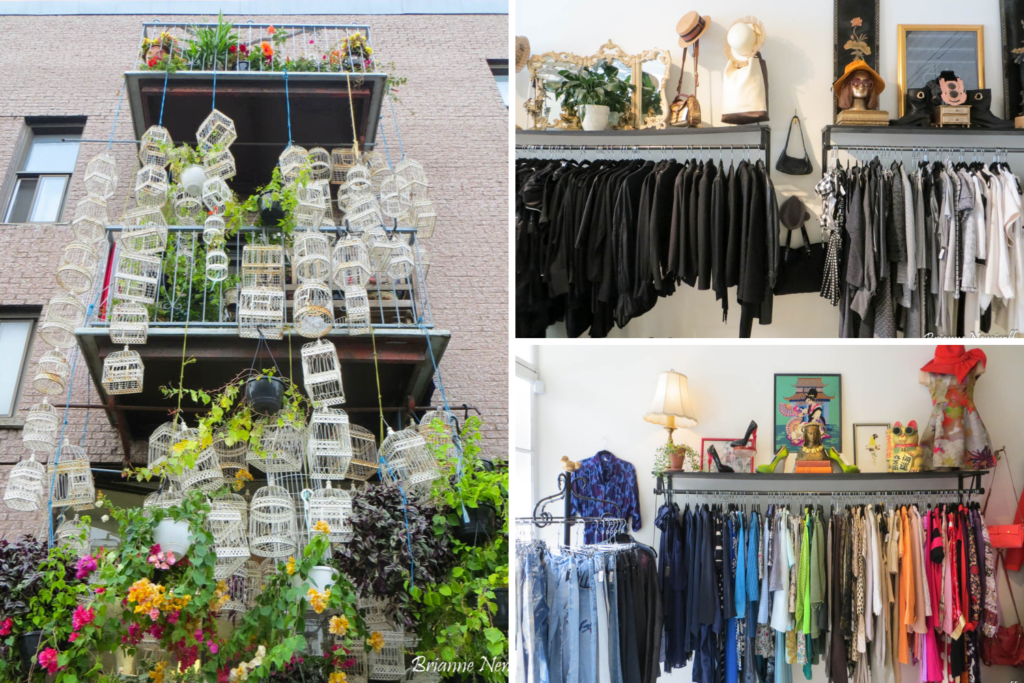 End your exciting day tucked away in the southwestern corner of Mile End with a luxurious meal of Mediterranean cuisine. Order a glass of vegan wine or mocktail and admire their gorgeous marble tables before your setting is covered with all of the dishes you will want to try, including their vegan caprese salad, labneh, tortellini, tiramisu, and other seasonal dishes.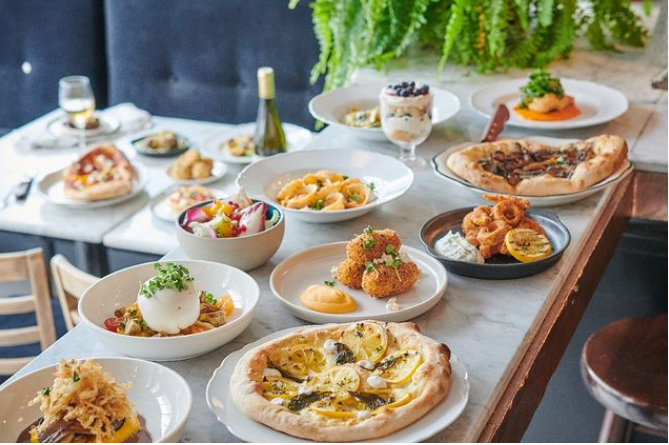 DAY 3: Mount Royal Park and Plateau-Mont-Royal
Breakfast: Sophie Sucrée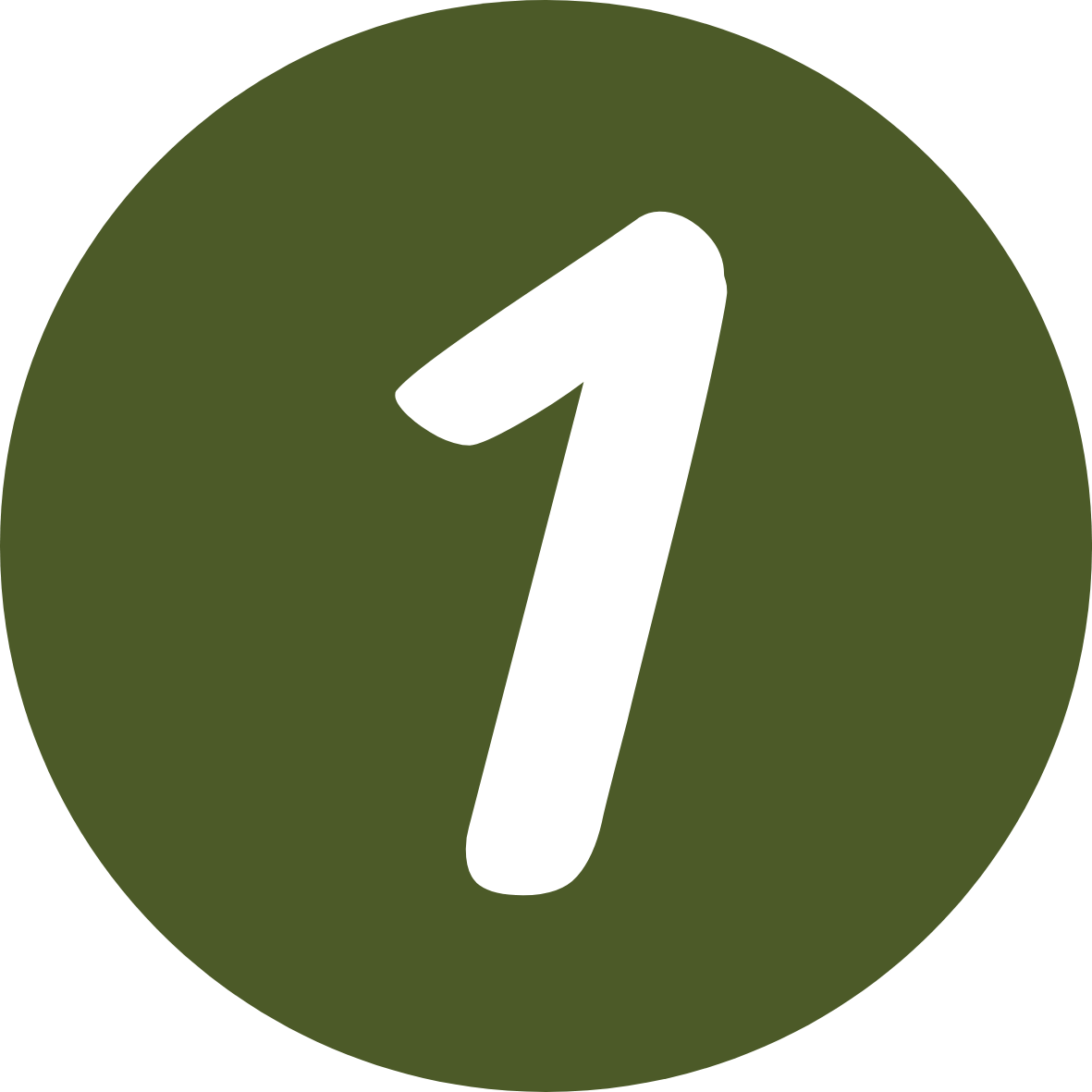 Before you head out on a morning hike to the summit of Mount Royal Park, we highly recommend stopping for a quiet bite to eat at one of our favorite cafes in all of Canada: Sophie Sucrée. 
Sophie Sucrée is an all vegan patisserie that makes the best vegan croissants we have ever had. Many vegan croissants can be overly oily and Sophie Sucrée manages to produce a delicious flaky croissant that doesn't fall all over your clothes or give you an oily aftertaste. 
Pair it with a tea or coffee to start off your morning and don't forget to grab a few (dozen) for the road to enjoy at the summit or to eat whenever you want a nosh later in the day.
Morning Activity: Mount Royal Park
Enjoy a leisurely, yet long, morning workout as you ascend Mount Royal Park, first open in 1876. For a 4.4-km (2.75-mile) walk, start at Sir George-Étienne Cartier monument on Park Avenue and make your way up the Olmsted Trail (Chemin Olsted), named for the park's landscape architect Frederick Law Olmsted, who also designed New York's Central Park. 
Stop to enjoy the viewpoints at the Kondiaronk Belvedere lookout and continue on the Escarpment Trail (Sentier de L'escarpement) for additional views all the way to the Belvédère Camillien-Houde lookout. Click here for a helpful map of Mount Royal Park.
Your Activities for the Rest of the Day: Exploring Plateau-Mont-Royal
Plateau-Mont-Royal is an incredible vintage and small shopping destination which can easily fill up the rest of your day. Once you descend the trails of Mount Royal Park, start your shopping journey along St Laurent Boulevard at vintage clothing store CUL-DE-SAC and gradually make your way westward to explore other vintage clothing and accessory stores including Ophelie Hats, Eva B., Citizen Vintage Plateau, La Caravane Vintage, and Boutique Lau. B. 
Keep your eyes peeled for all of the marvelous street art along your journey, especially Graffiti Alley just off St Laurent Boulevard on Duluth Avenue.
Upon reaching Mont-Royal Avenue East, make a right (northbound) to visit more of Montréal's best bookstores, record stores, and more vintage clothing stores. We recommend stopping by Freeson Rock and A Paul Boutique for records and CDs; Bouquinerie Du Plateau Librairie Le Port de tête, and Librairie L'Echange for books, DVDs, and music; and Les Folles Alliees and Hadio Friperie Vintage for vintage clothing.
Along St. Denis Street, visit the historic and acclaimed chocolatier Chocolats Andrée, a woman and family-owned business since 1940. Some of their vegan options include a selection of their dark chocolate bars, the classic candied orange, a selection of sorbets offered in the summer, and a few of their specialty chocolates. 
If you need a pick-me-up, a few doors down you will find Café Tuyo, a vegan cafe with baked goods (including vegan Montréal-style bagels) and coffee.
If you have had enough shopping for the day, we encourage you to walk around the neighborhood to admire the Second Empire style architecture, and visit Square Saint-Louis and La Fontaine for a quiet place to reflect on your trip, people watch, or chat with your travel partners.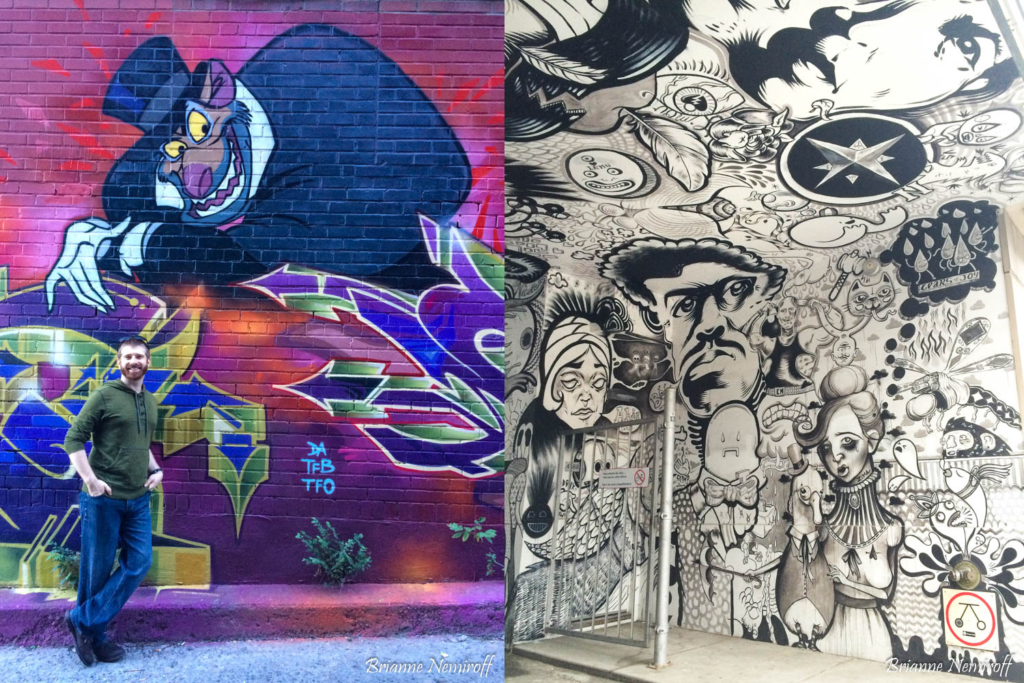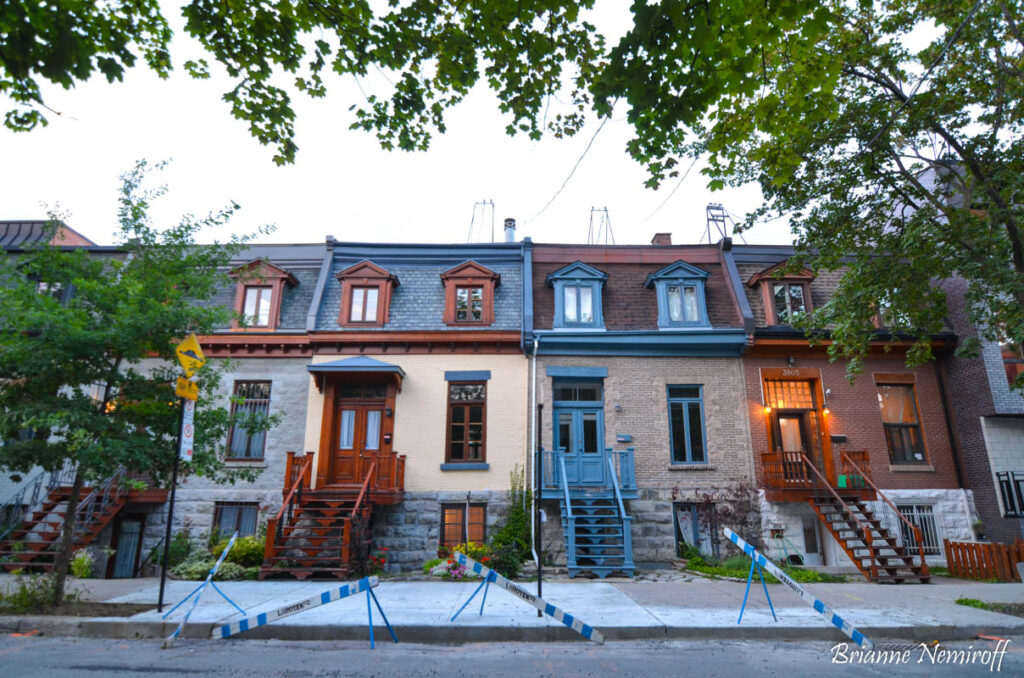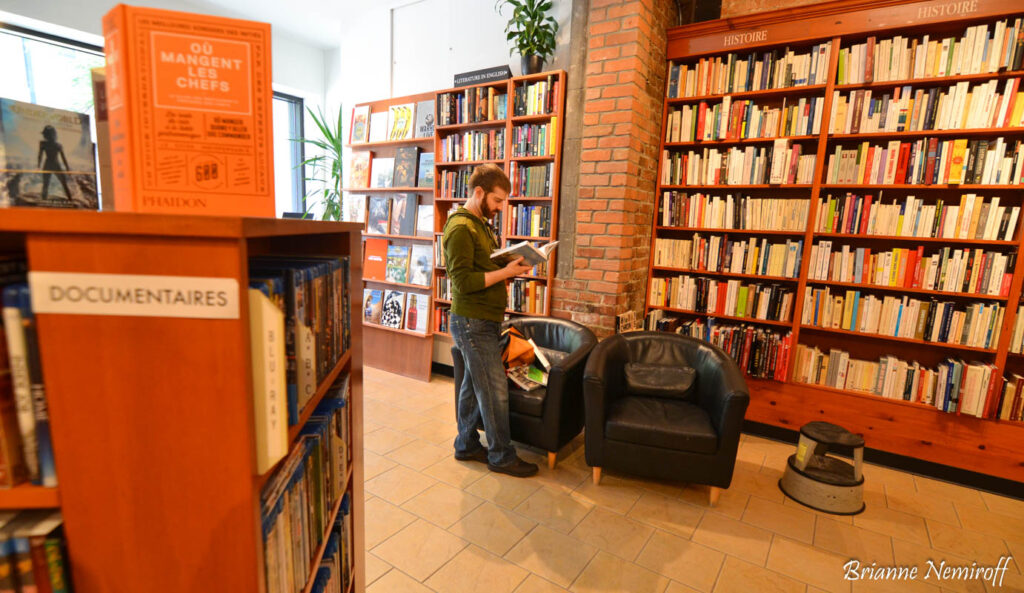 Plateau-Mont-Royal has a bountiful assortment of vegan restaurants, if you would like to dine at vegan-only establishments. However, we absolutely love Arepera and would encourage you to visit, especially if someone in your party is gluten intolerant as Arepera is 100% gluten-free!
Arepera's menu is clearly-labeled and offers three vegan arepas⁠— traditional Venezuelan and Colombian corn "bun" stuffed with various fillings⁠— which are: black beans and plantain, grilled veggies, and avocado. Other vegan options on their menu include cassava sticks, plantains, and coconut rice pudding.
We originally fell in love with their location on Duluth Street, which was a tighter yet still just as bright and inviting space. Since our first visit over 10 years, they have since upgraded to a bigger space on Prince-Arthur but have kept the bright yellow and orange decor for an uplifting ambiance.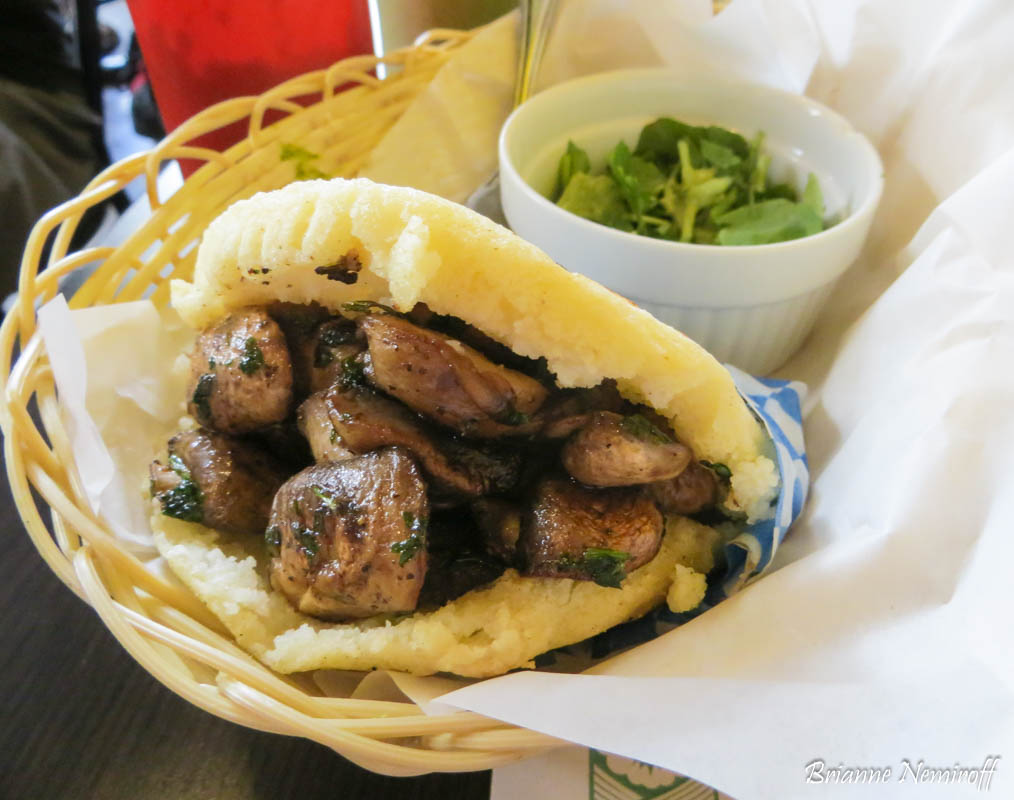 Dinner: ChuChai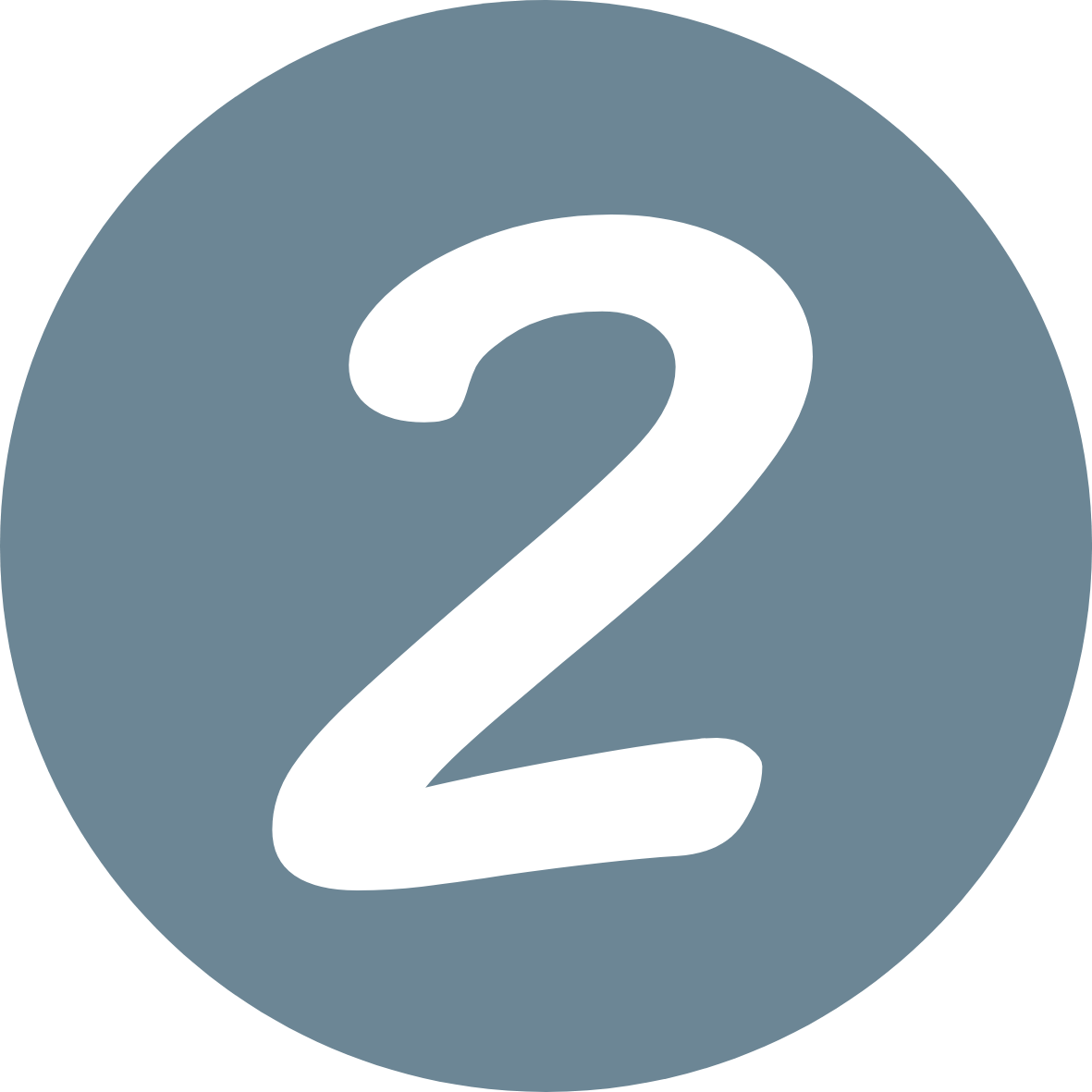 Once you have exhausted yourself going through stacks of CDs, racks of clothes, shelves of books, and streets of stunning street art and architecture, sit down for a meal just as colorful and flavorful at ChuChai. 
Like Aux Vivres, ChuChai has also been open since 1997 and is a pillar of the vegan restaurant community in Montréal. ChuChai is best known for their incredible mock meats and seafood, which is why over 90% of their clientele is surprisingly not vegan. 
Entertain your tastebuds with their Thaïpas, noodle dishes, and their famed long list of housemade vegan meat dishes that will surely amaze everyone at your table.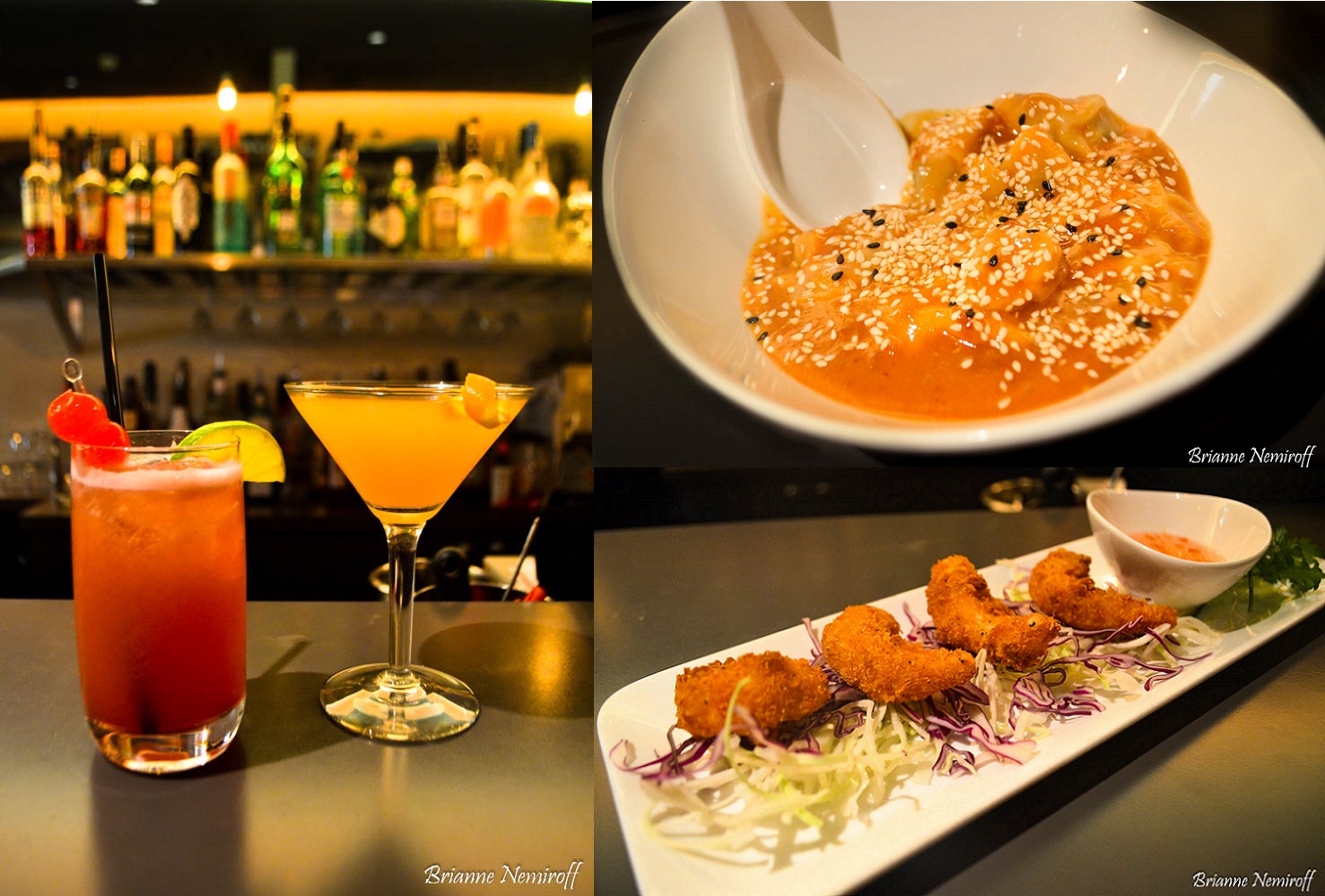 Montréal is a city very close to our hearts. We hope you enjoy this spectacular bi-lingual city after reading our guide showcasing the best vegan restaurants, museums, street art, and small shopping scene.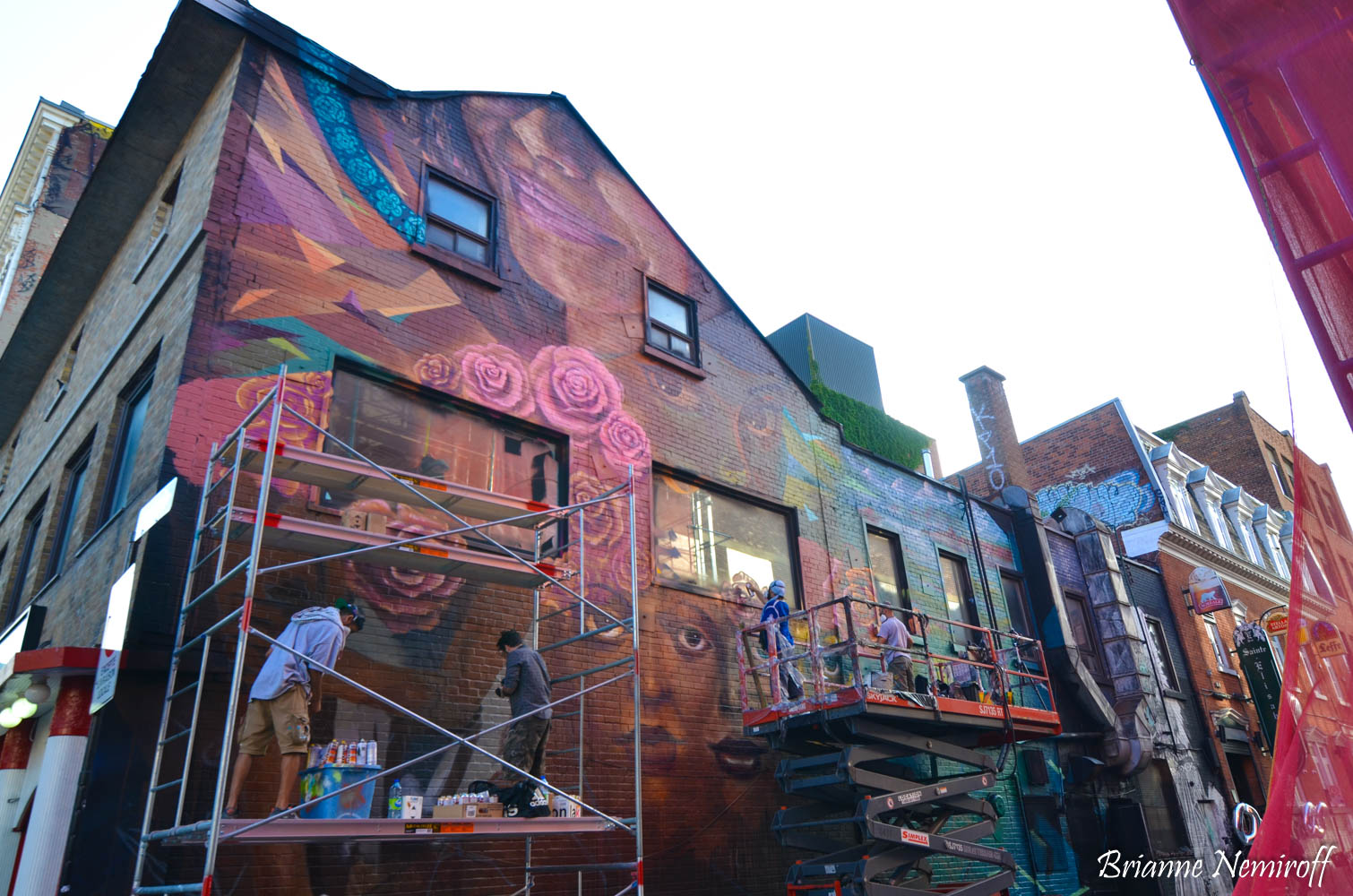 If you liked our guide to 3 Days in Montréal, check out our guide to The Best Vegan Restaurants in Montréal.
To never miss one of our articles, sign up for our newsletter!