What we love about Washington D.C. is that the city can attract so many different kinds of travelers. In the spring, the Tidal Basin is crowded with people getting snapshots of the cherry blossoms. Year round, American history buffs visit to explore the National Mall and the world-class museums. Foodies come for the diverse cuisine, art lovers come to see specialty exhibitions, nature lovers come to paddle down the Potomac and bike through Rock Creek Park, and so on.
We also love that each neighborhood has its own attitude, energy, and architecture. In a town built around satisfying the needs and interests of thousands of college students and conservative politicians, you're bound to find some vast differences in the neighborhoods as you drive further away from Downtown and Capitol Hill.
While this list of things to do in Washington D.C. could be four times as long, we decided to create a list based off a few of our favorite neighborhoods and highlight the best in each. Whether you're in the neighborhood for a day or three, you'll find a variety of things to enjoy in each area of D.C.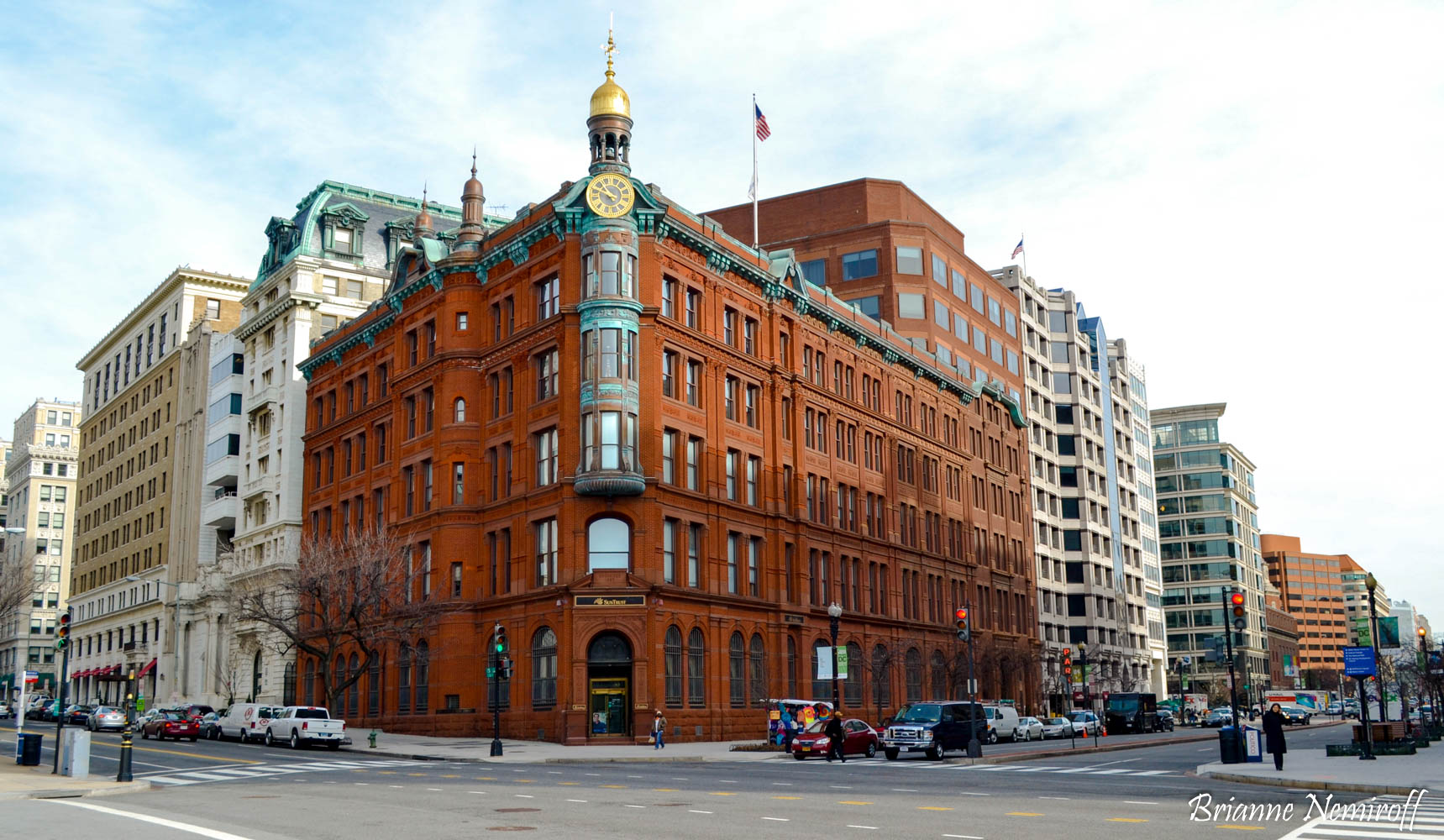 Things to Do in Washington D.C.
Your Neighborhood Bucket List
Dupont Circle
Visit America's first museum of modern art:

The Phillips Collection

.

Explore galleries and meet budding artists during

First Friday Dupont

.

Support the LGTBQ community by purchasing from the businesses along 17th Street.

Buy fresh vegetables and homemade goods at the Dupont Circle Farmers' Market on Sundays.

Take a walk down Embassy Row, a two-mile stretch along Massachusetts Avenue.

Eat your meal or take a coffee break alongside locals at the Dupont Circle Fountain or the Spanish Steps.

Tour the Woodrow Wilson House.

Browse the incredible selection and grab a coffee at

Kramerbooks & Afterwords Cafe

. 

Support local comedians, and national touring acts, at the DC Improv.

Shop local by purchasing a souvenir at Shop Made in DC, a hybrid boutique and cafe that sells only Made in DC businesses.
U Street
See a concert at the 9:30 Club, one of America's best music venues, or at U Street Music Hall.

Grab a bowl of Vegan Chili at the world famous

Ben's Chili Bowl

.

Learn about black history during the Civil War at the African American Civil War Museum.

Enjoy light bites and buy groceries at the 14th and U Farmers' Market on Saturdays.

Admire the largest cascading fountain in North America in Meridian Hill Park, also known as Malcolm X Park.

Eat at one of the many restaurants in Little Ethiopia.

Go bar hopping until the wee hours of the morning.

Take photos of or in front of the local street art.

Browse through records at Joint Custody record shop.

Hang out at the hybrid book shop, coffee shop, and bar Busboys and Poets, a local chain beloved by locals and travelers alike.
Capitol Hill
Take a self-guided tour through the public areas of the Supreme Court. 

Visit the Thomas Jefferson building or take a tour at the Library of Congress.
Take a tour or watch Congress in session at the U.S. Capitol Building.

Wander through Eastern Market and shop from the small vendors indoors, or outdoors at the Flea Market there only on weekends.

Admire the beautiful 19th-century houses.

Tour Belmont-Paul Women's Equality National Monument, the epicenter of the Women's Suffrage Movement in the U.S.

Eat Mexican cuisine at Santa Rosa Taqueria, owned by former Top Chef contestant Spike Mendelsohn.

See the world's largest collection of Shakespeare's printed works at the Folger Shakespeare Library.

Admire the seasonal flowers and plants at the U.S. Botanic Garden on the National Mall.

Grab drinks alongside those who work on the Hill at bars along Pennsylvania Avenue and 8th Street.
Georgetown
Get a cupcake at the original Georgetown Cupcake. Vegan flavors are available daily!

Rent a kayak or canoe and paddle along the Potomac River, or walk along the waterfront.

Go on a self-guided tour to see all of the beautiful

street art

.

Climb the stairs from

The Exorcist

at 3600 Prospect St.

Walk along the one-mile-long Chesapeake and Ohio Canal Path and stop for tacos at Chaia Tacos or for a coffee and

vegan cakecup

at Baked & Wired.

Go on a self-guided tour of

all of the locations used for Hollywood films

, including locations used for

Dave

,

True Lies

, and

Wonder Woman 1984.

Take a Kennedy walking tour to see many of the locations where John F. Kennedy and Jaqueline Kennedy lived and worked during his time as a congressman and during his presidential election.

Support a home game at Georgetown University (one of Bree's alma maters).

Shop small in Book Hill and along Wisconsin Ave. Some shops are intermixed with big businesses like Lilly Pulitzer and Apple.

Admire Pre-Columbian and Byzantine art at the

Dumbarton Oaks Museum

and walk among the gardens, wooded paths, and orchards.
Adams Morgan
Hunt for vintage bargains at local favorite Meeps Vintage.

Go bar hopping at Madam's Organ, Bossa, The Game Sports Pub, and Jack Rose Dining Saloon. If you're looking for a gay bar, there's also A League of Her Own or Pitchers D.C. 

Peruse used and rare books at Lost City Books.

Shop D.C.-themed gifts at Urban Dwell gift shop.

Enjoy a vegan baked good at Rise Bakery.

Search for your new favorite outfit among racks of vintage designer clothing at Mercedes Bien Vintage.

Take a coffee break, shop for records, or listen to a local band at Songbyrd Cafe and Music House.

Enjoy a piece of vegan pizza at &Pizza. 

Shop punk and indie music records, CDs, books, and media at Smash Records's snug location.

Watch a theater production or attend a gallery opening at the D.C. Arts Center.
Penn Quarter & Chinatown
See a live show or sporting event at the Capitol One Arena.

Enjoy a stellar vegan fast casual meal at HipCityVeg.

Spend a long afternoon admiring beautiful portraits at the National Portrait Gallery.

Take a tour of Ford's Theatre, where President Lincoln was assassinated.

Shop small and enjoy veganized Chinese and Asian fusion dishes in Chinatown. 

Relax with a superberry bowl, waffle, overnight oats, and more at

Fruitive

in CityCenterDC.

Cross items off your holiday shopping list at the Downtown Holiday Market.

Laugh all night long at the improv shows put on by the local comedy troupe,

Capitol Steps

.

See The Bill of Rights, the U.S. Constitution, and the Declaration of Independence in person at the National Archives.

Tour the F.B.I. Headquarters. (You must have a reservation booked at least a month in advance, to be arranged through your representative in Congress.)
Do you need help putting it all together? Here's a sample three-day itinerary. To learn more about the National Mall and the vegan restaurants mentioned, make sure to read the two hyperlinked articles below.
DAY 1
Breakfast

: Fare Well

Morning

: Eastern Market + Flea Market

Lunch

: PLNT Burger

Afternoon

: Library of Congress & National Mall

Dinner

: Fancy Radish 

Evening

: Show at Capitol Steps or DC Improv
DAY 2
Breakfast

: HipCityVeg

Morning

: National Portrait Gallery

Lunch

: Shouk

Afternoon

: U Street

Dinner: Busboys and Poets ,

Ben's Chili Bowl

, or find a veggie-friendly stop in Little Ethiopia

Evening

: Concert at 9:30 Club
DAY 3
Breakfast

: Flower Child (breakfast)

or Baked & Wired (coffee+ sweet treats)

Morning

: Georgetown

Lunch

: Chaia Tacos

Afternoon

: Dupont Circle & Adams Morgan

Dinner

: &pizza 

or sPACYcLOUD 
Evening: Adams Morgan continued
We hope you enjoyed our list of 60 things to do in Washington D.C. This city is so special to us and we hope you walk away from your trip with a renewed sense of wanderlust and appreciation for this marvelous city.
Don't forget to also check out our articles on Top 8 Vegan Restaurants in Washington D.C. and Washington, D.C.'s Historical Sites: National Mall, Capitol Hill, and More.
Want to read more travel guides like this one? Subscribe to our newsletter via the form on the right of this page.