Relevance
In both popular culture and in academia, vegan philosophy is most often discussed within the context of animal rights and diet. These two subjects are important and merit research, yet the vegan philosophy is intersectional (Harper, 2011) and, therefore, is applicable to a myriad of other subjects, like business. In 2020, the global value of plant-based and vegan products surpassed $10 billion USD (Research and Markets, 2021), and its value is forecasted to grow to $65 billion USD by 2030 (Expert Market Research, 2022). There has also been much international interest in veganism as a means to treat or even prevent some common conditions that can prove fatal, including heart attacks (Kim et al., 2019). Such exponential growth indicates that vegan philosophy is present and informing a very large share of the global food market, and there is not any indication that it will cease to do so. The vegan philosophy has an identifiable presence in the global market that is likely to continue into the future. Despite this, there is little in the literature that examines the philosophy in this context. Therefore, it merits exploring how the vegan philosophy may influence the behaviours and missions of businesses. 
The aforementioned global value of vegan products is significant and growing, although the concept of incorporating the vegan philosophy into a business's mission statement or values is still relatively new on a global scale (Jones, 2020; Vestergren & Uysal, 2022, pp. 1–2). A reason for this may be the perceived risk of operating a vegan business (i.e., VB), although many entrepreneurs of Small-Medium Enterprises (i.e., SMEs) may accept that risk as a means to achieve sustainability in their business's purpose (Demirel et al., 2019). Therefore, it is reasonable that observing entrepreneurs who own or manage VBs would provide the most insight into this about veganism in the context of business practices.
Key concepts
Veganism
The Vegan Society of the United Kingdom, which is the oldest Western vegan organization in the world (de Boo, 2014, p. 14; North et al., 2021, p. 1), defines veganism as a philosophy and way of life that aims to avoid contributing toward human acts of exploitation and cruelty towards non-human life (Cole & Morgan, 2011, p. 135; The Vegan Society, 2021). It can be described as being a Utilitarian philosophy in the Classical sense in that it provides the framework to reduce and avoid suffering in human and non-human life by shaping decision-making and/or behaviour (Singer, 1985). The most common and evident practice of this philosophy is that of diet, where vegans abstain from the ingestion of animal flesh and other products derived from animals (North et al., 2021, pp. 2–5). Similarly, vegetarianism…
…is the practice of living on products of the plant kingdom, with or without the use of eggs and dairy products but excluding entirely the consumption of any part of the body of an animal as food (including chicken, fish and seafood). The term 'vegetarian' means a person who follows such practice, or describes such person, creature, establishment or food pertaining to vegetarianism (Nguyen, T. 2019. p 9).
In short, vegetarianism is the practice of abstaining from the consumption of animal meat and flesh, yet the consumption of food and products whose basic components are generated by animals – e.g., milk, honey, silk, leather, et al. – is acceptable within that practice. The core practice of veganism is the abstinence from consuming any animal-based product.
Vegan Business and Vegan Entrepreneurs
A VB is an authentically licensed commercial establishment that does not feature any animal products or labour at any stage in the creation, manufacture, and delivery of its goods and services. VBs can also consider equity and environmental justice in their business plans (Duygulu et al., 2016; Kesberg & Keller, 2021). By comparison, a vegan entrepreneur (i.e., VE) is an owner or manager (or both) of a VB who observes and practices the vegan philosophy in every aspect of the business, from its mission, supply sourcing, to the creation and distribution of its products and services. A VE may adopt the philosophy and incorporate it into their mission after realizing or identifying that it may address what may be perceived as an ethical, health, inclusionary, or environmental challenge. Those who are aware of the suffering of animals on industrial farms may seek to abolish the use of animal products in their goods and services out of the knowledge that it may prevent further suffering. Therefore, using a vegan philosophy as a framework by which to guide their business may help VEs align their ethical values with their ventures (Bryant, 2015, p. 1523).
Project Objective
This project will involve visits to a dozen vegan businesses in the neighbourhoods of Mount Pleasant and Kitsilano, and subsequent documentation of my experiences and insights in an academic blog series on my website, It's Bree and Ben. The blogs that I will write will be featured in related newsletters and associated social media accounts (Facebook; Instagram; Pinterest). These efforts seek to add to the literature on VBs and VEs exploring business practices and documenting my experiences and insights as auto-biographies. The final deliverable will be a series comprised of seven blogs. It is my hope that my blogs will draw attention of readers and then inspire them to then visit these businesses.
Expected Outcomes
Research conducted by Greenebaum (2018) and Véron (2016) revealed that communities use veganism as an instrument through which they reinforce their cultural or ethical values, whether those communities exist in the physical world or online (Greenebaum, 2018; Véron, 2016). Therefore, it is my expectation that my findings will observe that same phenomenon where the vegan community in both Mount Pleasant and Kitsilano will use the vegan philosophy as a framework towards maintaining the practices and institutions that they value, such as animal rights. 
Approach
Blogs
A web log, or blog, is a journalistic entry on a website that chronicles the writer's lived experiences and realities (Alekova, 2019, p. 33). Being not only a vegan but an individual who has visited many VBs, I am empathetic to the experiences of VEs and the challenges that they may face. Blogs offer a format to present insights in a form that is accessible and useful for the sake of knowledge mobilization (Levin, 2008). In my experience, I have received comments and emails in response to my guides and articles on my website, It's Bree and Ben, from those who followed my recommendations and visited suggested places of business. They generally stated that they would not have known about the business if they hadn't read my guides or articles. The website features travel guides and essays about vegan and ethical travel in various destinations. It also includes mentions and interviews with the various VEs from those destinations, and their feedback has been that of appreciation for the exposure to our readers, who could be potential customers. That affirmative feedback strongly implies that publishing the results of this project on my website would be a useful form of knowledge mobilization. It would be useful to VBs as it would draw the attention of my website's regular readers – i.e., its newsletter subscribers – and new ones to their businesses.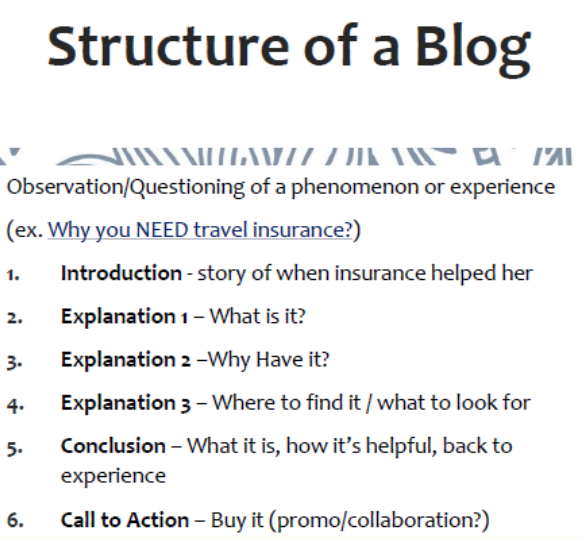 For the past thirty years, social science has generally concentrated on how human activity online influences human and social behaviour offline, and yet there is less literature that explores the inverse (Hookway, 2008). There is literature that explores how online communities form around blogs that are about specific subjects (Véron, 2016), like vegan baking. While the current literature about veganism outside of diet is still limited, it has, nonetheless, has demonstrated that blogs can be effective in providing qualitative data that can be used to describe the behaviours and experiences of communities both on and offline, (Wilson et al., 2015). The blogs for this report will cover the following:
An introduction to veganism as practice for health, culture, and religion

How animal rights impact and influence vegan businesses' philosophies and mission statements

Veganism in the context of sustainable and ethical tourism

A brief profile of each participating businesses involved in this project

A brief history of how vegetarian and vegan entrepreneurship came to Vancouver and elsewhere in B.C.  

My autobiographical account of VBs in Mount Pleasant and Kitsilano

The challenges that vegan businesses in Mount Pleasant and Kitsilano face and how to address them
Location
The site of this study is the neighbourhoods of Kitsilano and Mount Pleasant in Vancouver (See Figures 2 & 3 below). These neighbourhoods were selected because they have been noted as home to the most vegan businesses per capita in British Columbia (Plant Based News, 2018). At the time of this writing, there were at least 40 vegan establishments in the City of Vancouver (Happy Cow, 2022), and more than a dozen of them are either based in or serve these neighbourhoods. These neighbourhoods also have a history and reputation for being places where vegans and veganism-interested people congregate, inhabit, and shop (Planner, 2021).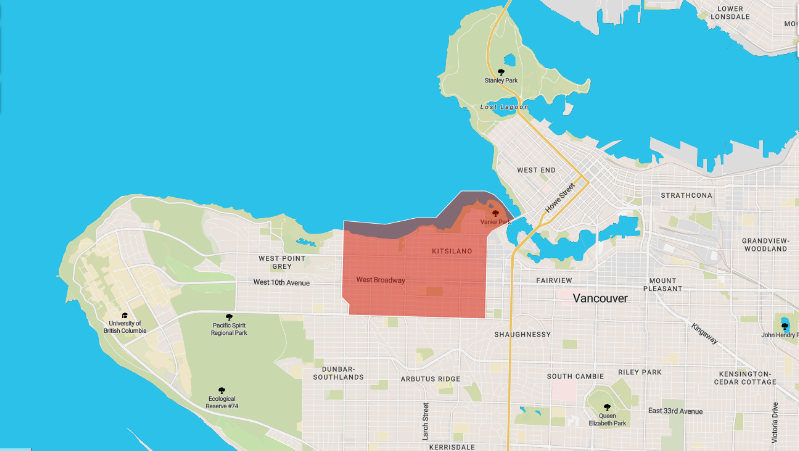 Kitsilano is a beach-front neighbourhood in Vancouver that became the country's epicentre of the counter-culture following the Second World War. By the 1960s it became one of the most recognizable centers of the city's vegetarian, and later vegan, community (Francis, 2021) as it is home to some of the earliest vegetarian, organic, and whole food markets and restaurants, like The Naam (Planner, 2021; S. Wilson, 2012).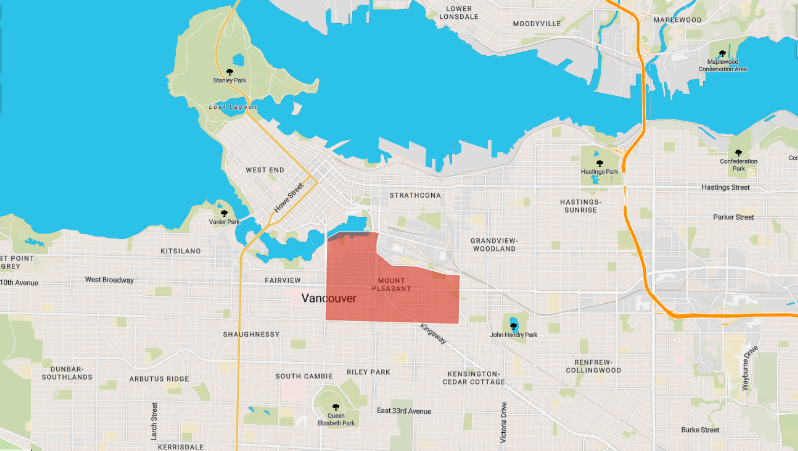 By comparison, Mount Pleasant became a neighbourhood for housing employees and families associated with the street car line starting from 1888 (Francis, 2021). Within 20 years, it grew into a site of commerce and entrepreneurship as it bordered the industrial warehouses and manufacturing sites of East Vancouver, as well as the docks and additional warehouses along False Creek. By the early 1960s, it became home to the innovative counter-culturalist artists and entrepreneurs. 
Visiting Vegan Businesses
To determine how VEs in Kitsilano and Mount Pleasant experience veganism, I selected twelve VEs and their businesses to visit. While many of them are in the food service industry, several others are in industries that are not commonly thought of in the context of veganism, like cosmetics and education. This choice provides more diversity and depth to what I may observe, extending my possible insights to more industries. Due to the parameters approved by the REB, my visits will consist of low-risk conversations with the VEs of the following VBs: 

Limitations
While Kitsilano and Mount Pleasant offer a relevant site for this project one would be remiss not to acknowledge that these neighbourhoods are specific to one socio-economic area, which is very affluent as it is home to some of the highest property prices in Vancouver (Zumper, 2022). Therefore, it is possible that the insights and conclusions that are drawn from this study may very well be specific to the urban, upper-middle socio-economic class of the area, and not to others. The project is also limited by the fact that it looks at veganism in the context of capitalist consumerism when the philosophy can be experienced and practiced in others. Nevertheless, this research project still has the potential to provide insights into themes that are adherent to the vegan lifestyle, regardless of location or socio-economic status, and is therefore valid. Following this project, further research about vegan businesses in areas less affluent is warranted.