The vintage clothing stores in Portland, Oregon are some of the best in all of the U.S. While you can find upscale antique shops and finer goods in Downtown Portland, the best vintage warehouses, dress boutiques, and secondhand stores can all be found in East Portland.
Whether you're looking for a gown for a friend's wedding or a VHS of an old movie, you'll be able to find what you're looking for, and so much more, in the vintage clothing stores in Portland, Oregon.
Xtabay Vintage
Xtabay Vintage is the place to shop if you're looking for mid-20th century feminine glamour. Here you can find a dress for your anniversary, formal cruise dinners, engagement shoot, or even the opera. You'll be surrounded by pastels, vintage couches, and costume jewelry in this sophisticated shop not too far from the hustle and bustle on East Division Street.
Fat Fancy
While many vintage shops fail to cater to larger women, Fat Fancy caters specifically to them. Here you can find used, new, and vintage-inspired wear for women who just happen to have two numbers in their dress size. We also love that they have clothing and accessories that encourage body positivity.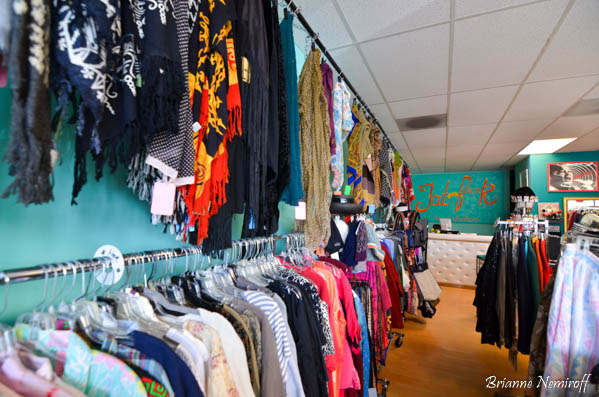 Powell's is the world's largest independent bookstore that houses over one million books! If you're a bookworm, like we are, then this is going to be your Disneyland for new, used, and rare books. Set aside a couple hours to enjoy this multi-level location that occupies a full city block. We also recommend checking out the Hawthorne location as it's separated into two stores, with the second store named Powell's Books for Home and Garden. We encourage you to check out the Home and Garden location if not only for their selection of local, regional, and best-selling vegan cookbooks.
Hattie's Vintage
At Hattie's on Burnside, you can find local vintage Americana as well as other high-quality items that span many decades of the 20th century. If you're shopping with your significant other, this is a fun shop to explore together.
Hollywood Vintage
Lovers of costumes, elaborate gowns, and crazy masks will love exploring Hollywood Vintage. This warehouse is packed from its floor to its VERY high ceiling with suits, costumes, LPs, artwork, dance gear, furniture, and more. Prepare to get lost and to find something weird and extraordinary.

House of Vintage
Like Powell's has 1 million books, we're almost positive House of Vintage has almost that many clothing items in their store. Another store that houses multiple sellers, you find the best of the 70s to the 2000s in this massive shop on Hawthorne Blvd.
Red Light Clothing Exchange
This well-organized shop featuring mainly vintage clothing items organized by decade, with a preference for 70s to 90s per their younger clientele. If you're looking for vintage items that you can easily integrate into your modern everyday wear, this is the place to shop.
Portland is the perfect place for shoppers who have their own unique style, who love to shop small, and who love to come across a great deal without visiting outlet malls. You're sure to find a one-of-a-kind souvenir if you shop vintage while visiting Portland, Oregon.
If you want to make sure you don't miss out on an article like our Portland Vintage Shopping Guide, sign up for our newsletter on the right side of the page!