We have visited over 70 destinations in North America as vegans, but there are still a few major vegan destinations that we have yet to visit. Detroit, Michigan, is one of them. Since we cannot provide you our own tips just yet, we decided to ask one of the best vegan bloggers from Detroit, Rebecca Gade-Sawicki of Veggies Abroad, what she would recommend to her friends, family, and audience. We hope you enjoy her expert recommendations for vegan restaurants in Detroit, and don't forget to take a look at her blog for vegan guides to cities such as Warsaw, Rome, and Dublin.
The Best Vegan-Friendly and Vegan Restaurants in Detroit
by
Rebecca Gade-Sawicki
The Detroit area is well known for many things–a thriving car culture, a diverse music scene including Eminem and Motown, and sports teams that just can't catch a break. While these things are a part of the DNA of the Motor City, there is much more to this city, including a thriving vegan food scene. Over the last decade, Detroit has experienced a rebirth, not only with its image and business stature but also with food. In 2019, PETA even ranked Detroit as the #5 city in the U.S. for vegan food, and that accolade was well deserved. When you get a chance to visit, you must check out these 10 amazing vegan-friendly and vegan restaurants in Detroit. I promise you won't be disappointed!
4626 3rd Ave, Detroit, MI 48201
If you have ever thought, "what if Taco Bell was vegan," then you need to head to Street Beet! Well known for their popular Taco Hell menu, featuring favorites like a Supreme Crunchy Wrap and Nachos Hell Grande, Street Beet has cornered the market on veganized Taco Bell favorites and grown to feature many other comfort foods. Their menu features so many things to tantalize your taste buds; whatever you choose, save room for a slice of creamy cheesecake made by another Detroit favorite, Blck Cocoa Bakes.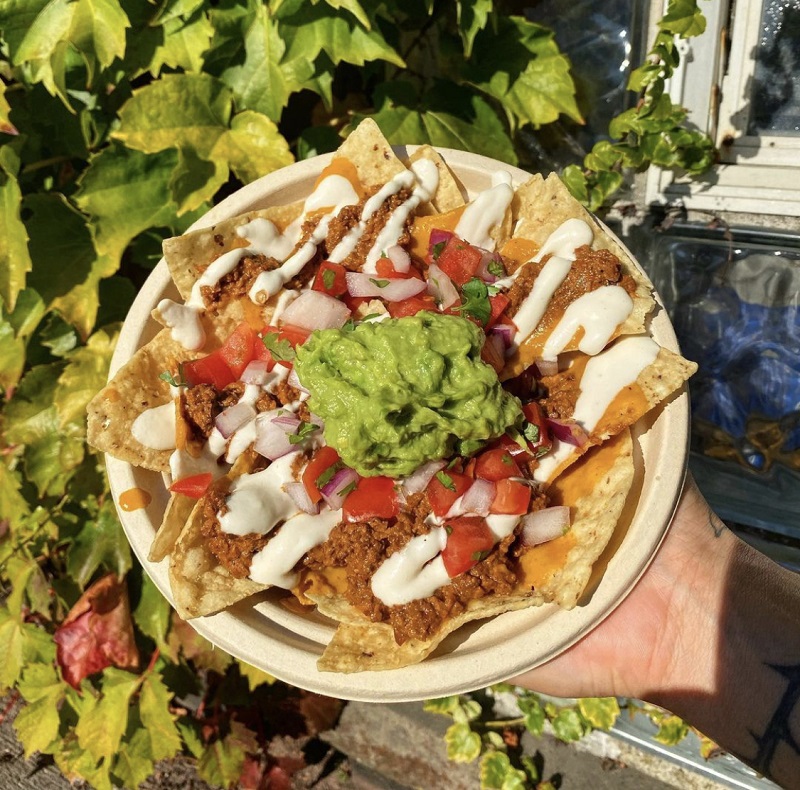 255 W Nine Mile Rd, Ferndale, MI 48220
Right in the heart of fashionable Ferndale, this vegetarian café is serving up spectacular brunch and lunch delights. Start your day off strong with a homemade vegan Breakfast Bomb–a maple sausage patty with garlicky greens and homemade cheese, sandwiched in a jalapeño cheese biscuit; you won't be disappointed. Or, if you're looking for something a little greener, grab a Spacecat Power Bowl filled with scrambled tofu, black beans, greens, and roasted veggies, topped with homemade cashew sour cream. 
135 Pierce St, Birmingham, MI 48009
This dessert and cheese bar serves up the most dazzling creations to delight your eyes and taste buds! Their dessert menu features a selection of handmade raw cheesecakes and truffles that are organic and gluten-free, and made with fair trade ingredients. On the savory side, they make artisanal cashew cheeses in the most addicting flavors–garlic noir, aged dill, white truffle, and more! Truly, it is hard to walk in there and not want to try everything. If you love chocolate, you must try my favorite cheesecake, Au'Cacao. I promise you will be in heaven.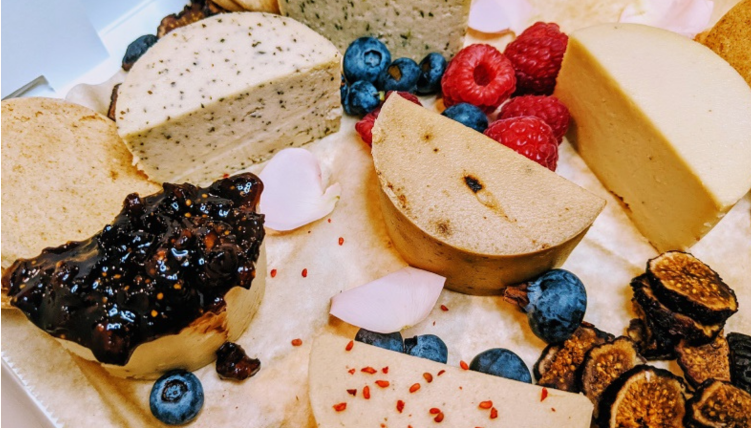 66 E Forest Ave, Detroit, MI 48201
This popular spot started dishing out globally-inspired vegetarian dishes with its first location in Ann Arbor back in the 70s. Lucky for Detroit, they set up shop in Midtown 10 years ago. Their menu is 100% vegetarian and I would say 90% of it is vegan or has a vegan option. Also, this is a great spot to bring someone who is vegan and gluten-free; they have a full gluten-free menu and are more than happy to accommodate any dietary restrictions. Breakfast is served all day and their lunch and dinner menu features a diverse selection of dishes from burgers to stir-fry and everything in between.
1440 Sheldon Rd, Plymouth, MI 48170
This 1950s style diner is 100% vegan and gluten-free, making its delicious veganized American classics available to a wider audience. Diners are delighted with burgers made with their lentil "Shimmy" patty or Coney dogs made with their special, savory chili. That chili also pairs well with their fries and nachos⁠—in case you need more suggestions. Make sure you leave room for dessert. There are homemade cookies, shakes, and banana splits–so many choices! 
3411 Brush St, Detroit, MI 48201
Detroit is well known for its battle over who has the best Coney dog, but not until recently has there been a vegan option! This vegan Coney café is giving the traditional, meat-filled options a run for their money. For those unfamiliar with a Coney dog, it is a hot dog smothered in homemade chili and topped off with onion and mustard. Chili Mustard Onions is serving up vegan versions with their smoky homemade chili along with other veganized comfort food, like a Big Mock burger made with beefless patties, waffle fries covered with homemade cheese sauce, and so much more. Make sure you arrive hungry!
8029 Agnes St, Detroit, MI 48214
19614 Grand River Ave, Detroit, MI 48223
Luckily for Detroiters, there are two locations to satisfy a craving for vegan Soul food favorites! This Black women-owned restaurant has debunked the idea that traditional comfort food favorites like Po'boys, smoked collard greens, and "catfish" (made with tofu) can't be healthy and vegan. You really can't go wrong with their oyster mushroom Po'boy served on a hoagie bun and topped with their homemade buffalo aioli. They also offer a selection of homemade desserts; if one of them happens to be chocolate cake, don't miss trying it!
213 E Maple Rd, Birmingham, MI 48009
Try It Raw is a vegan raw food café serving up healthy and tasty fare all day long. Start your day with an acai bowl topped with their homemade Grawnola made with buckwheat and a mix of seeds and nuts. Later, check out their nachos made with their special walnut pate, cashew cheese, and more! The menu changes regularly and often features a selection of homemade soups, sandwiches, and other tasty options.
Often can be found at 5402 W. Vernor Hwy. Detroit, MI 
Right in the heart of Southwest Detroit⁠, known for its Hispanic roots⁠, is this awesome vegan taco and coffee truck–almost too good to be true, right? The tacos have amassed a large following, and many times they sell out before closing time. Their menu features "beef" tacos made with walnuts and mushrooms in traditional spices, shredded "chicken" tacos made with jackfruit, and fried "fish" tacos made with fried banana blossom and topped with mango salsa. Whatever you choose, make sure you get in line early! 
About the author 
Rebecca Gade-Sawicki is the creator of the vegan travel blog Veggies Abroad, which was born from her love of travel, and the question she gets asked after every trip, "What in the world did you eat?" Her blog features vegan travel guides, practical travel tips, and resources, as well as vegan lifestyle content.
If you liked The Best Vegan-Friendly and Vegan Restaurants in Detroit, go follow her adventures on Instagram or Facebook @veggiesabroad.