Visiting wine regions as a vegan is a lot harder than you might expect. While wine might seem like an easy vegan food item, it's actually still hard to find vegan wine! A not-so-fun fact, wineries use everything from fish guts to egg whites in the production process; it's not just fermented grapes in your glass. So how do we visit a wine country without drinking wine? Or is it still worth it? In regards to Sonoma County, it is absolutely worth it.
This county in the North Bay can entertain you with U-Pick orchards and farms, ocean views, vintage shopping, coffee, vegan-friendly restaurants, and even a handful of vegan-friendly distilleries. It's a diverse destination that welcomes travelers of all interests and makes for an easy weekend getaway on any budget.
You can easily make this a dry vegan itinerary to Sonoma County if you eliminate two stops: Griffo Distillery and Golden State Cider Taproom. To replace these activities, feel free add in some time exploring some of the nearby walking trails or, if in season, visit a local apple orchard or U-Pick farm.
Where to Stay in Sonoma County:
Hotel E
in Santa Rosa
One of Santa Rosa's oldest buildings is now the home to one of its newest hotels. The Santa Rosa Bank Building which later became known as the Empire Building is, as of 2019, the Hotel E in Courthouse Square. While the building is over 100 years old, the inside looks as modern as can be and makes for a luxurious and relaxing weekend getaway. 
The rooms are spacious, sleek, and clean and still manages to be a dog-friendly hotel! Another plus, its location is centrally located to everything mentioned below. 
Pro tip: if you travel in the off-season, you can stay at this four-star boutique hotel for around $150/night instead of its high season price of $300-400/night. This way you can still travel on a budget without giving up on staying at a luxurious hotel.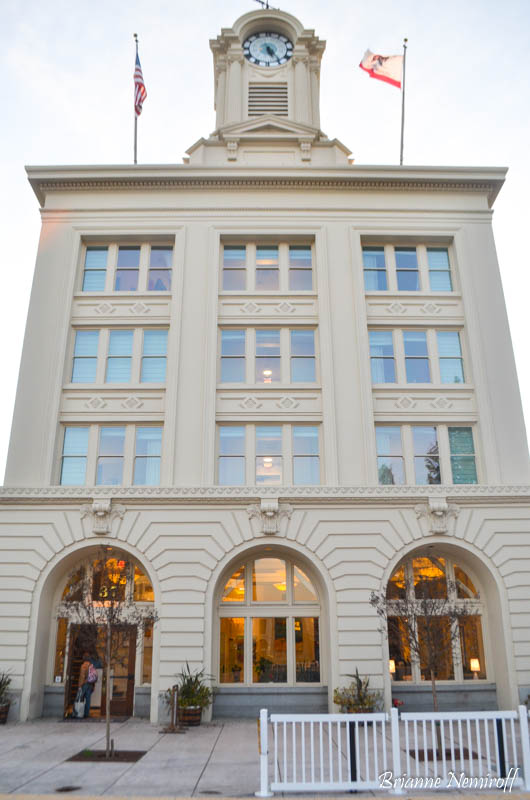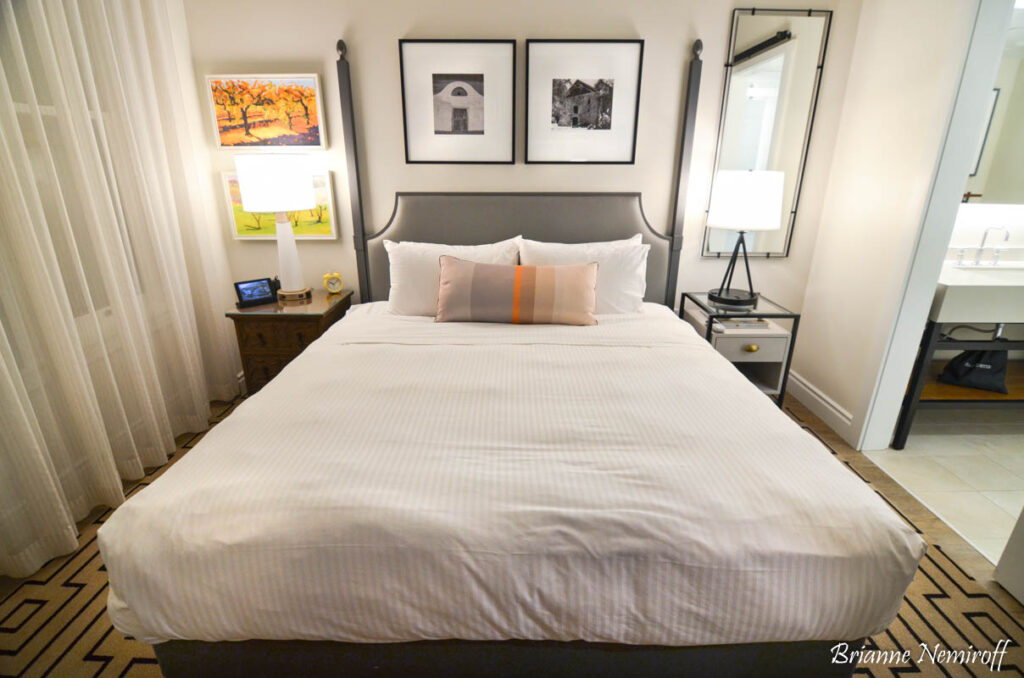 DAY 1
Stop by Retrograde Coffee Roasters bright and early to enjoy vegan-friendly pastries, breakfast sandwiches, and superfood lattes. Whether you prefer sweet or savory, you'll be able to find something to fuel you for the rest of your day exploring. (Note, this establishment is very family-friendly with not a lot of breathing room so introverts might feel a bit encroached upon if sitting at the shared long tables and near the main line.)
Retrograde is one of our favorite coffee shops in the country, and it goes beyond the vegan-friendly breakfast and lunch items, and their innovative drink menu that features options such as a Beet Root Chai Latte. Retrograde Coffee Roasters is a California Certified Green Business and they commit to the following: offer incentives to those who bring their own coffee cups or containers for coffee beans, guarantee that all of their to-go items are recyclable or compostable, roast their coffee on demand so there is never a waste, only use green certified cleaning products at their dish station, and SO much more. Click here to learn more about everything they do to keep up their energy efficient green business.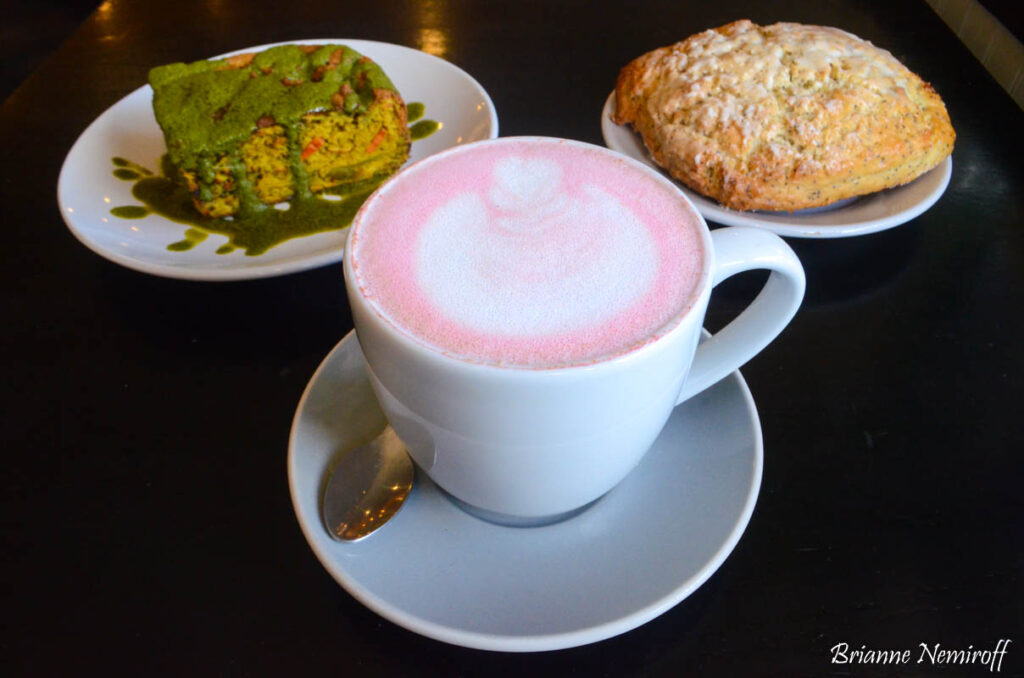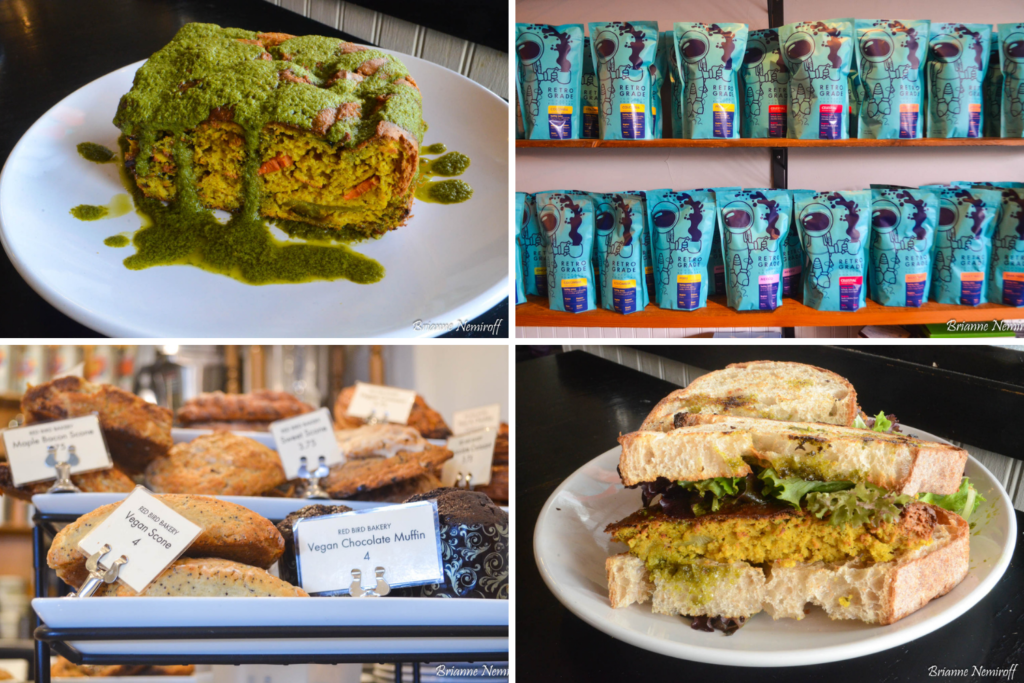 Morning Activity: Shopping in Sebastopol 9am-12pm
Sebastopol is very easy to navigate as most of the shopping is in the center square and the food lies on the perimeter. With a couple hundred feet, along Highway 12 and between Main Street and Petaluma Street, you will find five of our favorite stops in the city: Second Chance Used Books (used book store), Toyworks (independent toy store), Retrospect (vintage house goods), Screamin' Mimi's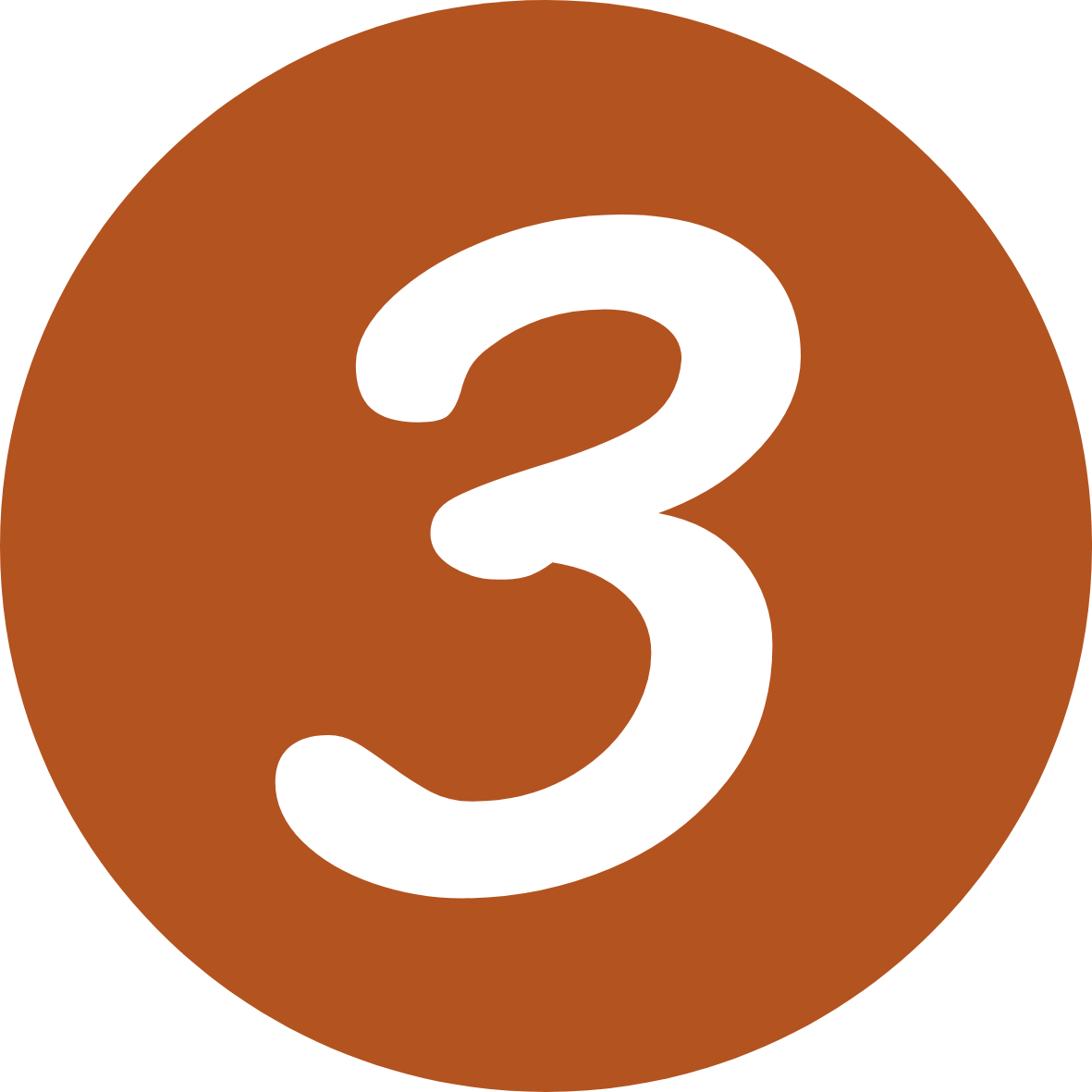 (ice cream shop with vegan options), and the Sebastopol Farmers' Market.
We recommend visiting the stores in a counter-clockwise order. Start off browsing around the two floors at Toyworks where you can shop for the children in your life or for your inner child. 
Second is Second Chance Used Books, a quiet and quaint oasis for bibliophiles that's just large enough to provide a diverse inventory for interests from farming to fantasy. If seats are available, take a moment to sit down in the adorable children's corner or beautiful vintage chairs. If you're like us, you'll take your time in the bookstore and be ready for a snack. Satiate your appetite until lunch by cooling down with a vegan ice cream. Half of their ice cream options are vegan so you will not feel like you're stuck with one gelato or the "flavor of the day" here. Don't forget to admire the ice cream flavor names that are painted on each of the chairs! 
Third, head to Retrospect, just around the corner, where lovers of antique furniture and house goods can continue their life-long search for the perfect ice bucket, vase, chair, or couch to make their house their ideal home. 
Lastly, stop by the Sebastopol Farmers' Market to support the local artisans. Consider buying an item to bring home as a souvenir, a snack to enjoy later, or some fruit to eat as you admire the views at the beach the next day.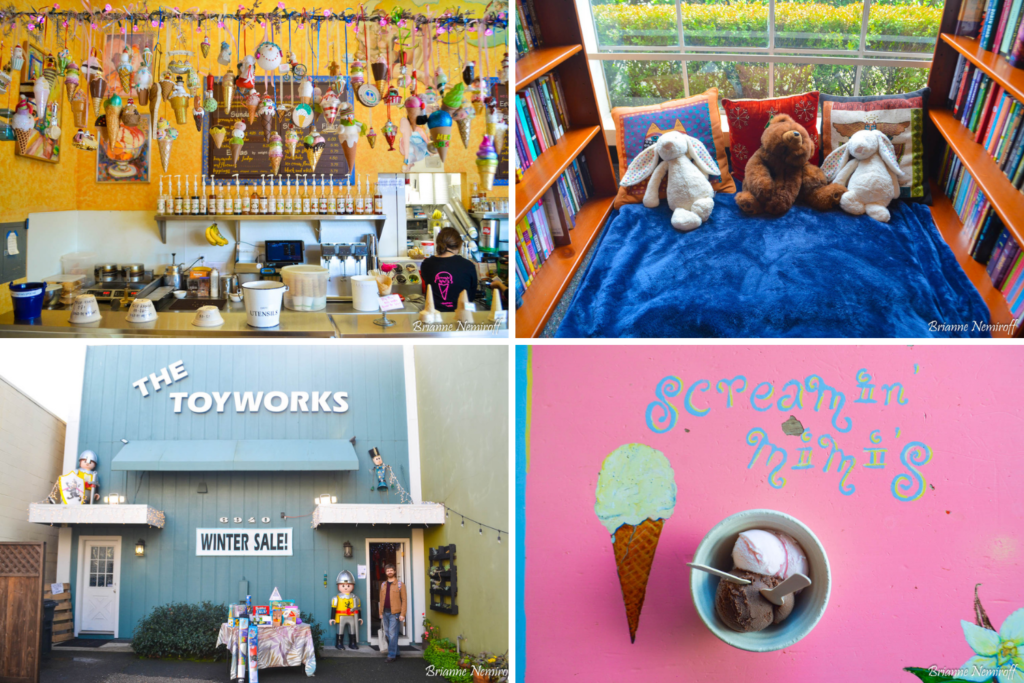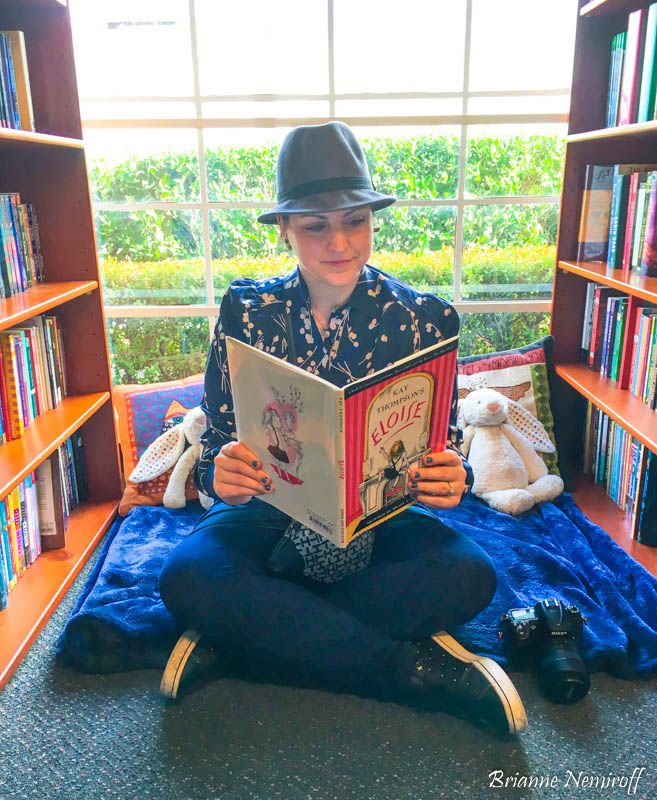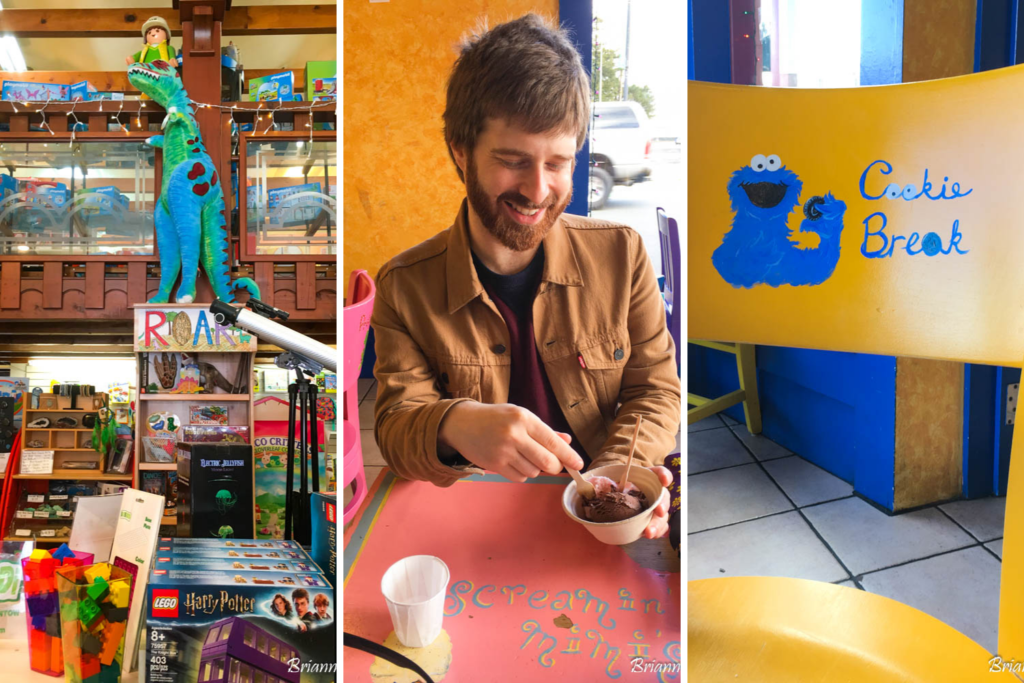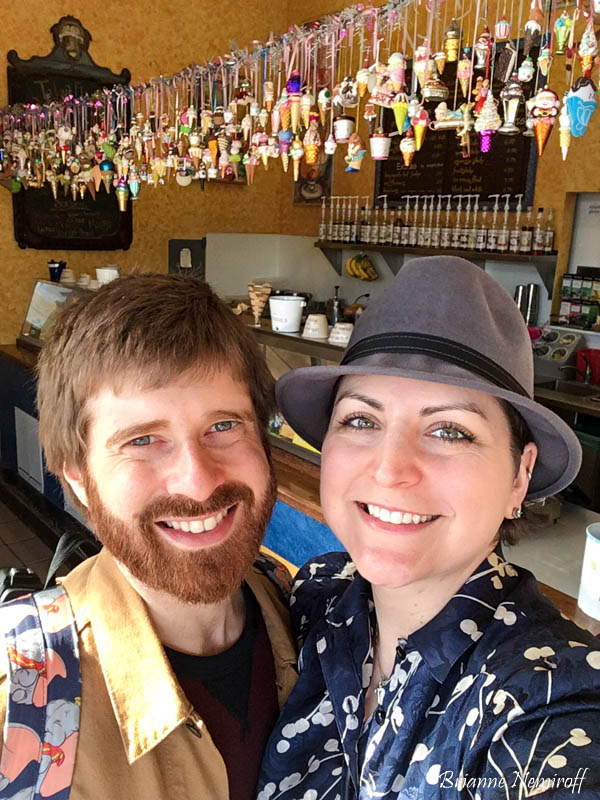 Walk across the street from the Farmers' Market and you will arrive at East West Cafe. Enjoy a selection of mediterranean dishes such as dolmas, muhamara, and tabouleh for a high-protein and high-fiber lunch that will keep you fueled for the rest of the day.
Afternoon Activity: Florence Avenue and The Barlow 1pm-5pm
Sebastopol's most quirky and essential stop is Patrick Amiot's house on Florence Avenue, as well as the rest of the block. His front yard is decorated with his "junk art" which is mesmerizing, to say the least. His neighbors also loved his work so much that many of them purchased one of his works to be displayed in their own yards. You can easily take up to an hour exploring this one city block as each of his sculptures are so entertaining and whimsical that everyone from your elderly grandfather to your toddler will enjoy them.
After exploring the neighborhood, head to the other side of Sebastopol's commercial district, roughly a 12-minute walk, to explore The Barlow, a 12-acre outdoor market district. Here you can find local wine, beer, spirits, and cider among this industrial-chic and dog-friendly area. Since many wineries and breweries are not yet using vegan production methods, we recommend visiting Golden State Cider Taproom to sample four of their ciders out of the 15 they always have on tap, as these ciders are indeed vegan. 
If you find yourself a little too happy after sampling the cider, we recommend walking a few doors down and sobering up with a coffee drink at Taylor Lane Organic Coffee. If you still have time to explore The Barlow, there are other distilleries as well as a few independent high-end boutiques in this neighborhood.
Your last afternoon activity takes you to Petaluma, so make sure you leave 25 minutes for driving time, and leave Sebastopol no later than 3:40pm in order to leave time to do a tasting at Griffo Distillery. This distillery is not only vegan-friendly, but it's a ZERO-WASTE facility. The grains stay in the spirit throughout the whole process and then it's disposed of and becomes pig feed. Additionally, the grains and yeast that are used for wild fermentation in their recycled dairy tanks are given to local bakeries. 
We recommend doing a tasting to sample their vodka, whiskey, gin, and especially their cold-brew liqueur. Book a tour in advance to learn more about their distilling process and history.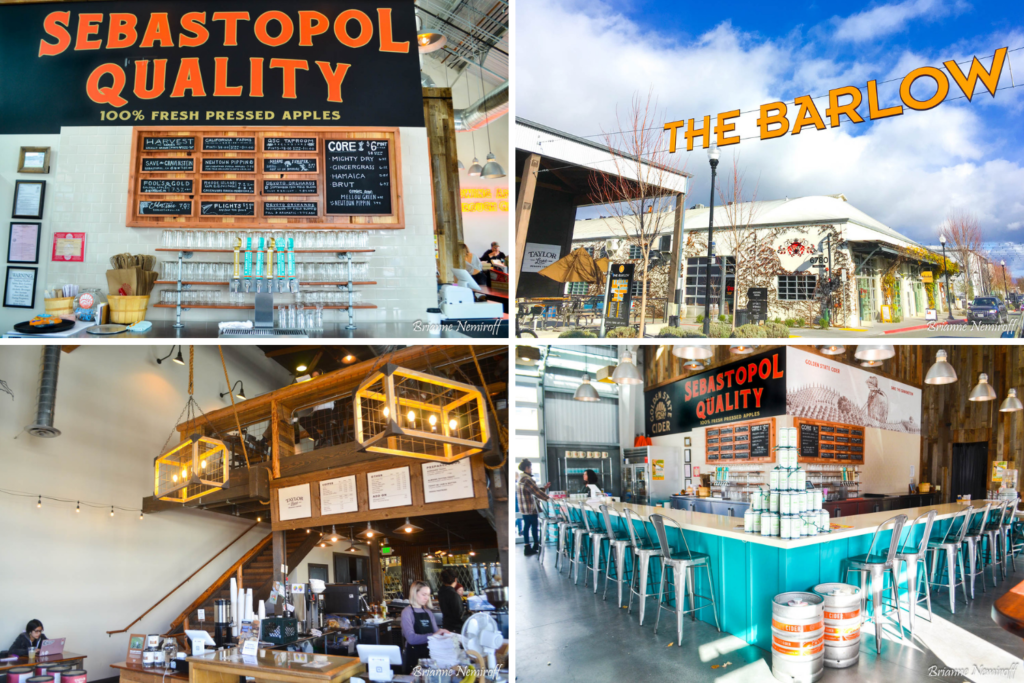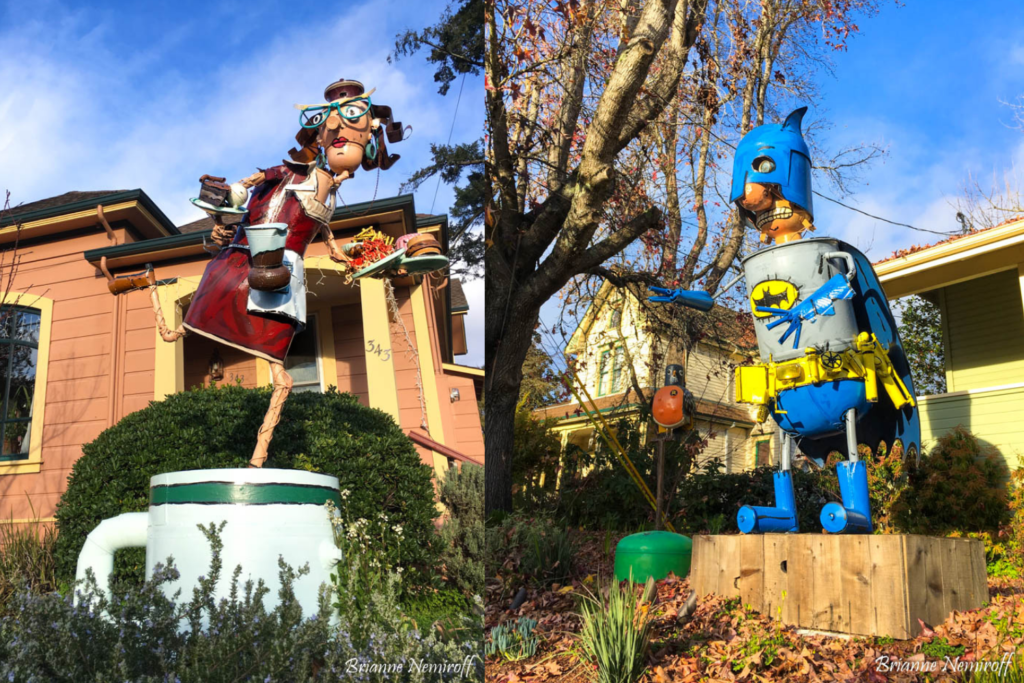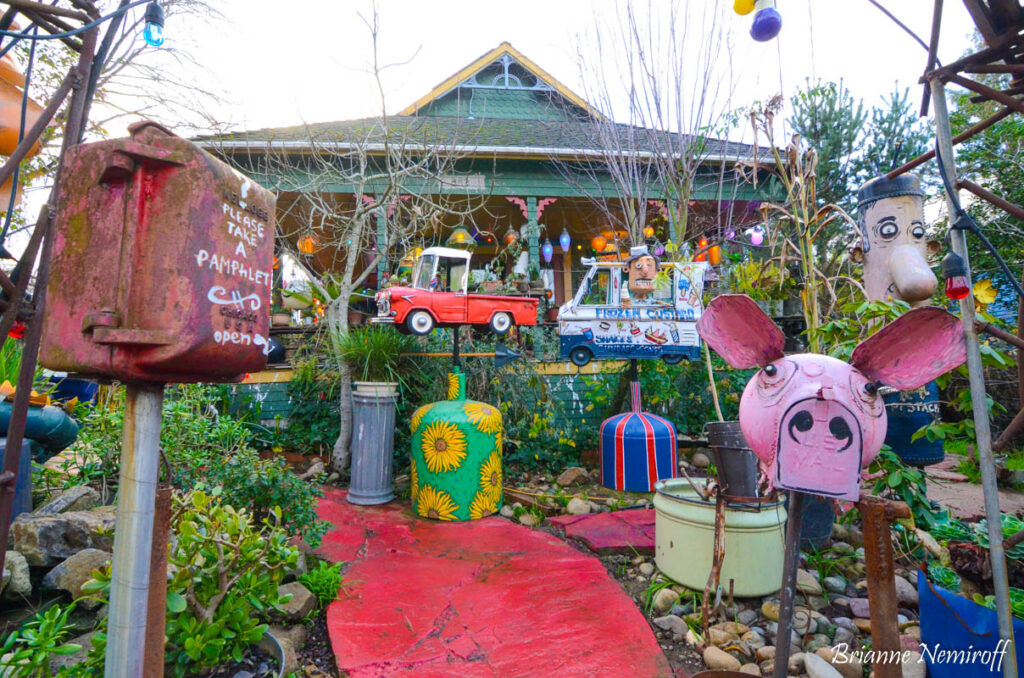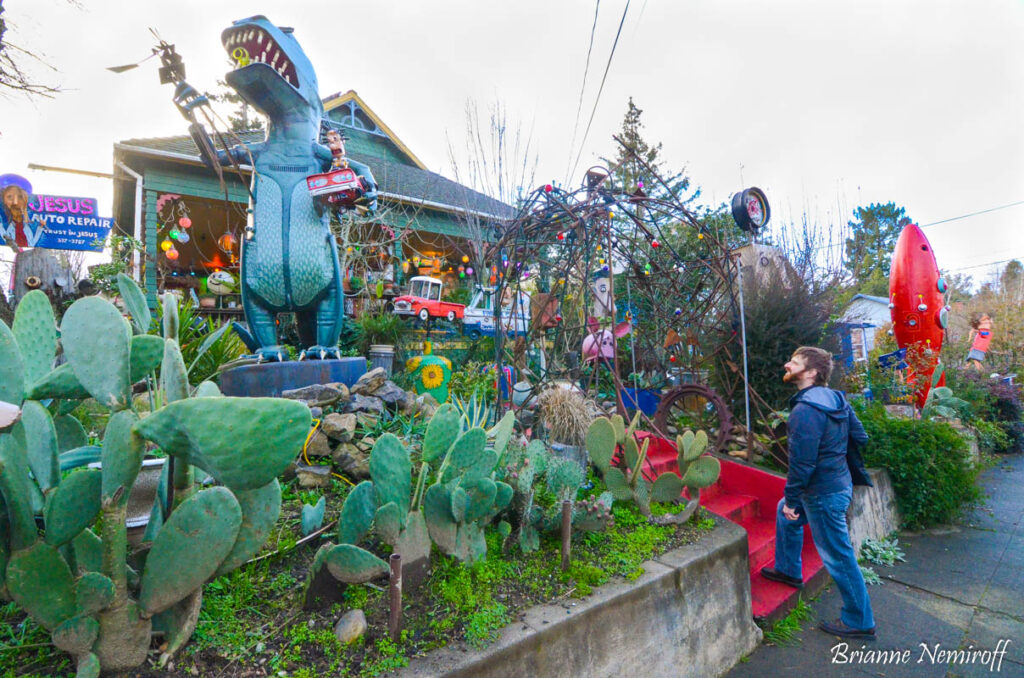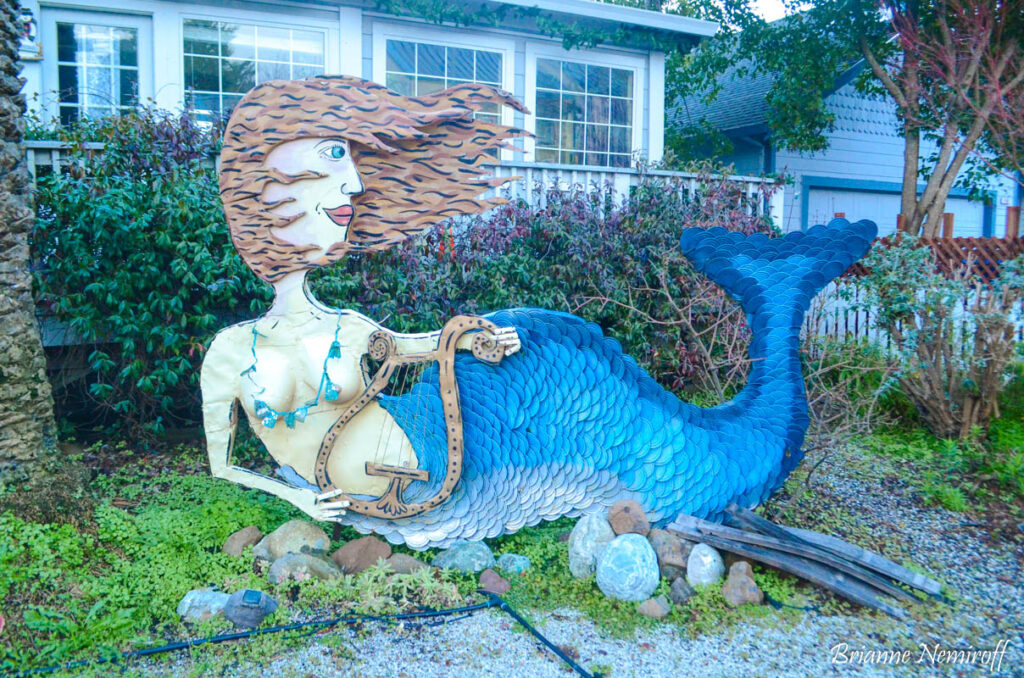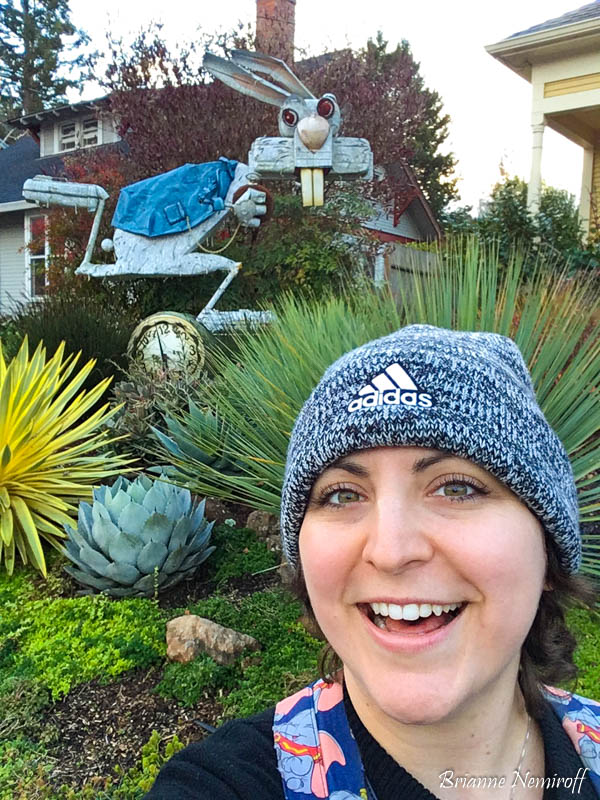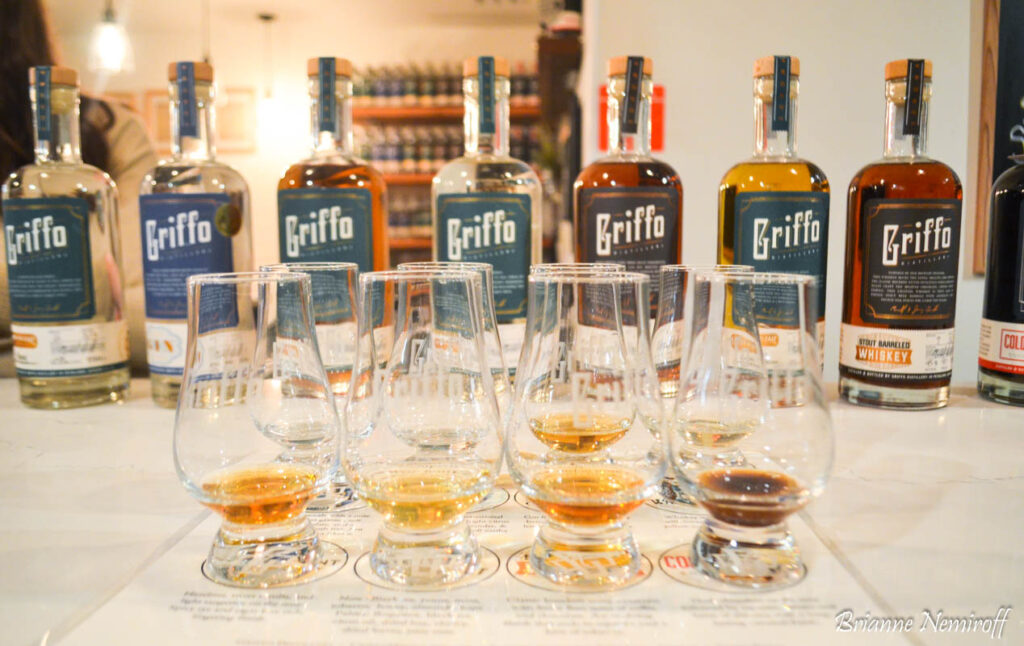 Amy's is known for being the vegan version of In-N-Out Burger. You can order single or double patty burgers, small salads, single-serving pizzas, chili fries, mac and cheese, and milkshakes. We recommend The Amy burger and their non-dairy shakes.
Please note that this establishment is vegetarian but they have a vegan version for everything on the menu without having to opt-out of ingredients. Pro tip, if you're visiting from out of the state or country, you'd probably be interested to try In-N-Out Burger but couldn't because of the lack of vegan options. Amy's has a similar atmosphere, menu layout, and options that you would find at In-N-Out so you don't have to feel like you're missing out!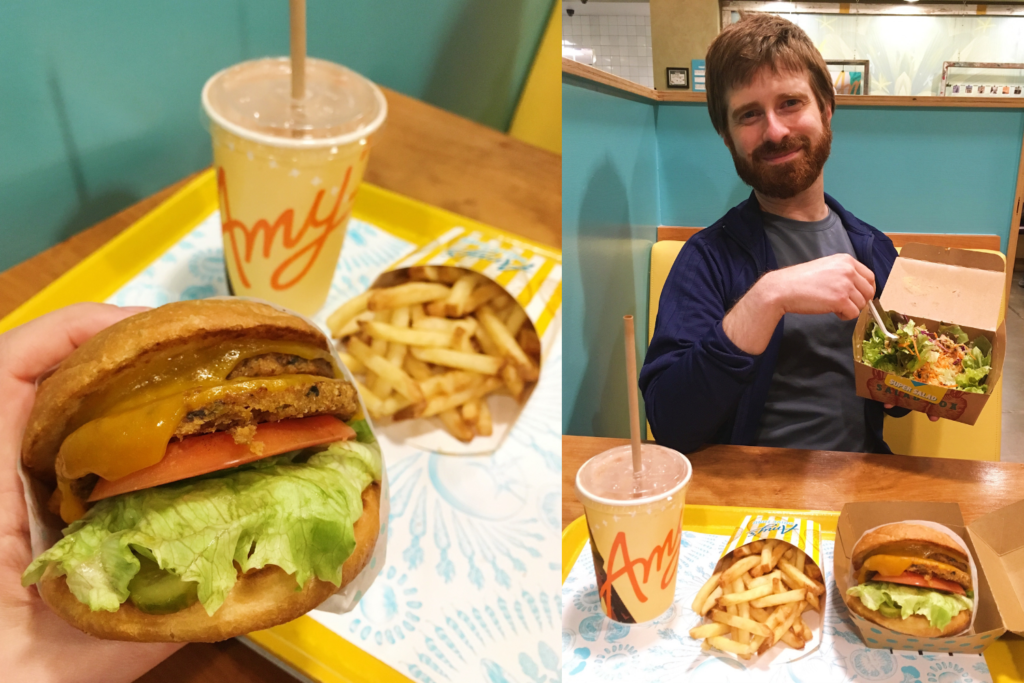 DAY 2
Slice of Life is one of the few places in all of Sonoma County that offers breakfast options that are fully vegan or easily customizable to be vegan. You won't find eggs on this menu but just make sure you opt for the vegan cheese. Start your day off with a tofu scramble or breakfast burrito at this vegetarian establishment open since 1974!
Morning Activity: Drive to Sonoma Coast State Park via the Bodega Highway 10am-1pm
One of the greatest things about Sonoma County is that you can be driving in the heart of wine country, through winding forests, and along the coastline all within an hour of the cities of Petaluma, Sebastopol, and Santa Rosa. You can easily craft a day around both urban and natural experiences without going out of your way.
After finishing breakfast, start driving westward and make your way to the coastline. Along the way, you can admire the beautiful farmland, pick up some bread or coffee at Wild Flour Bread, and gradually make your way up Highway 1 until you reach Sonoma Coast State Park. Stop at the viewpoints of your choosing and feel the Northern California beach air all around you. If you'd like a longer stay in Sonoma Coast State Park, consider walking down to Goat Rock State Beach. Around 12pm, start making your way back eastward via Highway 116 as it will take you around 50 minutes to head back to Santa Rosa for lunch.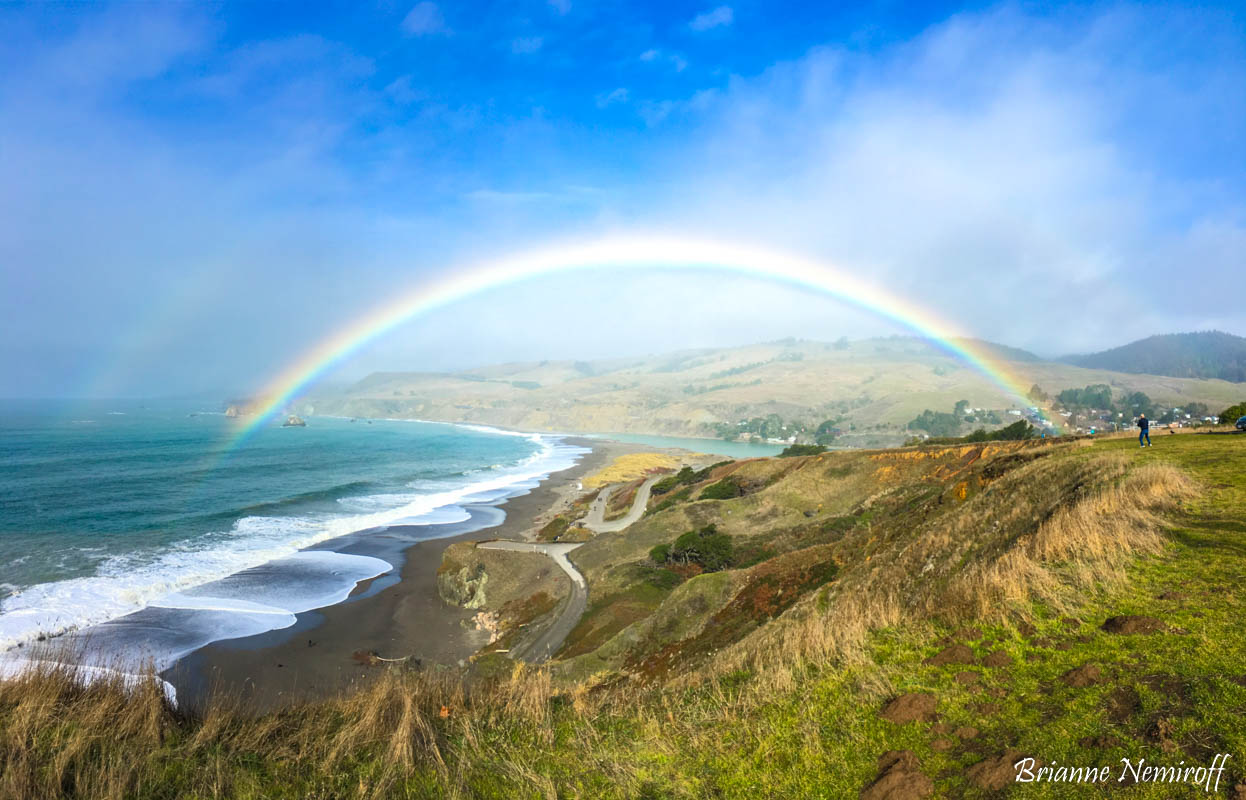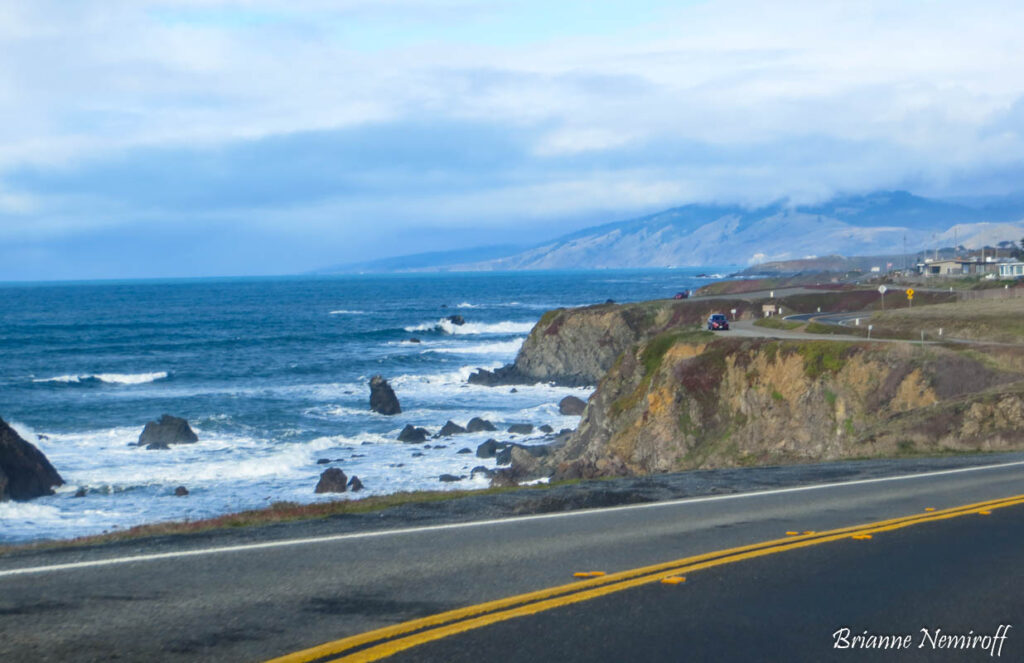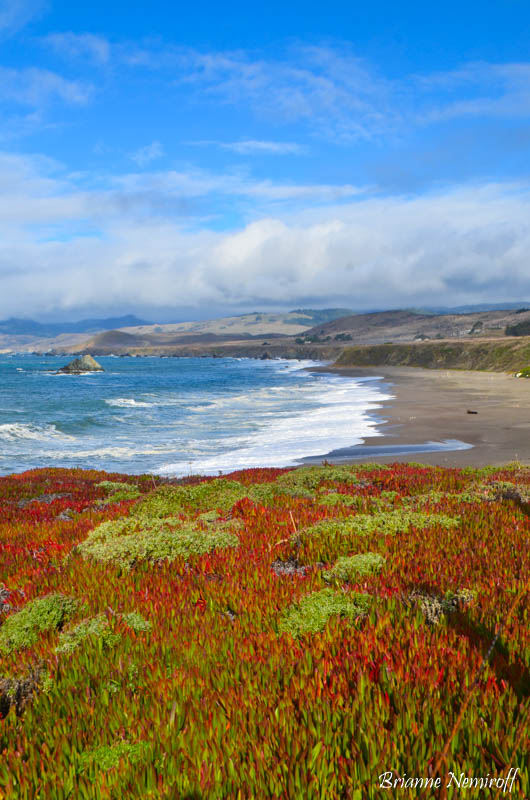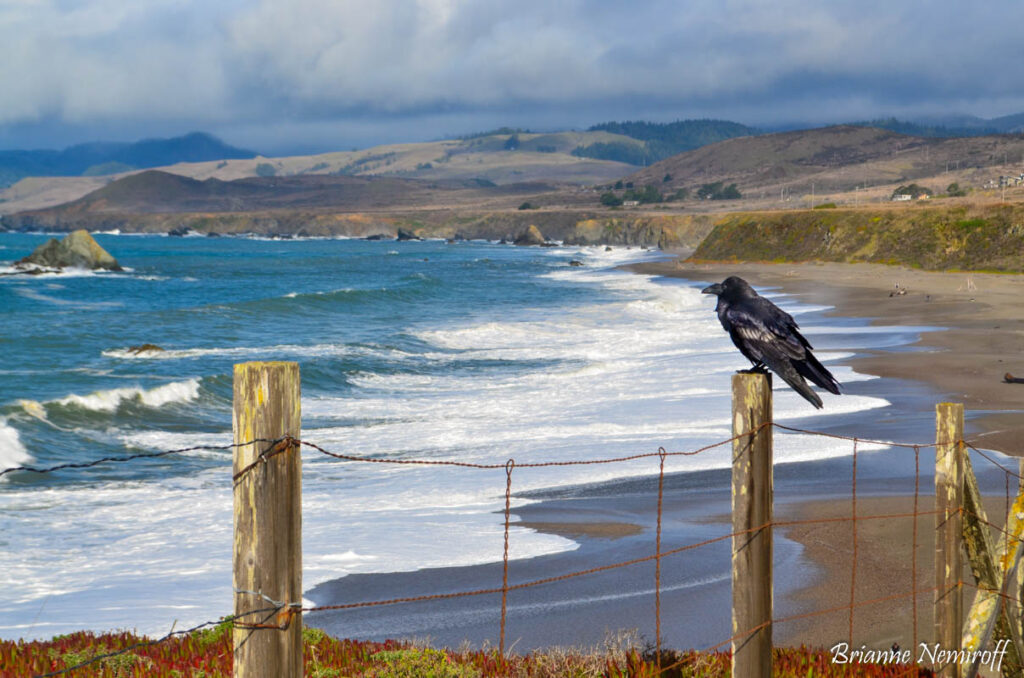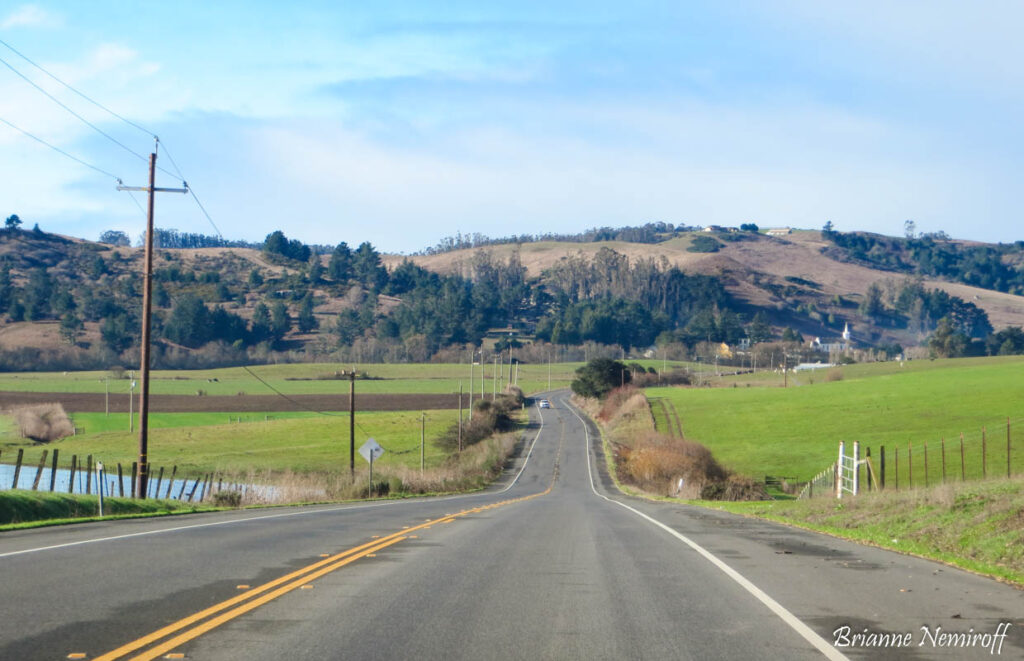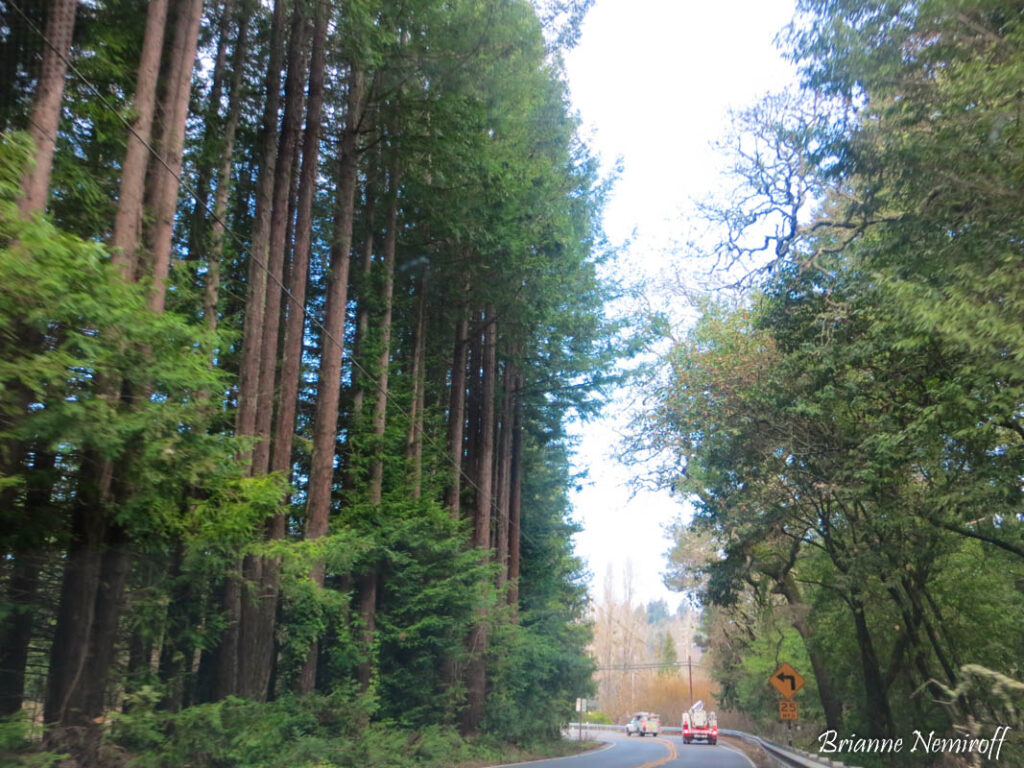 Lunch:
Cozy Plum
1:30pm-2:30pm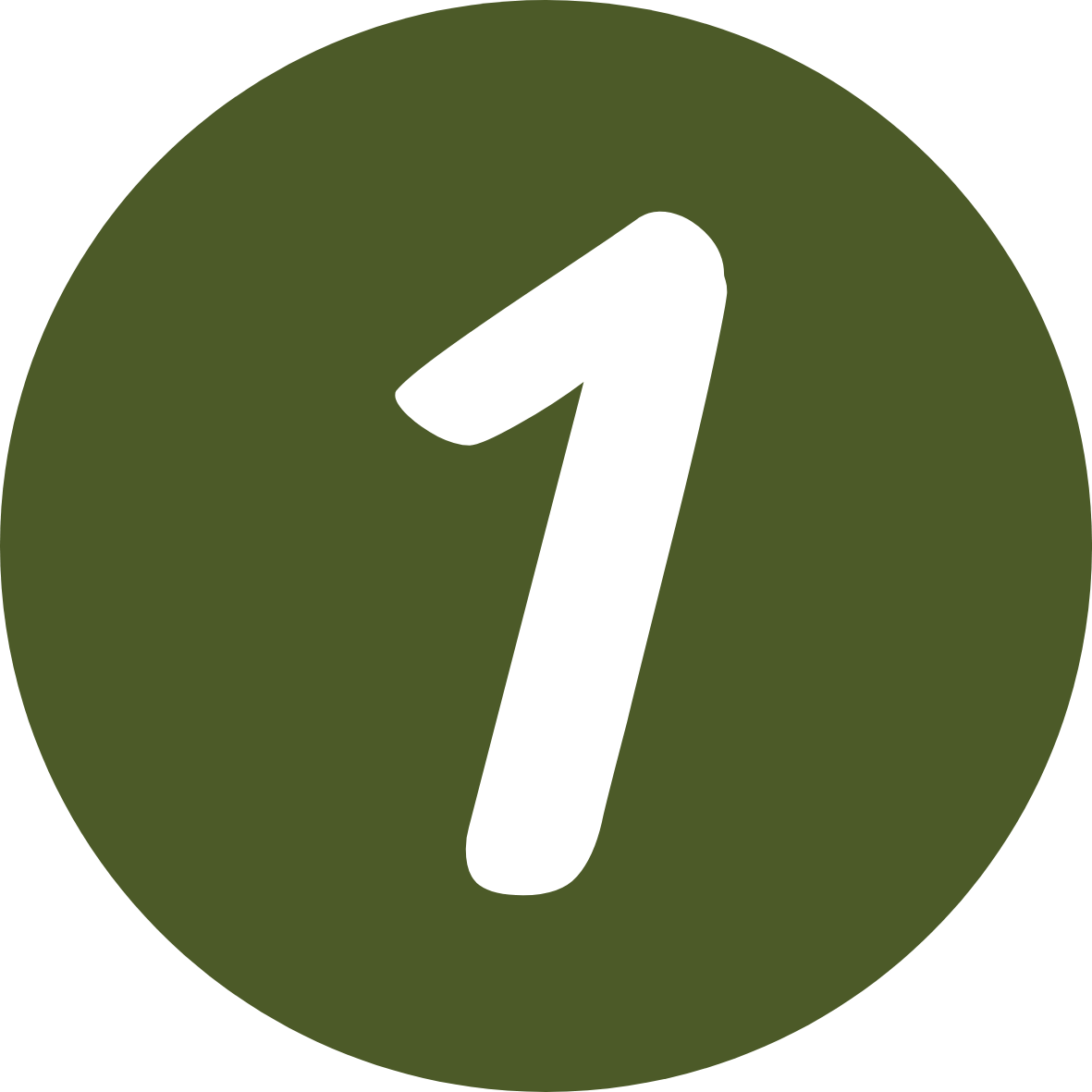 Sonoma County and Napa County are renown for their farm-to-table cuisine, which often means vegan options are harder to find than one might think. However, over the last few years, Sonoma County has become more vegan-friendly, with Cozy Plum as one of the newer additions to the area.
Their menu is anything but ordinary as you can find a wide range of flavors on this menu. Whether you're craving bar bites like stuffed jalapenos, vegan versions of traditional sandwiches like a fish-free tuna sandwich, or maybe some more ingenious dishes like vegan shrimp made out of konjac root,  you'll be able to get an easy vegan meal here without having to modify the menu.
Afternoon Activity:
Charles M. Schulz Museum
and Santa Rosa Shopping 2:30pm-5pm
How long you stay at the museum will depend on how big of a fan you are of Charles M. Schulz. If you're a big fan of Schulz himself or his comic strips, you'll want to stay for two-plus hours. If you're the kind of museum goer who prefers to go through exhibits quickly, you might be happy with a 90-minute visit. Regardless of how you experience the museum, we highly recommend you check out the sculptures in the garden, the temporary exhibits, and the recreation of his studio upstairs. Don't be surprised if you find yourself reading every comic on the wall like you'd be doing in your pajamas on a Sunday morning. It's a really fun place to spend an afternoon.
If you'd prefer to explore more of Santa Rosa, or have time to do both, we recommend visiting a couple of shops near Hotel E. Across the street, you will find the Made Local Marketplace: a shop that features the work of artisans from the North Bay. You can find everything from clothing and accessories to tea and skincare here; this place is the epitome of shopping small and it's a great way to get to know and support the local artists in the area.
If you're a lover of spices, head over to the Savory Spice Shop to search for your new favorite spice blend, of which many are inspired by different regions of the U.S. 
The book lovers will then want to mentally prepare for themselves for the endless shop of books that is Treehorn Books down the street. With books piled up to the ceiling offering a selection of old, new, and collectible books, try not to lose track of time as you get lost in a good book or discover a sub-genre that you rarely get to explore in person. Pace yourself and have fun!
Pro tip: Visit Made Local Marketplace first as it closes at 5pm, the earliest among the three shops listed in Santa Rosa.
Other Option:
If you would rather take a break than explore more storefronts, feel free to use this time to recharge before going out to dinner. You can rest up in your hotel room and change into a snazzier outfit. Or, you can grab a drink at the Hotel E bar in their beautiful, and dog-friendly, lobby space.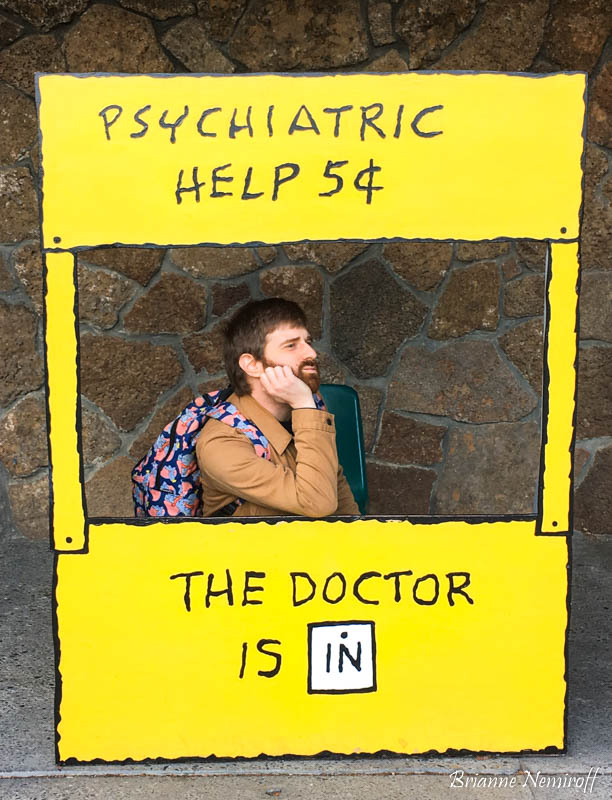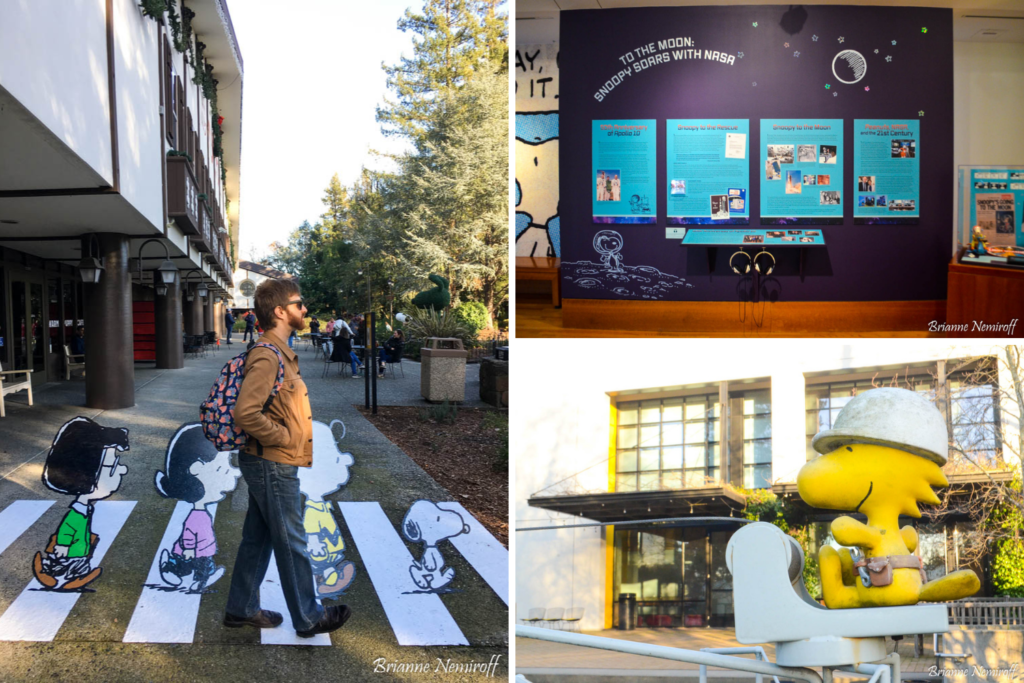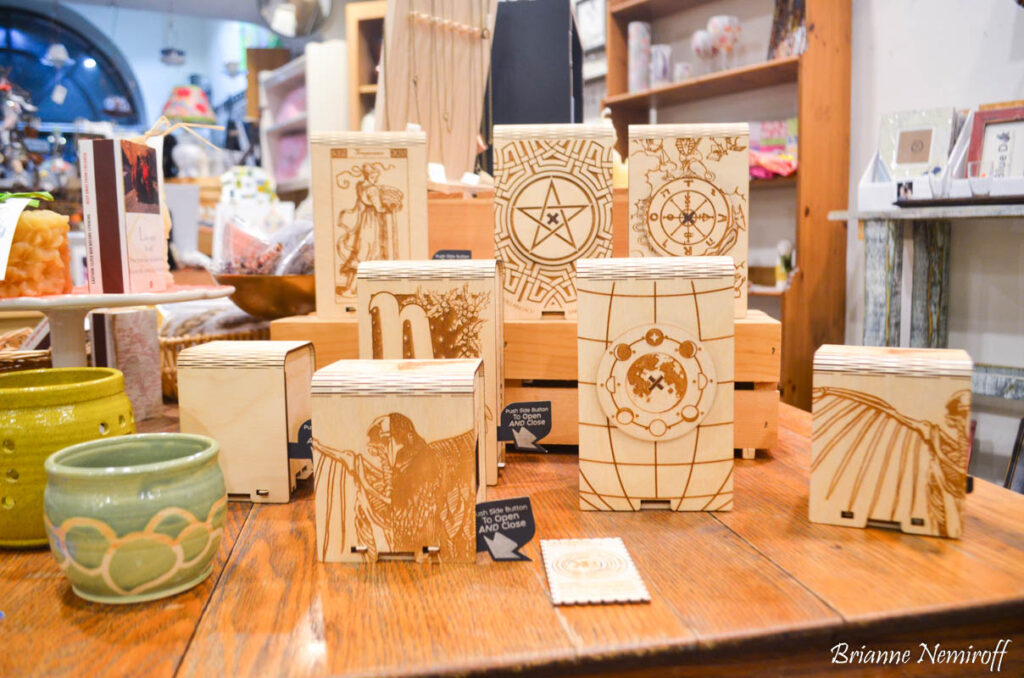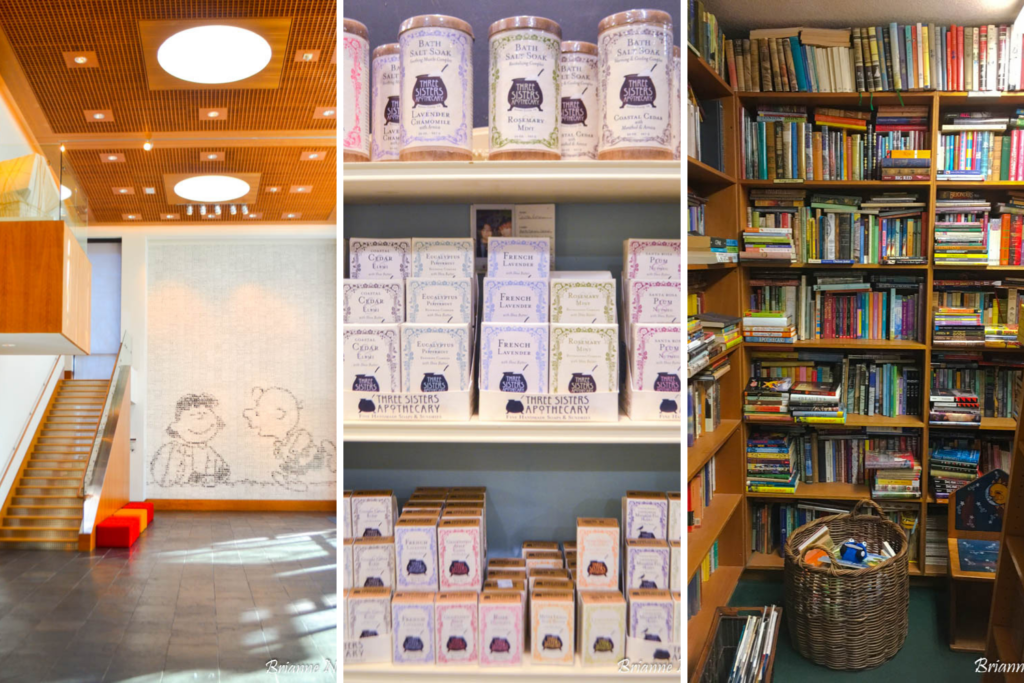 In this tightly-packed restaurant with a menu that features styles of cuisine from all over India, you will get to enjoy flavorful menu items like pakoras, samosas, vegetable poriyal, rice, and naan. While the vegan menu items are limited, they certainly have enough options to create a well-rounded nourishing meal.
Note: Bollywood Bar & Clay Oven can easily be packed during the high travel seasons or on weekends. We recommend booking a reservation in advance to avoid a long waiting time.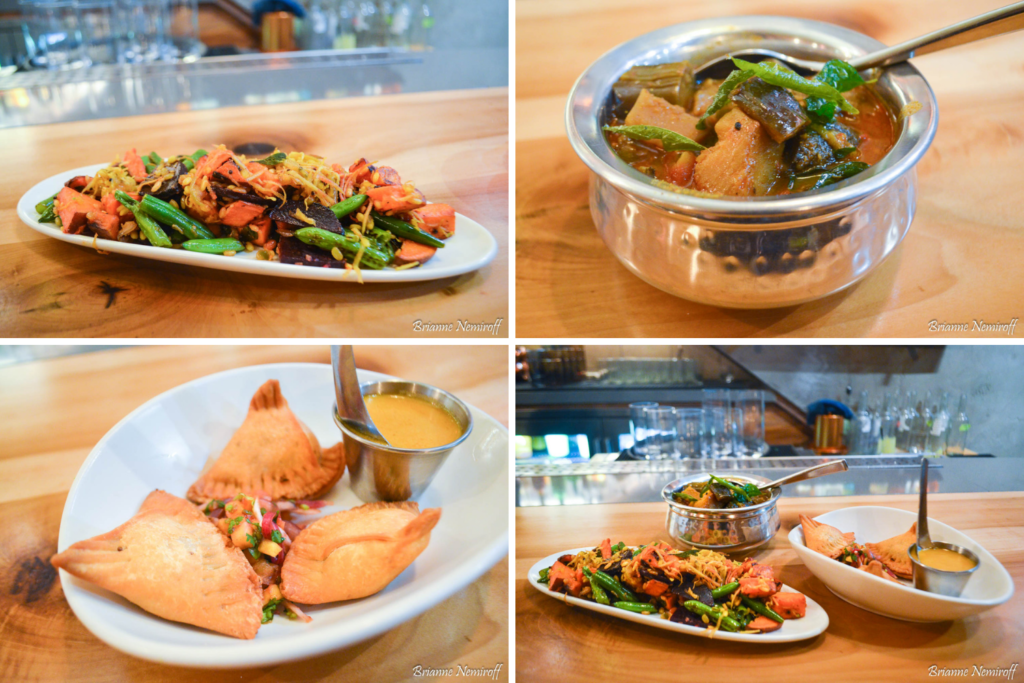 Sonoma County is known for its farm-to-table cuisine, exquisite wine country, bountiful orchards, and ocean beauty. If you're looking for a quieter city to escape to with fewer crowds or just because you're an introvert, Sonoma County has plenty to offer whether you like to splurge or travel on a budget. If you're in town to get selfies with Snoopy, sip on cider, or get a scoop of vegan ice cream, Sonoma County is a great destination to create grand experiences while still shopping small.
To never miss out on any of our vegan-friendly destination guides, sign up for our newsletter via the form on the right.