We first visited Kansas City, Missouri in June 2018. On my first day exploring, I ordered a Lyft, per usual, to go grocery shopping and see a few sights. As any frequent Lyft or Uber rider knows, the drivers are often chatty and they want to know if you're a local or visitor. I told the driver I was a writer visiting the area to learn more about the vegan restaurants in Kansas City. Upon hearing my answer, he turned around, looked me in the eye, and said, "What is vegan?" I knew I was in for a rough week. While we had no trouble finding non-dairy milks⁠—as Kansas City is a known coffee destination⁠— and were offered the occasional vegan recommendations from locals, we found nothing much to write about other than Pirate's Bone Burgers and the burgeoning vegan-friendly Crossroads neighborhood…until we visited a charming vegan coffee shop in Midtown called Mud Pie Vegan Bakery.
In between a smoke shop and a tattoo parlor, a charming yellow house stands that sells some of the best vegan baked goods we've found in the country. Mud Pie Vegan Bakery is known to locals as a haven for those with food allergies, as well as a place for non-judgmental eaters looking for a killer baked good and drink at any time of day. Upon entering, you are immediately greeted by the kind staff and can feast your eyes upon their daily offerings of savory and sweet baked goods. Pre-pandemic, Mud Pie welcomed customers to dine in the neighboring rooms, which were, most likely, dining and living rooms before it became a business. Mud Pie was homey, comfortable, and calm and made us feel hopeful that if a bakery in the middle of the heartland could be this stellar, there was hope for Kansas City to be become much more vegan-friendly in the years to come. 
Mud Pie Vegan Bakery is owned by Michael and Ashley Valverde, Ashley's parents John and Sharon Hughes, and William Sims. We talked to Ashley Valverde about how they all started a vegan business in a not so vegan-friendly area, how they managed to thrive during the pandemic, and why they added gluten-free options to their vegan menu over the years.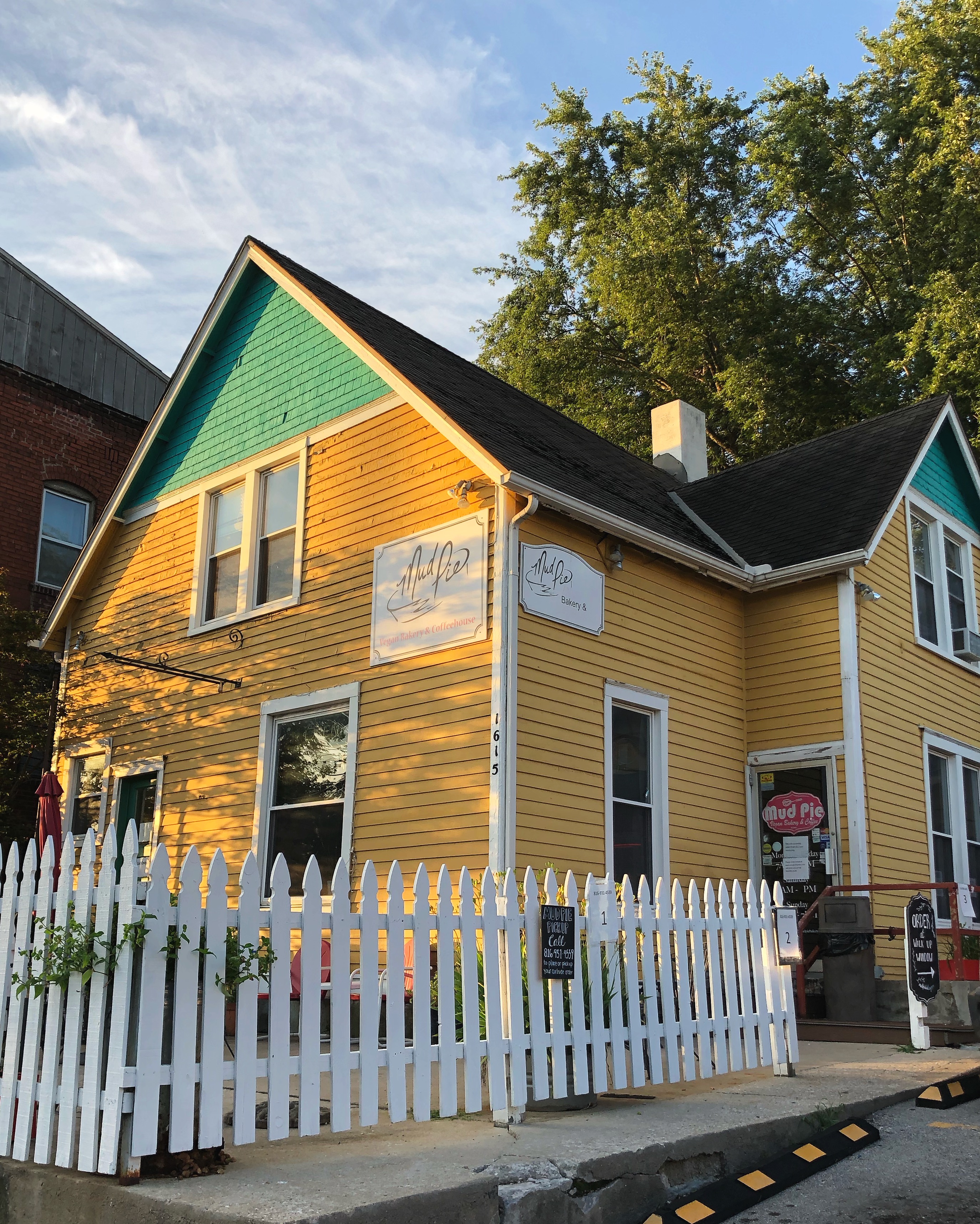 Q&A with Ashley Valverde
How long have you been in business and what was your inspiration to start Mud Pie Vegan Bakery?  
We opened in February of 2011. Michael and I are vegan and just had our first child before Mud Pie came to be. We were looking for a more solid way of supporting our family and looking to do something we could be passionate about. Through a bunch of chance circumstances, help from my parents (co-owners John and Sharon Hughes,) and the fact we were handed a lease and some equipment from someone who recently decided to call it quits on their venture, we started Mud Pie.  
There weren't really any vegan establishments in Kansas City then, and although we could find several vegan bakeries nationally, there were not many vegan coffee shops.  We were not sure how it would be received, but we knew we wanted a place we could go and take our kid, so we decided to go for it. Veganism is really important to us and we didn't want to go any other way. Since then, we have added a fifth owner, William [Sims], who has a food science degree and runs the bakery side of things. He has vastly helped us grow and manage a growing business.
What have been your biggest challenges as a small business owner?  
[Our biggest challenges are] just growing with what we have and rolling with the punches. We have not had a huge nest egg or outside investment, so since we began we have been working to grow our business, team, and equipment. When doing better, we can invest more and vice versa. 
What have been some of your biggest wins as a small business owner?  
The fact that we are still up and running makes me very proud. There have definitely been tough moments, as I am sure many small business owners can relate.   
How has your business pivoted during the pandemic? What has had to change so you can still thrive during this time?  
Our business has definitely slowed due to the pandemic. We closed for a while in the beginning after talking to our staff and that was the route everyone felt most safe. When we had people that wanted to come back in May, we opened with shorter hours, lots of safety measures, and curbside pick-up. We now have added a walk-up window and are trying to determine how to add delivery services and stay on top of inventory.  We plan on deciding with our staff soon if we want to make adjustments for the winter months, which I imagine will hit food businesses even harder. I think the key is realizing this is how it will be for quite sometime and being willing to adjust quickly. We have received enormous support though and are incredibly grateful. 
Kansas City is not known for being a vegan-friendly destination. Did you have to (or still have to) educate your community about veganism when you first launched?  
We did a little when we first launched, but not much. We had huge lines at our opening which gave us hope that it just might work. During regular business hours, we mainly had people not wanting to try it or thinking vegan [food was] dry and gross. We gave samples away to win people over. At the coffee bar too, we let people try samples of our alternative milks, including our house-made ones, to help them decide. We still do that to this day.
Now, Kansas City has a few vegan establishments, trucks, and small businesses. How have you seen the mindset of your customers change over the years?  
I feel like even though the majority of our customers aren't vegan, they are open to it and trying new things, and also like supporting small businesses. Being vegan, we can also help with people that have food allergies, which is a good size portion of our customers.  
Vegan cooking is a lot easier than vegan baking. Was it a struggle to develop a vegan menu at the beginning? Did you feel any pressure to make sure everything tasted even better than "traditional" baked goods with eggs and dairy?  
I am not the best cook, so I think baking is easier. My mom and I baked everything in the beginning. She doesn't have that background, but jokes that she raises vegans and vegetarians. I have a degree in photography. We mainly started baking from recipes, and then once we felt we had a better understanding, made our own to try out on friends. I definitely wanted everything to look nice. I figured most people would just be shocked that a vegan baked good could be as good as a non-vegan baked good, so that was always our goal. 
I love the diversity of your menu as you have everything from cupcakes to turnovers. How did you/do you go about developing your menu?  
William has largely taken over the development of recipes. I only help with gluten-free at this time. His knowledge is beyond ours and we have learned a lot from him. He has added all these great new items and can run a kitchen better than myself. We mainly think about things we want to add personally and [how to best incorporate] suggestions from customers. Our primary request is savory, so we have added a lot more of that recently with breakfast sandwiches, kolaches, calzones, etc.  
What are your favorite menu items and/or favorite things to bake?  
The cheddar sausage scone is my favorite thing to bake, mainly because it is a recipe from the beginning [of our business]. William is great with everything, but has been working with breads and fried donuts lately, which are amazing.  
What are your best sellers? 
Breakfast biscuit sandwiches, lattes, bagels, blueberry lemon muffins, savory scones, and gluten-free blueberry crumble.  Lattes and breakfast sandwiches usually battle it out for the top seller when we have those two items.  
Where can our readers follow you? 
We are on Instagram, Facebook and Twitter.
If you enjoy reading our interviews with vegan small businesses, make sure to sign up for our newsletter and follow us on our social media pages so you never miss a post.